How to purchase local Michigan food year-round
Despite the layer of snow across the state, winter produce markets are still open for business.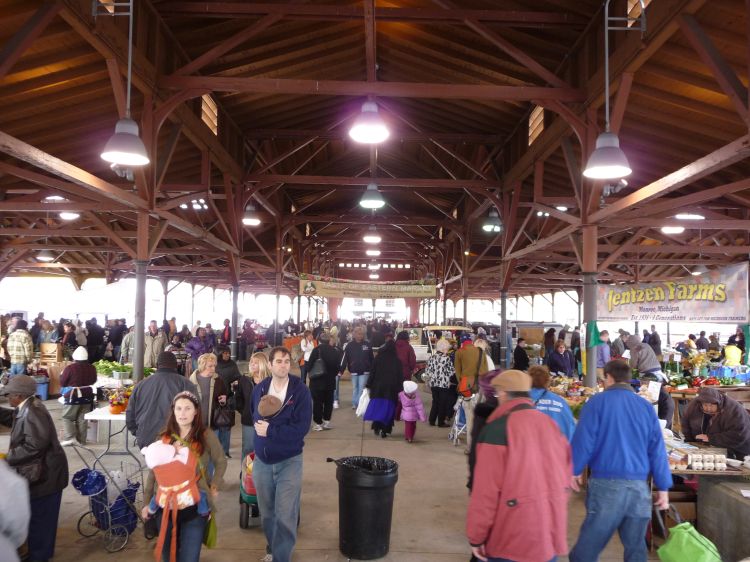 If you are looking out the window at the varying depths of snow covering Michigan wondering how long winter will last, purchasing local food might not seem like a realistic possibility. It may come as a surprise, but many farmers markets are open year-round. Even in the winter, these markets have a plentiful offering of Michigan-grown produce and hand-crafted products.
There are still crops that grow, or are available, during Michigan's winter season. With the help of season extension and storage crops, there is a solid selection for sale in the winter. Hoop houses are a production technology that allow farmers to plant certain cold-hardy crops in late summer and keep them growing, unfrozen and harvestable through the winter. Some Michigan crops growing in hoop houses include salad greens, spinach, kale, Swiss chard, carrots, parsnips, beets and other root crops. As an additional bonus, many of these crops gain flavor and sweetness with exposure to cold temperatures while they grow.
Historically, Michigan has excelled at growing storage crops. These crops are harvested late in the growing season and can be held for multiple months into the winter, when stored in appropriate conditions. Some of these crops include winter squash, potatoes, sweet potatoes, onions and apples. Today, many farmers continue to grow these crops and sell them through the winter as off season income. With advances in storage technology, it is possible to hold these crops for longer than ever before.
If you are hoping to purchase local food in the winter months, consider using the Michigan Farmers Market Associations' "find a market" tool, to search for year-round markets near you.
In Southeast Michigan, a handful of markets stay open through the winter season. In Wayne County, historic Detroit Eastern Market holds a year-round farmers market on Saturdays. This market features local produce, meat, grains, beans, honey, eggs and other value-added products. There are also numerous vendors with produce from other locations, to supplement local choices.
Oakland County also hosts a number of year-round options. With the exception of one market, all of the following are open on Saturday mornings. The city of Royal Oak holds a year-round market. There, you will often find a pairing of live music with the assortment of local products for sale. In its fourth season, the city of Farmington holds a winter market, which has a new location this year. The Oakland County Market operates out of Waterford Township in the historic farmers market building. Pontiac hosts two year-round produce markets. One is located at All Saints Episcopal Church, and the other is at Oakland Livingston Human Service Agency, on Tuesdays.
Michigan State University Extension promotes the year-round purchasing and production of local food, throughout the state. For more information on local food systems, consider subscribing for news on community food systems and farm & farmers markets.