How you can reduce biosecurity risks in 4-H projects: Part 5
Biosecurity related to 4-H projects is a matter of high priority! Taking simple precautions will protect animals, members and consumers.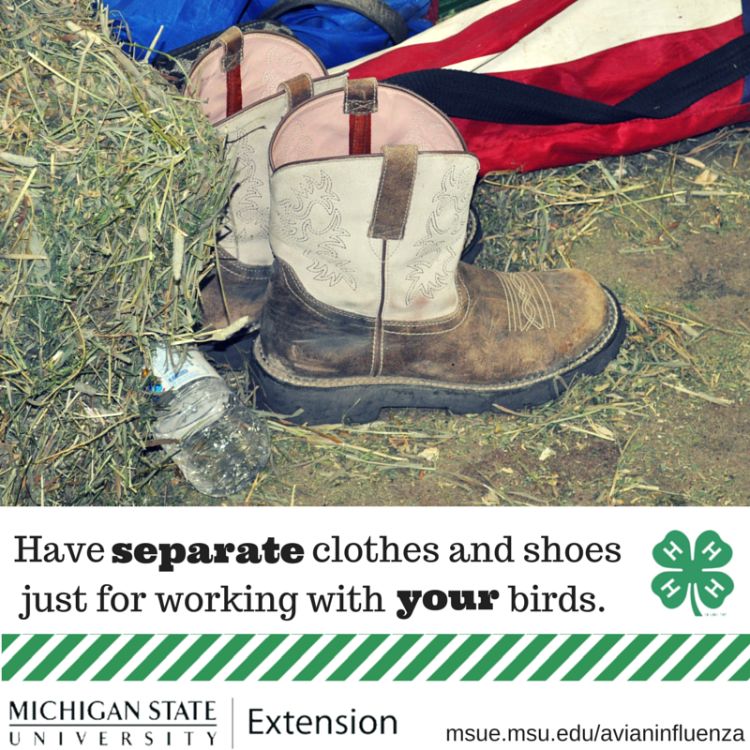 Michigan State University Extension continues a series about national and state agencies identifying biosecurity related to animal agriculture as a high priority. The United States Department of Agriculture has a long-term goal of safeguarding the animal production industry from accidental outbreaks of animal disease. Disease control and surveillance and food system security are high priorities in ensuring that people and animals are protected.
As mentioned in part 1, 2, 3 and 4, 4-H animal exhibitors can do their part to help safeguard the animal production industry by paying particular attention to their management, both on their own farms and during exhibition. This article will continue to provide an overview, focusing on practices 4-H'ers can implement at home to prevent the spread of disease
The first principle of everyday biosecurity is having a separate pair of clothes and shoes to wear when you are interacting with your animals. You may wonder why this is important. The answer is simple: pathogens can be easily carried on clothing and shoes. Think of all of the places that you may walk in a single pair of shoes in one day—it's probably a lot of different places! If you are wearing those same shoes into your barn, you can potentially be transporting disease into your animal facilities. Additionally, if you wear your barn shoes to other places, you could potentially be spreading a disease from your farm to new locations. Clothing acts the same way, as another carrier for disease.
By having a pair of shoes and clothes dedicated to using in the barn when working with your animals, you are greatly reducing the risk of cross-contamination in your area. Remember that clothing and shoes should be washed frequently to help decrease the transmission of disease across your farm.
The next article in this series will highlight the importance of hand washing. Also look for Part 7 in the series.