ID Synthesis I Project 3: Fashion Reuse
ID Synthesis I Project 3: Fashion Reuse by Anran Wang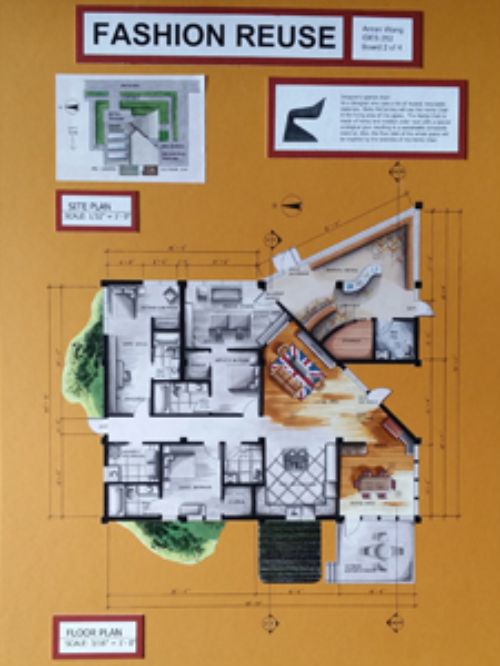 Author: Anran Wang
Class: IDES 252 Interior Design Synthesis I
Function
Fashion Reuse will be a residential space with a small retail area for 43-year-old eco-friendly fashion designer Stella McCartney and 65-year-old fashion editor Anna Wintour located in London, England. The residential part will be a space for the editor and author to live, write, cooperate and relax; the retail part will be a space to sell the designer's fashion accessories. The immediate adjacency between design studio, home office and private sleeping area will provide convenience for the designer and editor to work at home. The easy circulation in the retail area will make the space accessible for everyone including users with disabilities.
Form
The retail area of Fashion Reuse will have a modern style, while the residential area of the space will feature a cool Britannia style, which will incorporate "the Union Jack" flag into the design. The overall building shape will be inspired by the side view of the eco-friendly "Hemp Chair." A high-quality drainage system will be applied to this space to suit the climate of such a rainy city. Different tones from the triadic color scheme of red, blue and yellow will create a lot of variation and possibilities to the space. Visual connection to the outside will be provided in order to utilize more natural light.
Economy
The budget for this space will be unlimited by using eco-friendly, high-quality and durable materials.
Time
The retail area will be open from 10 a.m. to 8 p.m. every day except for national holidays.
This board (1 of 4) by Anran Wang features a problem statement, a client profile (fashion designer Stella McCartney, and fashion editor Anna Wintour), a criteria matrix, an adjacency matrix, and a combined key; and an adjacency bubble diagram and key.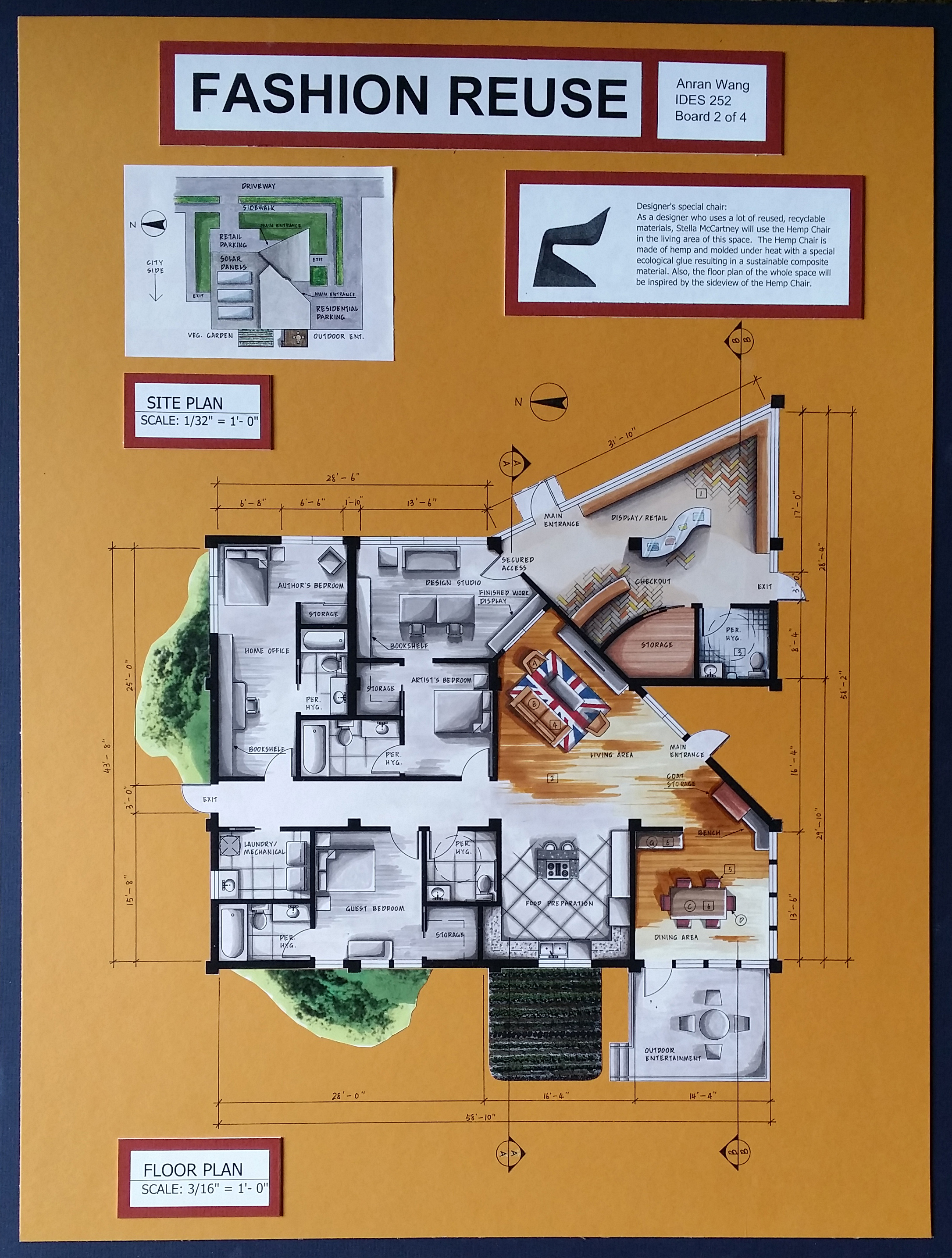 This board (2 of 4) by Anran Wang features a hand-drafted site plan, a hand-drafted floor plan and a special chair image and description.
This board (3 of 4) by Anran Wang features two hand-rendered section views and a hand-rendered East exterior elevation.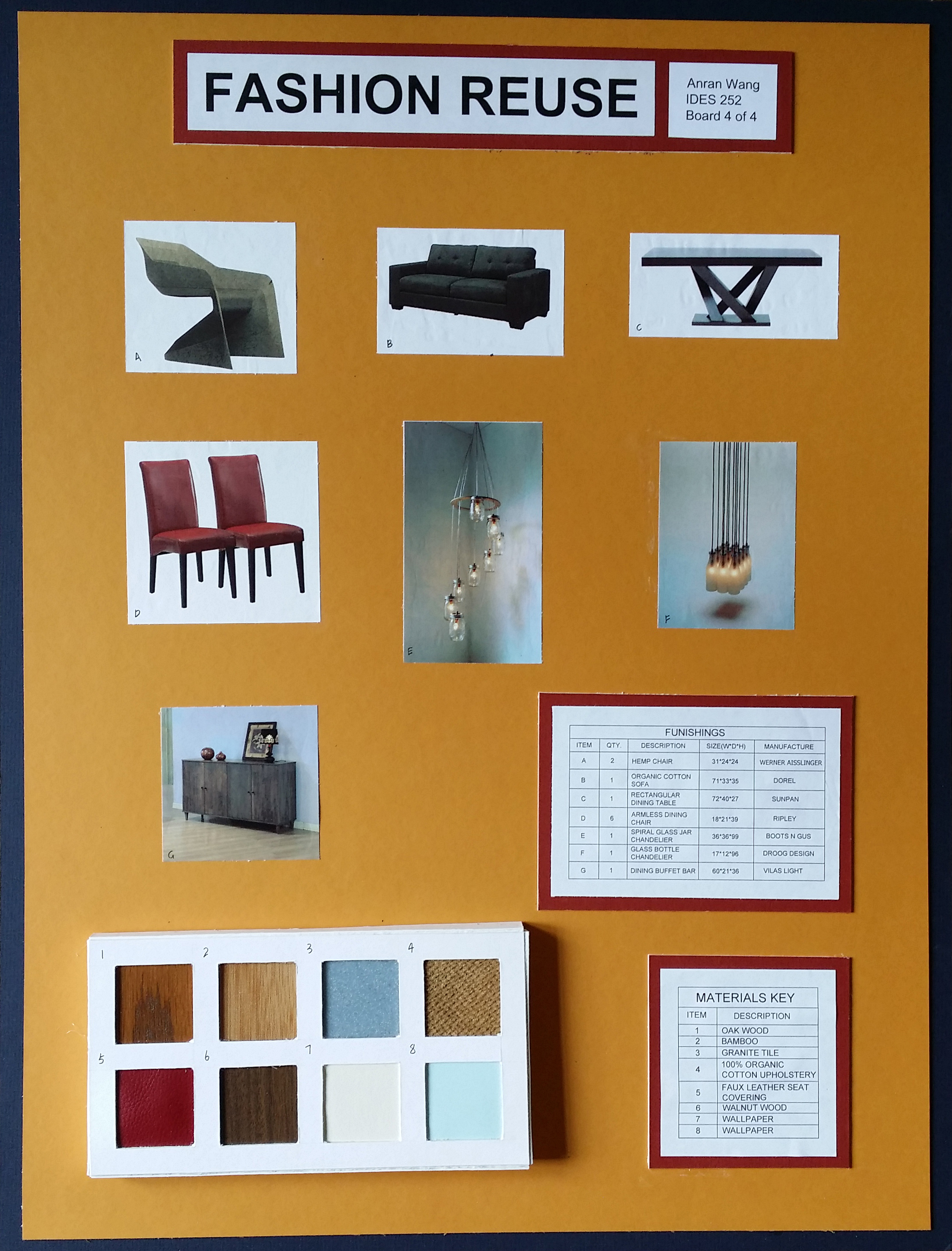 This board (4 of 4) by Anran Wang features furnishing types and specifications, and material selections and key.