Improvements coming to St. Clair County annual 4-H and Youth Fair
MSU Extension tourism educators partner with St. Clair County 4-H Fair Board to pilot First Impressions visitor assessment and capture feedback to drive future developments.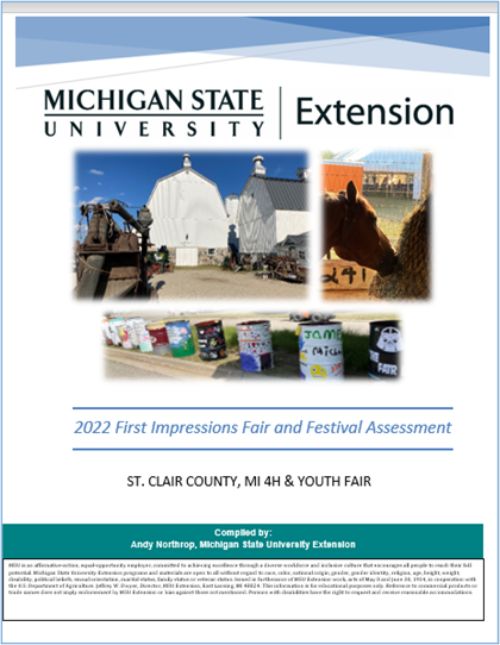 Michigan State University Extension partnered with the St. Clair County 4-H Fair Board in spring 2022 to conduct a first-time visitor assessment and analysis of their 4-H and Youth Fair (SCC4H). The fair assessment took place during the week of July 18-23, 2022. The results were shared with the SCC4H Board of Directors in September 2022, and by early 2023, a plethora of new developments began to emerge. As an MSU Extension tourism educator, I conducted a mid-year follow-up with the Fair Board president, Rob Usakowski.
The intent of the follow-up, as highlighted in this article, was to capture new developments emerging to strengthen the 2023 SCC4H Fair. Rob shared several new developments for this year's Fair, including the following:
Information booth: We are going to move the 4-H info booth to the north end, and the civil air patrol to the southwest end. The booths will be moved closer to the parking lots and large information booth feather banners will be at both locations. Parking staff will be instructed to direct visitors with questions to those two locations.
Directional signage: We are working on directional signage to place throughout the park.
Attraction signage: We are hoping to get permission from parks to place large banner signs on the front of all exhibit buildings. This would be similar to downtown holiday light pole signs. If we can't attach to the buildings, we will find a free-standing option.
Wi-Fi: We are working on multiple options for Wi-Fi. We are working with homeland security to add cell phone reception through Verizon and AT & T. Additionally we are researching systems like Ubiquiti to add temporary Wi-Fi throughout the park for the event.
Brochure map: We are revamping the brochure map, and are also looking to add a Google map option with all of the attractions.
Entertainment tent: We are moving this tent to an area near the petting farm and children's activity area. This should make it more visible.
Opening ceremonies: We are changing this to an early evening event. It will also be hosted in the new entertainment tent location. Court members will receive a carriage ride to the main events area following opening ceremonies.
Increased music: We are going to add nightly music throughout the venue.
Tram rides: We are adding signage to the trams that indicate that they are free.
Pre-Fair ticket sales: We are moving to digital ticketing. This will allow for prepaid sales, and hopefully faster entrances at the gates.
Marketing: We are working on a plan to add back both radio and print advertising, whereas in 2022 we were focused primarily on social media.
The data generated from the visitor assessment provided SCC4H Fair Board with a plethora of experiences and impressions of which then helped serve as the foundations for improvements. MSU Extension is thrilled to highlight this extensive list of new developments on behalf of the SCC4H Board. We intend for this tool to become an assessment applicable to all fairs and festivals across Michigan.
Michigan State University Extension has been helping communities reimagine themselves and their assets by capturing and capitalizing on first-time visitor perspectives since 2016. Should you or anyone you know have a need to apply this program to your event, please contact me at northro5@Msu.edu.