Incorporate fire safe planning into new home construction and remodeling
Using Firewise safe materials in home construction projects can help home owners avoid a loss in the event of a wildfire in their immediate area.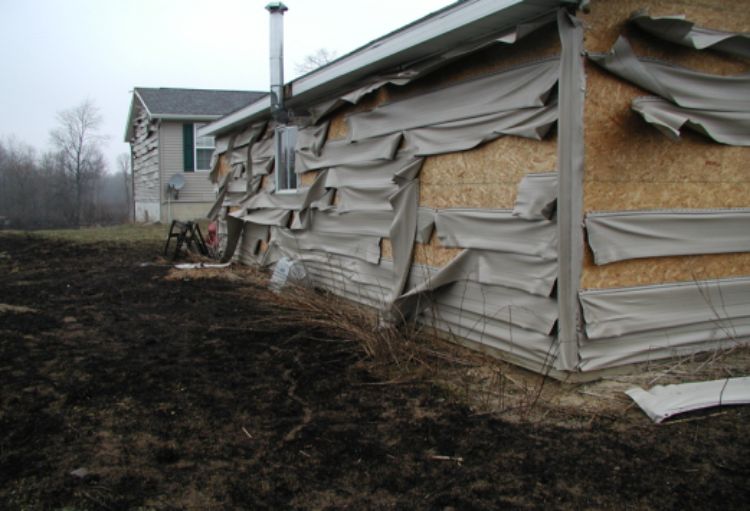 Recent studies indicate that over 1/3 of all housing units within the contiguous United States are constructed in areas that are at risk of loss from wildland fires. These high risk areas, identified as Wildland-Uban Interface (WUI) are those areas where housing intermingles with continuous vegetation.
High fire danger periods put homeowner at risk of loss in the face of a wildfire. Adoption of Firewise-suggested construction materials and landscaping efforts can greatly reduce the chance of loss. The National Interagency Fire Center (NIFC) reports 2,200 primary structures were lost to wildfire nationally in 2012; that same year Michigan DNR reports almost 24,000 acres burned by wildfire causing the loss of 100s of structures.
In most cases these structure losses could be avoided with more attention to landscaping and some investment in fire safe construction materials. A short list of construction improvements should include:
Fire safe roofing; Class-A asphalt shingles, slate or clay tile, metal, cement and concrete products, or terra-cotta tiles.
For exterior siding, fire-resistive stucco or masonry may be much better choices than vinyl, which can soften and melt.
Glass rather than plastic skylights.
Smaller window sizes are less likely to break then larger surface area windows.
Double pane windows are safer than single. Tempered glass is more fire-resistant than regular glass.
Cover exterior attic and underfloor vents with wire screening no larger than 1/8-inch mesh to keep sparks or firebrands from entering.
Use masonry or metal as protective barriers between wood fences and house (perhaps a metal gate).
Screen under porches and decks to keep combustible material from accumulating.
For a more detailed list of construction suggestions with graphic illustrations visit the Colorado State Forest Service Firewise Construction Site Design & Building Materials booklet. There is also useful information on fire safe construction on the national Firewise Communities website.
To better assist local building code development and zoning, the Firewise team at Michigan State University Extension, in cooperation with the Land Use work group has developed a Sample Wildfire Hazard Zoning template. This zoning template, although designed for community applications, may be of additional help to individual homeowners in better protecting their homes from wildfire loss.