Ingham and Mecosta County youth win top honors in Dairy Cattle Science 4-H State Awards
Anna Moser of Ingham County and Julia Doughty of Mecosta County take top honors as the 2016 Dairy Cattle Science 4-H State Awards winners.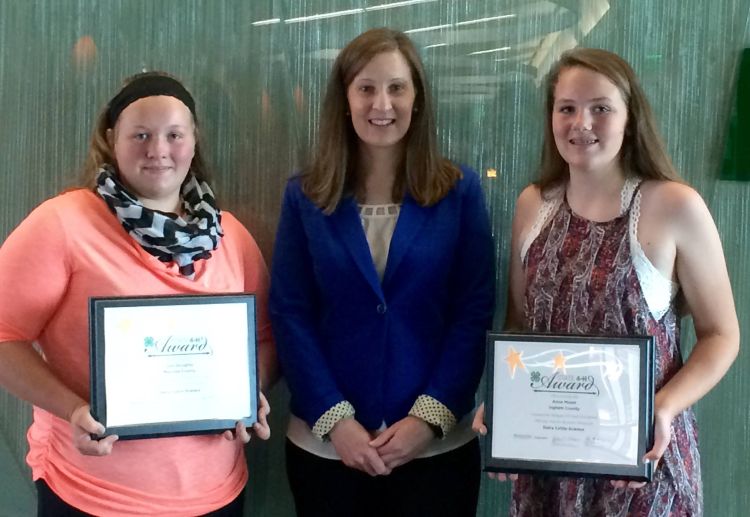 Every June, 4-H youth are recognized for their hard work and dedication to improve their clubs, communities, counties and world with the 4-H State Awards Program. Michigan State University Extension honors youth in 18 individual award areas and one group award as part of events held during 4-H Exploration Days, a three-day, pre-college program at MSU.
In each individual award area, there is a junior (ages 13-15) and senior (ages 16-19) division youth may enter. Each age division must complete a comprehensive application, which is due in early February, discussing their 4-H experience. Once the written applications have been evaluated by a panel of dairy industry and youth development experts, youth are invited to campus to participate in the awards program. Junior delegates earned the opportunity to take part in a leadership seminar while senior delegates were interviewed to further elaborate upon their written application.
This year, six youth competed for this prestigious award in dairy cattle science, sponsored by United Dairy Industry of Michigan. Jonah Haskins from Lapeer County, Anna Moser from Ingham County and Meredith Overacker of Van Buren County were the junior delegates, and Miriah Dershem from Clinton County, Julia Doughty from Mecosta County and Brittany Shephard from Sanilac County were the senior delegates.
Receiving top honors in the junior age division was Anna Moser. Moser has been involved in 4-H for five years and works with her family on a small dairy farm taking care of their animals. Moser is active in her local clubs, as well as participating in state-wide events such as 4-H Youth Dairy Days. In addition to dairy cattle, Moser also participates in the 4-H rabbit project, cooking and art exhibits.
The senior state award winner was Julia Doughty. Doughty has been a 4-H member for 11 years and won the junior Dairy Cattle Science 4-H State Award in 2015. She has served as a Michigan Dairy Ambassador, has been president of her 4-H club the last four years and has participated in 4-H Youth Dairy Days. Her leadership positions have allowed her the opportunity to mentor younger club members and encourage development in their own 4-H careers.
Congratulations to both youth on their achievements in 4-H! Look for information on the MSU Extension 4-H Dairy website regarding the 2017 4-H State Awards applications in early December.