Inquiry method creates future decision makers, leaders
4-H projects in Cheboygan County teach kids to think creatively and critically, where failure is just another learning experience.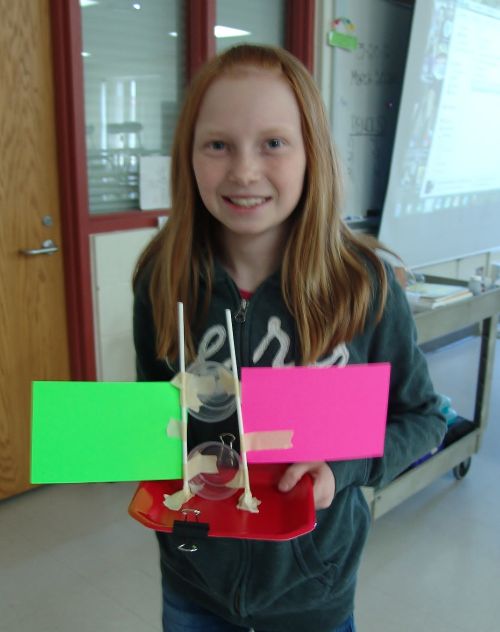 Without Thomas Edison's persistence in developing the light bulb or Henry Ford's diligence in perfecting the automobile, today's world might be dramatically altered. Youth in Cheboygan County are following in the footsteps of Edison and Ford as they participate in various alternative energy projects at Cheboygan Middle School through Michigan State University (MSU) Extension 4-H Youth Development.
Melanie Chiodini, MSU Extension educator, teaches an elective class on alternative energy at the school. Working on the National 4-H Science Experiment, Wired for Wind, the 25 students designed their own wind-powered boats using an inquiry-based learning method. The method emphasizes critical thinking. The kids used their own imaginations and creative thinking to create boats that run on wind power.
"We gave the kids the supplies to build a simple boat. We didn't hand them instructions. They figured it out themselves. If we gave them the directions, all of the boats would be the same. In this way, they came up with so many creative ideas and learned in the process," said Chiodini.
The alternative energy classes create a spark of interest in kids for science, engineering, technology and math and possibly build an interest in careers in these areas. Even if the kids don't become future scientists, Chiodini believes these critical thinking skills can be used in every aspect of life.
Chiodini said, "Everything these kids do is a learning experience. They are also learning persistence. I tell them that if Edison gave up, we'd be in the dark today. These kids are tomorrow's leaders and decision makers. They're learning that a failure is just something you can learn from."
Besides working on wind energy, the students are learning about video production twice a week from volunteer Patrick McGinnis, owner of McGinnis Video Productions. The kids will use what they've learned to document their alternative energy research with the goal of measuring the feasibility of pursuing various alternative energy methods. They'll take their recommendations to local government officials, offering solutions to current energy problems.
In another MSU Extension project, kids at Wolverine Schools in Wolverine are raising funds toward a greenhouse project in which they'll ultimately grow their own vegetables for the schools' cafeterias. This will give the students a better understanding of where their food comes from. Members of an afterschool 4-H club will learn to videotape the project from start to finish.
All of these projects will empower kids to think creatively and critically without seeing failure as an option.
Photo: A Cheboygan County Middle School student holds a wind-powered sailboat she designed and created, March 19, 2012, Cheboygan Middle School, Cheboygan, Mich.