International perspective and experiences support student growth at Michigan State University
Quentin Tyler, associate dean and director of the Office of Diversity, Equity and Inclusion in the College of Agriculture and Natural Resources, shares how international experiences and perspectives provide opportunities for student growth.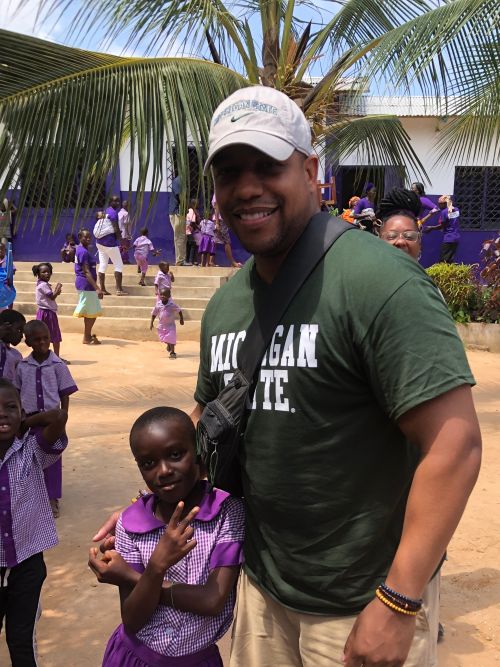 "A mind that is stretched by a new experience can never go back to its old dimensions."
This saying, by former associate justice of the U.S. Supreme Court Oliver Wendell Holmes, Jr., is at the top of my mind as students return for the start of fall semester. I recall my experience as a first-generation college student years ago. My goals were straightforward – finish college, return to my community, get a job and make a good living.
By graduate school, that vision started to expand. It was during this time when I met peers who came from all over the globe. I soon became eager to learn from them. I wanted to hear about their cultures back home, their perspectives on things like diversity, equity and inclusion, and adjusting to life far from their families. A place where their language wasn't spoken in class or by many of their classmates. Their experience was much different than mine.
My hometown of Hopkinsville, Kentucky, was very homogeneous – as are most rural communities that many students at land-grant institutions come from. Yes, we had one of the most diverse populations in the state, but global diversity was absent.
As a student, the cultural norms were somewhat difficult when I first stepped foot on a college campus just three hours away from my hometown. It was even more difficult, later as a professional when I ventured three states from my home state. I can only image the difficulty for many of my international colleagues and peers as they decide to fully emerge themselves into East Lansing, and call Michigan State University home.
Reflecting on my time as a student, many of my international colleagues were not in the study groups that we formed, nor were they at many of the welcome events at the start of school. It wasn't until I stumbled upon an education abroad fair that I realized experiencing global diversity was an educational opportunity. Neither my family nor friends had even traveled abroad let alone studied abroad.
Now, for me, most of my conversations around diversity, equity and inclusion have expanded to include varying global dimensions. However, there seems to be an important delegation of individuals within MSU and the College of Agriculture and Natural Resources community who are absent from the table. While all students face the challenge of adjusting and learning a new environment, those leaving families and homes overseas might likely be struggling even harder.
It was through the encouragement of the Education Abroad Office and the college administration that I applied for and earned a faculty development study abroad grant. Envisioning a curriculum that integrated global diversity and agriculture, I led a course for students to experience culture alongside a faculty member they trusted and related to, which provided an experience that expanded their knowledge in agriculture and natural resources.
As Associate Dean and Director for Diversity, Equity and Inclusion at the MSU College of Agriculture and Natural Resources, I have been a part of numerous conversations with partnering organizations that are seeking to find diverse talent who are prepared to work in a global economy and understands the unique needs of various markets and constituents.
In efforts to answer this call, I recently participated in two international experiences. One to the Dominican Republic in which an education abroad program offered in partnership between the College of Agriculture and Natural Resource's Office of Diversity, Equity and Inclusion and the MSU Department of Community Sustainability. This opportunity will be for students interested in studying the various dimensions of diversity, equity and inclusion in the Dominican Republic.
This summer I went to Ghana through a partnership with the Neighborhood Student Success Collaborative and Dr. Genyne Royal. As part of my experience in Ghana, I was able to visit the Dr. Cynthia Dillard International School where I listened, learned, and discussed the agricultural needs and challenges surrounding the school community. A prospective Spartan in a program like this would learn about the Transatlantic Slave Trade and would gain a global perspective of entrepreneurship, trade, and agriculture, as well as diversity, equity and inclusion.
Lack of access to best practices and resources, such as the Michigan State Extension Service, spurred a connection between the two, as well as the need to engage youth in programs such as 4-H and Youth Development and Jr. MANRRS (through the Minorities in Agriculture, Natural Resources and Related Sciences organization). An international experience would enhance our learning in diversity, equity and inclusion, allow others to acknowledge all of our respective identities, and present possible avenues for bridging the gap in addressing the challenges and easing the transition of international faculty members and students that have decided to join and call Michigan State University and the College of Agriculture and Natural Resources home.
Excited about the opportunity to connect resources, I visited with Land O'Lakes, a long-standing partner with the National Society of MANRRS. MANRRS was founded on the MSU campus and now has 55 chapters on college campus across 38 states. Our conversations are consistent in discussing our respective diversity, equity and inclusion initiatives and supporting diverse talent. However, this specific conversation focused on international opportunities which led to a follow-up visit with Land O'Lakes Venture37 Team (formerly called Land O'Lakes International Development) at their headquarters in Minnesota. Our initial conversation were about opportunities for students interested in returning to work, research and provide solutions in their home country.
As we integrate diversity, equity and inclusion into our college and at MSU, it is important to continue to provide access and experiences that stretch our students, faculty and staff. It is imperative to understand that we have an obligation to prepare our students not only for where the world is today, but what it will be in the future, and that is a world that is multicultural, global and most importantly, diverse.