Interseeded cover crops: Come see them in the spring
Interseeding Cover Crops Spring Review on April 12, 2016, will highlight spring benefits of cover crops seeded into standing crops.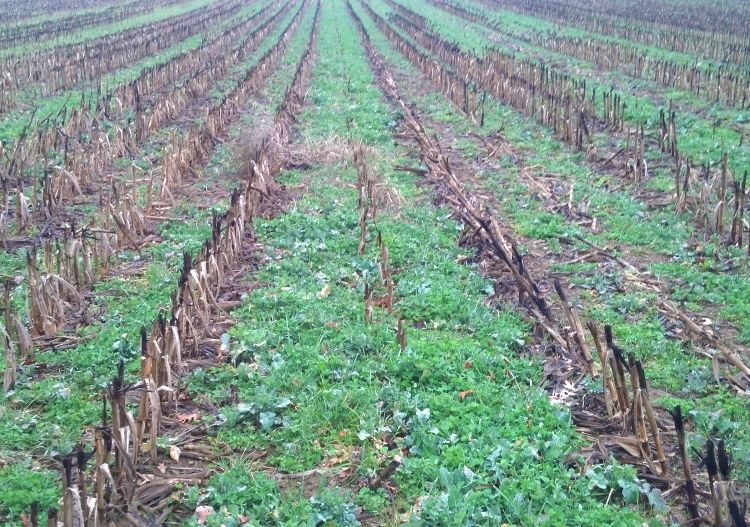 Farmers recognize the many benefits cover crops contribute to the soil and their cropping systems. Early seeding of cover crops by interseeding into standing crops can improve establishment, increase biomass production, enhance weed suppression and increase soil and nutrient retention. Aerial seeding is the most widely used cover crop interseeding method. In addition to aerial seeding, new equipment, such as the highboy seeder, for early season establishment of cover crops has recently become available.
Demonstration plots were established in 2015 in Michigan's St. Joseph County that included aerial seeded annual ryegrass, Hagie highboy seeded annual ryegrass, triticale/crimson clover/dwarf essex rape mix and winter wheat and winter wheat drilled after harvest. A field day was held Oct. 21, 2015, that gave participants an opportunity to explore the fall benefits of early established cover crops. A follow-up tour of this site has been planned to evaluate the spring benefits of interseeded cover crops. Even if you didn't see them in the fall, there's still time to see them in the spring.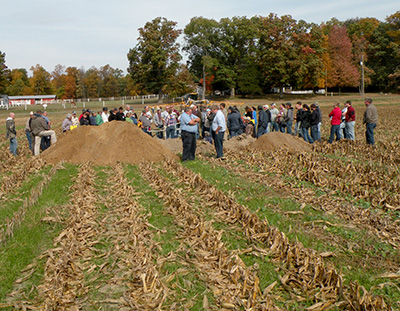 Farmers interested in exploring the benefits of early established cover crops are invited to attend an Interseeding Cover Crops Spring Review on Tuesday, April 12, 2016, in St Joseph County at the Larry Walton Farm, northeast corner of Bucknell Road and Truckenmiller Road in Nottawa, Michigan. The site will be open to tour from 8 a.m. to noon. There is no formal program. Just stop out, walk the plots and talk cover crops with other farmers and specialists from Michigan State University Extension and the Van Buren Conservation District. Coffee, juice and donuts will be served. There is no registration or cost for the event.
For more information, please contact me at 269-967-9672 or baasdean@anr.msu.edu. You can also download the program flier.
The Interseeding Cover Crops Spring Review is sponsored by Monsanto, Van Buren Conservation District and MSU Extension.