Involve the kids in meal planning and preparation
Involving kids in the kitchen does not have to be stressful. Follow these tips for successful cooking with kids!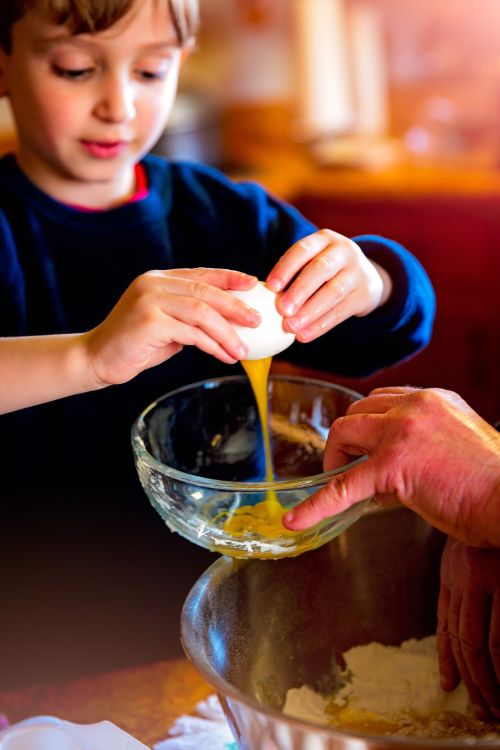 Do you feel like a short-order cook some days? Well, if you have kids then you have some help! Children love to help in the kitchen and while they surprise you by their interest in helping, they will also learn valuable life skills and may be more likely to try new foods and eat the food you prepare together.
Start with allowing children to have input in the meal planning process. A great place to start is to ask children what they like to eat and what new foods they might like to try. Use familiar children's books to introduce new foods (i.e. The Very Hungry Caterpillar by Eric Carle, Bread and Jam for Frances by Russell Hoban, The Little Red Hen by J.P. Miller and Growing Vegetable Soup by Lois Ehlert). Creating shopping lists is an important reading and organizational skill for children to learn. Have them practice their handwriting and spelling, and if they are able, have them categorize foods. When you get to the grocery store, have them help find the foods on the list, count out the fruits and vegetables, identify colors, compare prices or simply push the cart.
Before you begin in the kitchen, consider the following points:
Children have short attention spans so give them quick and easy jobs. Keep the instructions simple and give instructions one step at a time. Appropriate duties may include rinsing produce, measuring ingredients, pouring out ingredients and cutting citrus foods into wedges so that kids can squeeze out the juice.
Children get excited and may need reminders about the steps. Be prepared to repeat directions as needed.
Young cooks need constant supervision. With utensils and appliances they may be unfamiliar with, teach them how to use them safely and monitor their use.
Expect spills and messes and give children jobs to help with cleanup.
Provide children with positive feedback on their cooking effort to encourage continued participation.
Have the helper eat their food from a special "cooks helper" plate or wear a special apron.
Lay ground rules for using the kitchen with a focus on safety and sanitation. Teach kids to wash their hands, tie hair back, roll sleeves up and remove jewelry. Teach them appropriate kitchen etiquette and discourage finger licking, nail biting, nose wiping and other germ-spreading behaviors. Teach safe tasting with no fingers, clean utensils and no double dipping! A good food taster rule is if you like what you taste, let everyone know. Highlight that different people have different tastes and that is ok.
It is never too late to start involving children in your family meals. You will be making memories and instilling lifelong health habits at the same time!