Is my child ready for downhill skiing? Part 1
Consider these suggestions for being prepared to have winter fun on the ski hill with youth.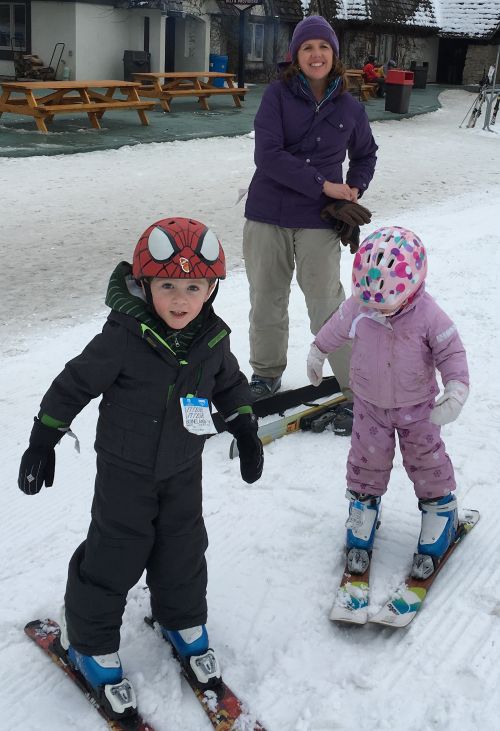 Before you load up the car for your next big ski trip with your young children, there are a lot of things to consider first. As with all new activities, think about your child's personality and temperament first. There will be a lot of new experiences for them and can become overwhelmed quickly. If you are prepared, patient and understanding, you will have a very memorable ski outing as well as many years of successful ski trips in the future.
Skiing with young kids can be challenging. Get to know the snow. Regardless of your child's age, let them spend some quality time getting familiar with the snow. Sledding, tubing, building snow angels or a simple walk will help you gauge their tolerance for cold and the duration of time they are willing to commit to it. You will also know whether their winter gear is adequate. REI experts recommend to never underestimate Mother Nature and layer your child's clothing. This will allow them to be able to remove clothing if they get too warm. The ski hill, especially the chairlift, is always colder than the weather at your hotel or home.
In her article "Tips for Taking Kids Skiing," Katie Doyle, journalist for About.com and ski instructor, recommends bringing plenty of healthy snacks such as fruit, yogurt and granola bars will keep your child going strong, longer. It will also help save money on pricey ski resort meals.
Michigan State University Extension recommends having the right gear to make or break an opportunity for a successful ski day or vacation. The following items are essential for young, happy skiers:
Warm, insulated, waterproof ski coat and snow pants. One-piece snowsuits make it difficult for kids who are still in the potty training stage.
Long underwear.
Neck gaiter that protects the neck and ears. Never wear a scarf skiing, even if it is tucked in the coat. A scarf can get caught on tow ropes and chairlifts and is not a good idea.
Goggles. When kept in a protective case, they can last many years. Buy them as a package with your child's helmet.
Helmet, for all skiers. Other skiers are bigger and faster and trees do not bend. Many ski professionals will not take kids skiing without this very important safety item.
Waterproof mittens. They are better than gloves for warmth. Some mittens even have a pouch for hand warmers.
You will have all the bases covered for a fun time on the slopes if you prepare in advance for your trip. Double check you have everything you need for your child as well as yourself. Weather can be a big influence on the success of your trip. Do you have a backup plan in case there is no snow or it is raining? If you are unable to leave the resort due to a large snow storm, will your pets at home have care and your work schedule allow for extra time off? If so, hit the slopes. Skiing is a fun family activity that can last a life time.
See "Is my child ready for downhill skiing? Part 2" for tips on what to ask and expect of a ski resort's lesson program for young children.
For more articles on child development, academic success, parenting and life skill development, please visit the Michigan State University Extension website.