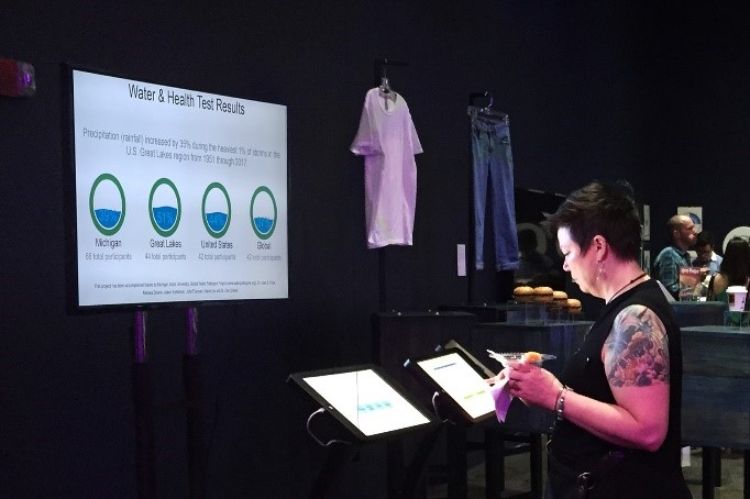 What do you know about water & health? This was the question posed by Dr. Joan B. Rose, Homer Nowlin Chair in Water Research at Michigan State University, to thousands visiting the most recent Science Gallery Detroit exhibit – DEPTH.
"Our interactive exhibit was designed to engage the public and get them thinking about water and health as it relates to sanitation, pathogens, and human health in Michigan and around the world," Rose said.
Visitors tested their water and health knowledge in four areas (Michigan, the Great Lakes, USA and Global) via an online multiple choice quiz. Each quiz was timed to quickly evaluate current understanding of our major water and health issues and provide feedback on each question. Test results automatically input into a real-time graph showing the cumulative knowledge of all users visiting the exhibit. The most popular quiz was the Michigan quiz.
"It was really gratifying to see how much interest there was and the results indicate that we really need to do more in educating our youth and public in general about our water issues. We are hoping we can do more with schools in the coming years," said Melissa Downs, coordinator of the Water and Health quiz.
You can check out the online quiz at waterandhealth.research.msu.edu.
DEPTH featured 32 different exhibits, attracted near 30,000 total visitors and ran from June 8 – August 17, 2019 at the Michigan Science Center in Detroit.
Special thanks to Melissa Downs, John Furcean, Aaron Eshleman, Manni Liu and Dr. Erin Dreelin from Michigan State University for their help with the project.