June Was Food Security Policy Month on Agrilinks
See how we explained and shared our expertise on policy and food security in developing countries, with 7 blogs and 1 webinar.
June was Food Security Policy month on Agrilinks: See how we explained and shared our expertise on policy and food security in developing countries.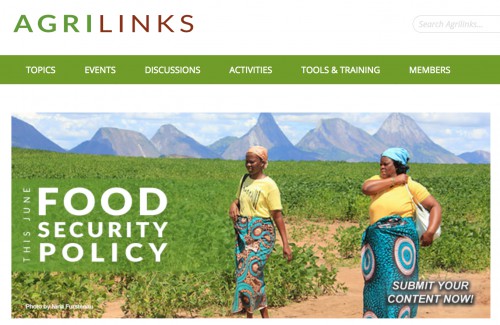 Ask the Expert: Strengthening National Policy Systems: Bridging the Disconnect between the Evidence and Action for Food Security
Agrilinks hosted a special 30-minute Q&A with Feed the Future IL Food Security Policy researchers Suresh Chandra Babu (IFPRI) and Duncan Boughton (MSU) around the connection and disconnect between research findings and the policy process. June 25, 9:30-10:00 am EDT
Gender-responsive Nutrition Policies – A Myth or a Possibility?
June 11, 2018
Elizabeth Mkandawire and Sheryl Hendriks (University of Pretoria)
Policymakers often incorrectly understand gender to mean addressing women's issues. This interpretation can negatively influence policy outcomes. When it comes to nutrition policies and responsibilities, men have a vested interest in improving maternal and child nutrition.
Building Resilience Through Better Policies
June 15, 2018
Mywish Maredia (MSU) and Xinshen Diao (IFPRI)
How is the Feed the Future Innovation Lab for Food Security Policy (FSP) addressing resilience through policies? The multi-pronged strategy is illustrated with examples of the Lab's outputs.
Guidance and Capacity Critical to National Agriculture and Food Security Investment Plan
June 15, 2018
Sheryl Hendriks (University of Pretoria)
Dramatic change has been happening in Africa for at least the past decade. Much of the progress can be attributed to the revived focus on agriculture as a driver of inclusive economic growth through the Comprehensive Africa Agricultural Development Programme (CAADP). Despite some progress, the growth has been unequal and not sufficient to significantly reduce food insecurity, malnutrition, and poverty.
Are Medium-scale Farmers Driving Agricultural Transformation in Africa?
June 21, 2018
Thomas Jayne (MSU)
The rapid change from small-scale farms and medium-scale one has many implications for the agricultural production of developing countries.
Ensuring Food Security and Nutrition Policy Coherence
June 26, 2018
Sheryl Hendriks and Nic Oliver (University of Pretoria)
Food security involves many sectors and partners requiring to make sure that policy is coherent across sectors. How then do governments ensure policy congruence?
Spinning the Kaleidoscope Model
June 22, 2018
Danielle Resnick (IFPRI) and Steve Haggblade (MSU)
The complexity of the policy process can be analyzed with the Kaleidoscope Model that helps identify 16 variables at play during the design and implementation of a policy.
Why the Influence of Agricultural Policy Research in Developing Countries is Probably Greater than We Think
June 29, 2018
Thom Jayne, Tom Reardon, Mywish Maredia, David Tschirley (MSU)
There are at least three categories of impactful policy-oriented research that development organizations should be promoting, even though it may be difficult to track the immediate impact of such research on a policy change.