Keeping maize nutritious, even in long-term storage
BHEARD scholar Smith Nkhata wants to use his research skills and knowledge to fight micronutrient deficiencies in Malawians.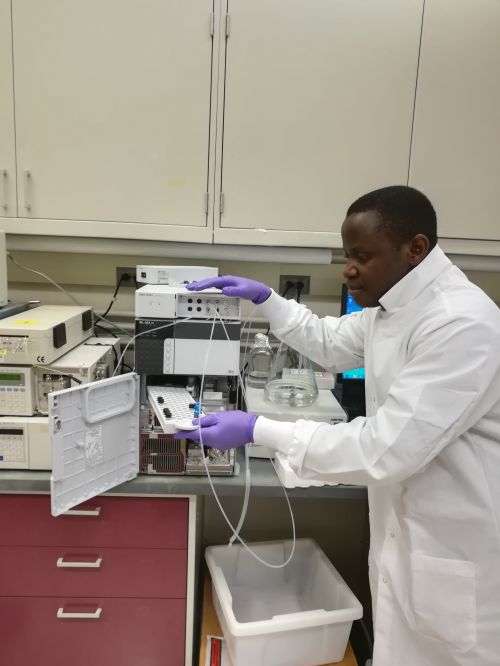 BHEARD scholar Smith Nkhata wants to use his research skills and knowledge to fight micronutrient deficiencies in Malawians. A micronutrient deficiency is a lack of the essential vitamins and minerals – such as vitamin A – required by the body for its proper growth and development.
One way to reduce the prevalence of these deficiencies is to improve the fortification and bio-fortification of processed food products and crops, according to Nkhata.
Studying food science at Purdue University with help from a BHEARD scholarship, Nkhata plans to earn his Ph.D. by summer 2019. He previously studied food science at the University of Malawi and Michigan State University.
The goal of the Borlaug Higher Education for Agricultural Research and Development (BHEARD) program, supported by the U.S. Agency for International Development, is to develop agricultural scientists and increase agricultural research capacity in its partner countries. The program is named after Dr. Norman Borlaug, an American biologist, humanitarian and Nobel laureate who has been called "the father of the Green Revolution."
Nkhata's Ph.D. research is focused on high-carotenoid (or bio-fortified) maize. Research has confirmed that children and adults consuming this type of maize have increased vitamin A in their bodies. The problem, however, is that long-term storage of maize – a common practice in developing countries – degrades the carotenoids that the human body converts to vitamin A.
Along with other researchers, Nkhata is searching for effective methods to reduce carotenoid degradation in storage. He said the use of PICS (Purdue Improved Crop Storage) bags is the most promising method so far. PICS bags have two layers of polyethylene liner and a third layer of woven polypropylene. When each layer is tied and closed separately, it creates a hermetically sealed environment.
In addition to storage methods, Nkhata and his colleagues are studying the effect of processing methods on high-carotenoid maize. They recently found that fermentation – a common food processing technique in Africa – results in very low carotenoid levels. Based on that finding, they do not recommend fermenting high-carotenoid maize, Nkhata said.
Nkhata's research on carotenoid levels could have other health benefits for Malawians, such as reducing the severity of oxidative stress and inflammation – factors that can contribute to the development of cardiovascular diseases in the country's poor communities. He's currently developing a proposal to test whether the long-term consumption of high-carotenoid maize can reduce oxidative stress and inflammation. His next goal is to find funding for the proposal.
– Matt Milkovich