Kent County 4-H'ers discover veterinary science
Read about how a Grand Rapids veterinary hospital and a 4-H club collaborated to host an impressive, educational, hands-on open house.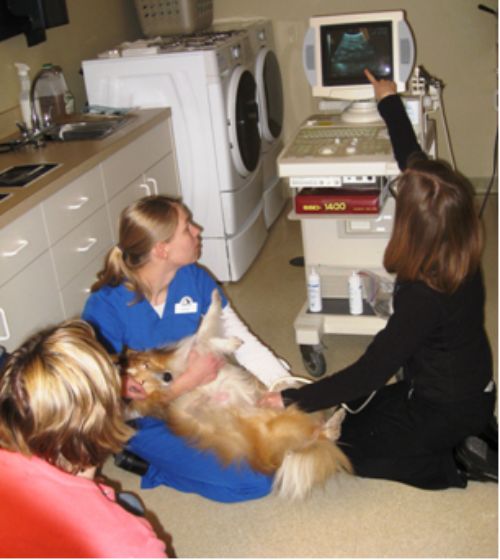 On a March 26, 2011, Family Friends Veterinary Hospital of Grand Rapids collaborated with the Perfect Partners 4-H Club to host an open house for 4-H dog participants, their families and friends. The long, jam-packed day - which featured live demonstrations - helped those attending discover just how interesting, fun and exciting veterinary science can be. Included in the tour were:
The pharmacy area, where participants learned the importance of routine health care. The information was presented in a game format, "Healthy or Hiding Disease?"
The "Plethora of Parasites" station, in which participants used microscopes to view parasites "up close and personal" and learned how they affect an animal, as well as prevention and treatment.
A live dental cleaning. Questions flew about the procedure, dental disease and prevention.
The rehabilitation department where the visitors watched a dog travel on an underwater treadmill, and they received valuable information and tips about managing canine weight and activity level.
The reproduction area in which the 4-H'ers viewed a slideshow of a caesarian section and observed a live ultrasound.
The surgical suite, where the 4-H members and their families watched a live neuter surgery demonstration. They were also able to dress up like surgeons and try various surgical instruments on stuffed animals.
The radiology department, where the participants viewed digital x-rays of broken bones, bladder stones, foreign bodies and more.
The doggie day care area, in which the families observed dog behaviors and postures first hand, while watching a group of dogs play.
The grooming area, where participants learned the medical importance of bathing, brushing, toenail trims and daily observation of their animals.
A chat with veterinary technicians about veterinary careers, pet poisonings, first aid and emergency warning signs.
As demonstrated by the following results of a survey – asking participants about their experience as related to the 4-H Science, Engineering and Technology Initiative – completed at the end of the event, the event had an impressive impact
| Survey Statement | Percent of Youth | Percent of Adults |
| --- | --- | --- |
| I learned that people who work at the Family Friends Veterinary Hospital are scientists and use science in their careers. | 63 | 36 |
| I think that science is useful for the problems of everyday life. | 100 | 93 |
| I would like to do some outside reading in science. | 77 | 92 |
| I enjoy talking to other people about science. | 66 | 86 |
| I have a real desire to learn science. | 72 | 92 |
For more details about the open house, contact Glenda Kilpatrick, Kent County Extension educator.