Kids, eat your Z-relish! How healthy eating inspired a food product
Parent's efforts to get their children to eat vegetables lead to the development of a new zucchini-based relish.
When Tom and Chris Van Dokkumburg and were raising their three boys they tried a variety of ways to entice them to eat their vegetables. Roasted zucchini didn't appeal to the kids, so they put their heads together and came up with their own recipe for zucchini relish, which they simply called "Z relish." "The kids ate it with zeal", said Chris.
The bigger test for Z-relish came at the fire house where Tom was employed as a fire fighter on duty on for long shifts. Known as fussy food critics, Tom's fellow firefighters gave "Z relish" two thumbs up and soon made it a staple in the kitchen. Friends and relatives also enjoyed this unusual relish and encouraged Tom to produce it for sale.
In his retirement Tom started a hot dog cart business, Dokk's Firehouse Dogs, which is a staple at the Holland Farmer's Market. The call for Z relish become even louder. After five years, Tom contacted the Michigan State University Product Center for help in developing Z-Relish under the Dokk's Firehouse Dogs brand.
Undeterred by set-backs, such as open-heart surgery, Tom pushed on toward his goal of bringing the original and spicy Z-relish to the commercial market. Joanne Davidhizar, Michigan State University Extension educator, guided Tom through food safety reviews, label development, licensing, finance and marketing decisions in her role with the MSU Product Center. At the annual Making it in Michigan Conference, Tom and Chris were further encouraged by the educational program, trade show marketplace, and informal visits with like-minded entrepreneurs.
As a people person, Tom decided to spend his time selling Z-Relish and having Natural Northern Foods produce it to his specifications. The positive working relationship with Lori LaClair at Natural Northern Foods, also lead to the development of Tom's back burner product, Dokk's Firehouse Mustard.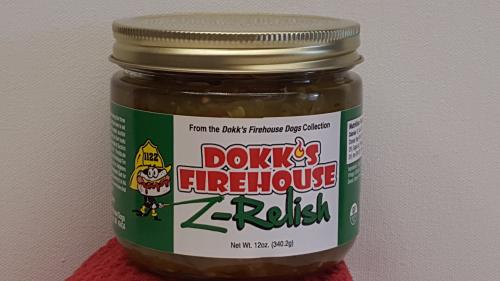 "Bringing my products to market has been a dream of mine for many, many years. It wasn't until I retired from the fire department that I could spend any serious time on the business side of this. None of it would have been possible without outstanding partners in my corner. Like Natural Northern Foods and MSU New Product Center. They guided me through every step of the long process and made it an enjoyable and educational experience," said Tom Van Dokkumburg.
Dokk's Firehouse Z-Relish and Mustard can be found in more than 25 West Michigan markets.