Lake sturgeon habitat projects show promising results
Experts will monitor success of coastal wetland habitat construction in the Detroit River.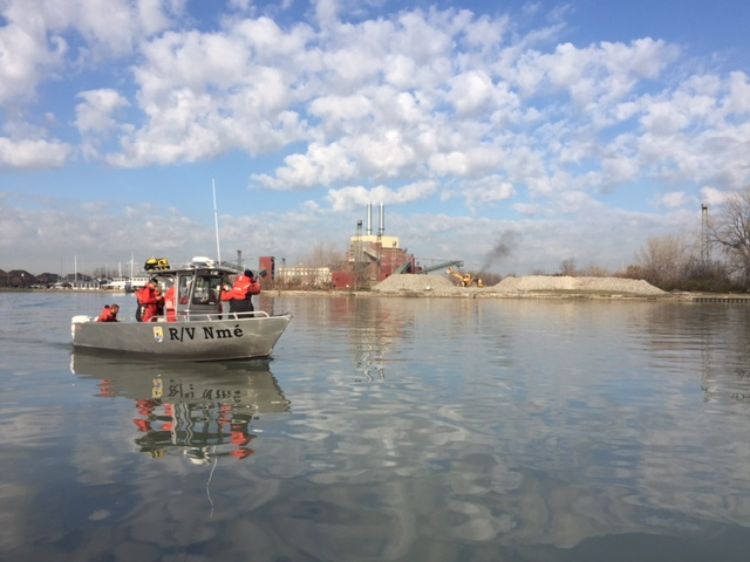 Michigan Sea Grant, University of Michigan Water Center and other restoration partners received welcome news regarding our fish spawning reefs – sturgeon eggs were found on four different constructed spawning reefs in the St. Clair and Detroit rivers this past spring. These results delighted team members because it meant that a state endangered fish species – lake sturgeon – found the new habitat structures and deemed them suitable for spawning.
Constructed reefs help replace rocky spawning habitat that was destroyed during the construction of shipping channels or made inaccessible by dams in tributary rivers. A spawning reef is essentially a bed of loose limestone cobble placed on the river bottom.
Lynn Vaccaro, research specialist at the UM Water Center, said the "egg mats deployed by researchers to monitor the reefs collected 1300 sturgeon eggs per square meter a 4-acre spawning reef upstream of Grassy Island in the Detroit River, near Wyandotte, Michigan. Although lake sturgeon were known to pass by this area, monitoring efforts detected no eggs prior to restoration efforts. Importantly, sturgeon eggs appear to be incubating and hatching successfully on the reefs, producing viable larvae that are showing up in nets downstream of the constructed reefs.
"These results were particularly encouraging as Water Center partners begin building another spawning habitat project near the head of Belle Isle in the Detroit River. The project is part of a comprehensive remediation plan under the Area of Concern program, supported by the Great Lakes Restoration Initiative," said Vaccaro. The project is the seventh spawning reef constructed within the St. Clair and Detroit rivers over the past twelve years.
When complete, the Belle Isle Reef construction project, a series of 3 reefs adjacent to the island, will add 4 acres of spawning habitat in the upper Detroit River. Post-construction monitoring will begin in the spring 2017 to determine the success of the project.
For more information about current and past projects and the science that has guided restoration efforts, visit:
Michigan Sea Grant helps to foster economic growth and protect Michigan's coastal, Great Lakes resources through education, research and outreach. A collaborative effort of the University of Michigan and Michigan State University and its MSU Extension, Michigan Sea Grant is part of the NOAA-National Sea Grant network of 33 university-based programs.