Lansing urban farmers now have their own label
A new marketing initiative helps distinguish Lansing's urban farms.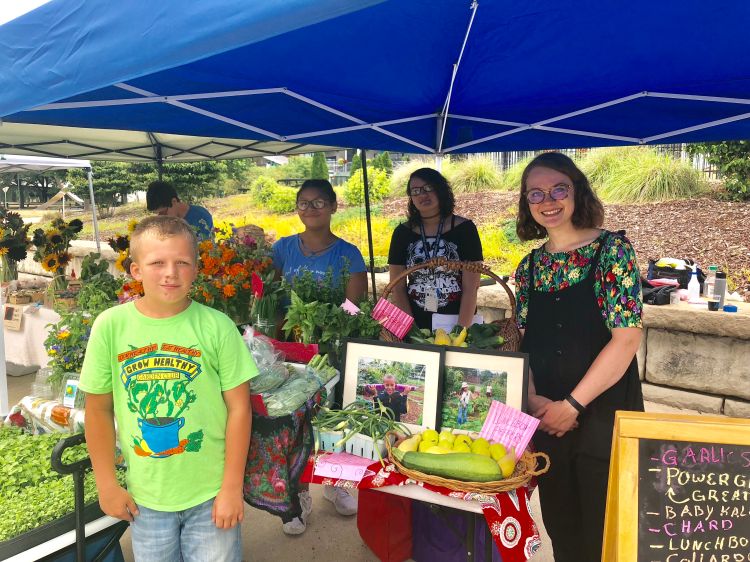 What is your definition of local food? Is it the state of Michigan, 200 miles from your location, or 50 miles? What about right in your neighborhood? Lansing urban farmers believe the distance between farm and fork should be as short as possible, like just down the road.
As urban farms increasingly pop up around Lansing, more are facing the difficulties of keeping that distance as short as possible, while addressing difficulties unique to urban farms. Farming on a small scale can increase production costs associated with limited access to water, scale-appropriate equipment and seed and soil amendment costs. Farmers face the challenge of how to differentiate their products and educate consumers about the value of supporting urban food production.
Lansing Grown is aiming to address that challenge.
Lansing Grown is a new marketing initiative designed to help consumers identify products grown on small, urban farms in Lansing and Lansing Township. The Lansing Grown concept, which emerged out of discussions and outreach with many farmers, consumers, and local organizations with interests in supporting small agriculture, was initiated by the Lansing Urban Farm Project (LUFP) as a way to improve public market opportunities for urban farmers. Since its inception, other local organizations, including Michigan State University Extension, have jumped on board to support the concept and help promote a vibrant urban agriculture scene. The hope is that creating a label to showcase the city's hyper-local specialty crops will add value to their products and drive consumers to supporting these businesses.
Lansing Grown hosted the first of three pop-up markets to launch the brand on July 14. Crowds gathered on the banks of the Lansing River trail to learn about the concept, meet local urban farmers, and purchase quality products grown within Lansing city limits.
Vendor booths abounded with fruit, vegetables, flowers, herbs, honey, and other homemade items grown in healthy soil with environmentally conscious practices. Any farmer working within the Lansing Grown parameters is eligible for this label. Many farmers at the market can also be found at other farmers markets in the area throughout the week, but these pop-up markets aim to differentiate those based in the city and provide a space for them to engage with new customers.
Each farmer has their own unique story as to why they believe in this work. April of Magnolia Farms appreciates the support system with urban farming. For her, this community has a lot of resources to help get started as opposed to beginning somewhere else. April sees the Lansing Grown label as a way to help differentiate her farm and highlight the sustainable practices in place. Farmer Sarah from Highwater Farms, located in the heart of the Urbandale neighborhood of Lansing, appreciates that the label "does point out that you are completely from Lansing-- you are the most local that we can get." Lansing Grown is an easy way for consumers who want their dollar to stay local to be able to identify that.
The next Lansing Grown Pop-up markets will be held on Aug. 18 and Sept. 22, 2018. Additionally, Lansing Grown is seeking to engage the broader public in the development of the brand by seeking submissions for a Lansing Grown logo contest. To enter, please submit your design to the Lansing Grown Facebook page, via Facebook Messenger, by Aug. 31. The winner will be awarded $100.
Support your closest urban farms, your neighbors. Look for the Lansing grown label at markets, restaurants, and retailers.
For more information you can access the Lansing Grown website and Facebook page.