Leslie teen donates his pig to local Marine's Ingham County 4-H Memorial Fund
Ingham County 4-H member Steven Harkness recently helped to save the Troy D. Nealey Memorial Fund by selling his show pig and donating the proceeds towards the scholarship.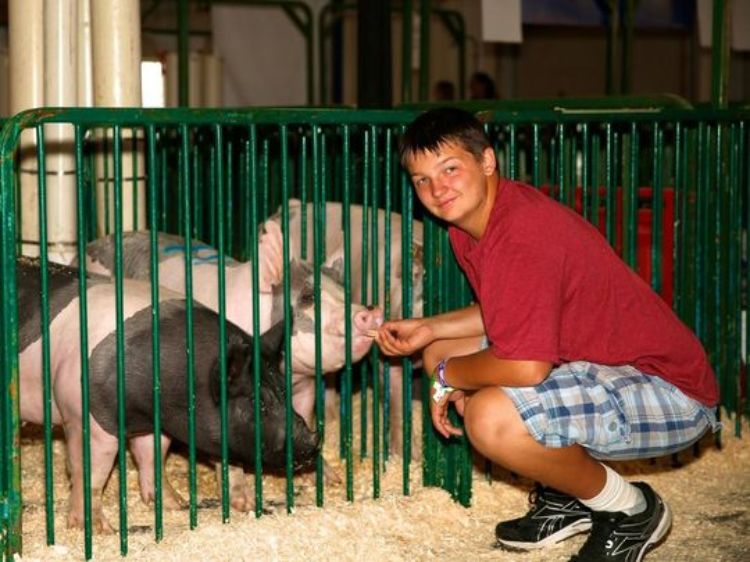 Ingham County 4-H members, leaders and community members were all surprised during the 2015 livestock auction when 4-H member Steven Harkness sold his fair pig and donated all the proceeds to the Troy D. Nealey scholarship fund.
Harkness is a 17-year-old senior at Leslie High School and has been involved in 4-H for 12 years.
Nine years ago, when Harkness was a young 4-H'er, Ingham County 4-H alum Troy D. Nealey was killed in combat while serving with the Marine Corps in Iraq. Because the Ingham County 4-H program had meant so much to Nealey, a memorial scholarship was set up in his name to benefit the champion and reserve champion showmen in beef, sheep and swine at the Ingham County Fair. Since then, the Troy D. Nealey Memorial Award has benefited many deserving 4-H'ers, including Harkness himself, who has received the award five times.
"The scholarship is well-known among the 4-H members and rewards the youth who have worked hard with their livestock projects. Troy showed these species while he was in 4-H, and this is his way of giving back," Harkness explained.
When news surfaced that the scholarship money would run out this year, Harkness and his parents discussed taking action to replenish the fund. Harkness stepped up with the idea to sell one of his pigs and donate the proceeds to saving the fund. His idea was well-received by the auction attendees, and his pig brought more than double the average pig auction price -- $6.75 per pound rather than the usual $2.50 to $3.50 a pound. The sale generated $1,667 for the memorial fund. The excitement even sparked some attendees to donate to the fund.
After the sale, accolades for Steven's generous and selfless action poured in. He was recognized in an article in the Lansing State Journal, by the local school board and even at his high school's homecoming pep assembly.
"At first I didn't think it was a big deal, then I had people congratulating me and saying they were proud of what I had done," Harkness said.
In the months since the fair, Harkness's actions have stimulated further discussion about ways to keep the Troy D. Nealey award going. Stakeholders are now looking at fund-raising methods, including the idea of setting up a Go Fund Me page, and other 4-H members are considering selling their animals to benefit the fund next year.
"It is great to know that other members are considering selling their animals after seeing what I did this year," Harkness said.
Harkness said he believes the intended actions of his fellow 4-H'ers help to illustrate the No. 1 lesson that he has taken away from this experience: the importance of giving back. When reflecting on his overall 4-H experience, Steven commented that he will take away many valuable life lessons from his time in 4-H.
"I have learned how to be dependable and responsible when taking care of animals, and that it is healthy to take yourself out of your comfort zone. I have become self-sufficient and know that it is important to push yourself to overcome the obstacles you face."
Although Harkness showed only pigs at the 2015 county fair, he was involved with sheep and beef livestock projects in the past and actively participates in the shooting sports program.
"It has been a great experience, and it is hard to come to terms with the fact that I'll be done in a few years," he said.
Upon graduating from high school in 2016, Harkness plans to attend Lansing Community College and later transfer to a university. Although he will soon age out of the Ingham County 4-H program, Harkness intends to become a 4-H leader and involve his future children in the youth organization.
To learn more about Michigan 4-H and activities that Harkness participated in, visit the Michigan 4-H website.