Local oats for fresh milling featured at Washtenaw County Field Day
Localizing more than just vegetables.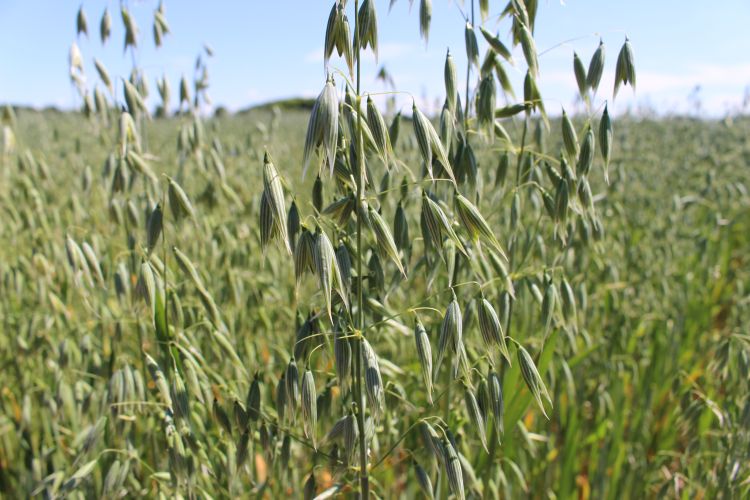 It's no secret that Michiganders have been working tirelessly to truly localize their food system. With the second most diverse agricultural economy, there is great potential to experience an all-Michigan diet. Although previous efforts have primarily focused on produce and protein production, many in the state are now investigating the potential to also localize the grainshed – a term coined to define the geographic region of which grain is produced and processed for the consumer.
Back in 2013, Scott Below of The Grainery in Kalamazoo, started building small, table-top mills for consumers, retailers and food service sites. These mills turn oat grouts into fresh, thick, rolled oat flakes that consumers are eating up. But since then, The Grainery has been sourcing bulk oats from a grain dealer in Iowa.
Hoping to bring the supply chain closer to home, Zilke Vegetable Farm in Milan started growing and harvesting oats in 2015, but ended up feeding the hulled grain to their laying hens. Megan Phillips Goldenberg of New Growth Associates, a Michigan owned and operated food systems consulting firm, knows that sometimes great projects just need someone to connect the dots. In partnership with Michigan State University, New Growth Associates applied for an infrastructure development and research grant through Organic Valley Farmers Advocating for Organic grant program.
With these grant funds, two Washtenaw County farmers have planted oats for the fresh milling, human consumption market. Varieties selected for their desirable nutritional traits and milling function, they're already sold before harvest due to the partnership with Bronson Methodist Hospital food service. Yet, the number of local food manufactures who have also offered to buy the future product has astounded Goldenberg.
To showcase these oats, New Growth Associates, in partnership with Michigan State University Extension and Zilke Vegetable Farm, is hosting an Oat Twilight Crop Walk. This free event will allow attendees to take a look at the oats, learn about upcoming research plans for oats and find out more about the potential local markets for locally-grown grain. Refreshments will be served, and registration is strongly encouraged.
Event details:
Oat Twilight Crop Walk: Local Oat Production for Fresh Milling Markets
Tuesday, June 27
6 – 8:30 p.m.
Zilke Vegetable Farm
12491 Carpenter Rd, Milan, MI 48160
Registration: https://oatwalk.eventbrite.com
For questions on the event, contact Goldenberg at goldenbergme@gmail.com or (906) 869-0372.
If you are interested in local grain research in Michigan, contact Ashley McFarland at 906-439-5176 or ashleymc@anr.msu.edu. McFarland is the Coordinator of the Michigan State University Upper Peninsula Research and Extension Center in Chatham, Michigan.