Lower leaf chlorosis, spotting, and necrosis of New Guinea impatiens induced by low substrate pH
New Guinea impatiens grown in substrates below the optimal pH range of 5.8 to 6.4 may exhibit lower leaf chlorosis (yellowing), interveinal chlorosis, red-to-black spotting along leaf margins and between veins, and marginal necrosis of the lower foliage.
In-house nutritional monitoring is an excellent cultural practice growers should perform. This practice consists of routinely sampling and determining clear, acid-injected, and/or fertilizer-injected irrigation water pH, soluble salts [referred to as electrical conductivity (EC)], and alkalinity (CaCO3) and pre- and post-transplant substrate pH and EC. Growers can quickly determine these parameters using handheld pH/EC and alkalinity meters. However, during production we often tend to forget to monitor nutrition and thus, nutritional deficiencies or toxicities occur.
During New Guinea impatiens (Impatiens hawkeri) production, growers should monitor and maintain an optimal substrate pH of 5.8 to 6.4. If substrate pH falls below or rises above this range, pH adjustment will be necessary to prevent low or high pH induced nutritional toxicities or deficiencies. In a previous article, low substrate pH induced lower leaf chlorosis and necrosis (tissue death) in geraniums was described and discussed. For New Guinea impatiens, low substrate pH induced symptoms rarely occur, but when it does, it may take time to turn the crop around visually and aesthetically.
Substrate pH below 5.8 increases the availability and uptake of iron (Fe) and manganese (Mn). When plants accumulate Fe and Mn to toxic concentrations, lower leaf tissue will become chlorotic (yellow) and exhibit dark red or purple to black spotting along leaf margins, and marginal leaf necrosis (Figures 1 and 2). As Fe and Mn toxicity symptoms intensify, lower leaves often die and drop causing the crop to become aesthetically unappealing. The dead leaves will need to be removed from plants prior to shipping. Other symptoms that may be observed include stunting and twisting of the new growth.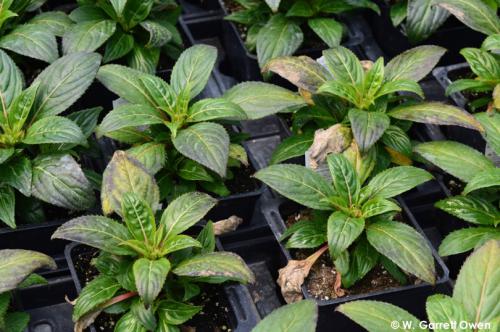 Preventing low substrate pH-induced Fe and Mn toxicity, growers should monitor New Guinea impatiens nutrition. Michigan State University Extension recommends that growers determine substrate pH and soluble salts -- referred to as electrical conductivity (EC) -- by easily performing in-house 1:2 Dilution, Saturated Media Extraction (SME), or PourThru procedures. Each of nutritional monitoring procedure will determine substrate pH similarly, however EC values vary with each method. For more information, refer to "Nutritional Monitoring: New Guinea impatiens." Growers should also determine if your pH and EC meter is working correctly and calibrated regularly. For a "how-to" video, watch "How to Calibrate a pH and EC Meter."
Corrective procedures for low substrate pH for New Guinea impatiens should begin within the range of 5.5 to 5.8. To quickly adjust (raise) substrate pH to the optimal pH range, growers can perform any one procedure listed in Table 1. For additional low or high pH or EC corrective procedures, refer to "Corrective procedures for high and low substrate pH and electrical conductivity."
Table 1. Corrective procedures1 to adjust (raise) low substrate pH during greenhouse production of New Guinea impatiens (Impatiens hawkeri).

Flowable lime

Hydrated lime

Potassium bicarbonate (KHCO3)

1. Apply 1 to 2 qt. per 100 gal. of water.

2. Rinse foliage after application.

3. Avoid damage to your injector by using rates of 2 qt. per 100 gal. of water, or less.

4. Split applications if needed.

1. Mix 1 lb. in 3 to 5 gal. of WARM water.

2. Mix twice.

3. Let settle.

4. Decant liquid and apply through injector at 1:15.

5. Caustic (rinse foliage ASAP and avoid skin contact)

1. Use 2 lbs. per 100 gal. of water.

2. Immediately, rinse foliage.

3.Provides 933 ppm potassium (K).

4. The following day, leach heavily with a complete fertilizer to reduce substrate EC and restore nutrient balance.

5. Rates greater than 2 lbs. per 100 gal. of water can cause phytotoxicity!

1 Whipker et al. (2018)
For more nutritional monitoring of greenhouse crops, read "e-GRO launches Nutritional Monitoring of Floriculture Crops website" and "In-house nutritional monitoring app provides optimal substrate pH and EC levels."
The American Floral Endowment is gratefully acknowledge for funding to create fertdirtandsquirt.com and establish all available materials.
Literature cited
Whipker, B.E., J. Henry, and W.G. Owen. 2018. Corrective Procedures for Modifying Substrate pH and Electrical Conductivity (EC). e-GRO Alert 7(2):1–5.