Machine training course helps unemployed, underemployed adults in northern Michigan
"Just in Time" program a collaboration between manufacturing employers, Northwest Michigan Council of Governments and North Central Michigan College.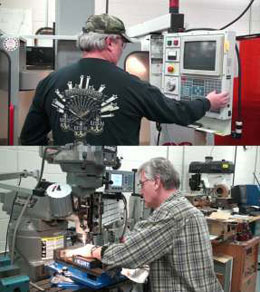 The "Just in Time" Basic Machining Training program recently graduated 16 adults that are now out there enhancing the manufacturing work force in northern Michigan. The accelerated program was organized by the Northwest Michigan Council of Governments (NWMCOG) and delivered by North Central Michigan College.
A committee of manufacturing employers from Antrim, Charlevoix, and Emmet counties consulted in designing the 190-hour curriculum. The course focused on the fundamentals of machine operation, a technical skill in high demand by local employers. Students of the program were all adult residents of northern Michigan that were either unemployed or underemployed and looking for the skills needed for a new career.
The students participated in 160 hours of hands-on training that took place at the Charlevoix High School machine shop. They were then able to take this training and apply it during 30 hours of job shadowing at manufacturing facilities located throughout northern Michigan. Graduates received additional instruction in the fundamentals of Computer Numerical Control (CNC), statistical process control, and Kaizen continuous quality improvement.
Northern Michigan is seeing a resurgence of manufacturing, the Northern Lakes Economic Alliance, a partner of Michigan State University Extension, has found. And this means that the machining occupation is in high-demand. Some of the demand is from new jobs, while much demand is from an aging work force, with a lack of young talent with the necessary skills. This program helps to bridge that gap, seeing eager manufacturers visiting the class to hand out applications to the recent graduates. Many of the students have already found jobs with those facilities that provided them with their job-shadowing opportunities.
"The manufacturing employers that I serve are really excited about the job candidates emerging from this class," said Angie Ross, a business liaison with Northwest Michigan Works!. "Some of these students qualify for additional on-the-job training incentives, which will help employers to continue training them on company-specific tasks and will give these students a leg-up on their careers."
A trained work force is key to continued economic development in Michigan, and this program is a great example of one that works. For more information on this program, as well as a short video, visit the Northwest Michigan Council of Governments website, www.nwm.org.
MSU Extension has had a unique partnership relationship with the regional economic development organization Northern Lakes Economic Alliance (NLEA) for more than 20 years. Recognizing the strength of combining resources, this partnership focuses on economic development, entrepreneurship growth and community infrastructure throughout a four-county region in the northwest Lower Peninsula, specifically Antrim, Charlevoix, Cheboygan and Emmet counties. As a result, the NLEA utilizes resources offered through MSU Extension as it provides leadership to state-wide programs sponsored by MSU Extension.