Madeline Meyer receives Glenn and Anne Lake Scholarship from the Michigan Dairy Memorial and Scholarship Foundation
Ionia native plans to graduate with degree in animal science in May 2020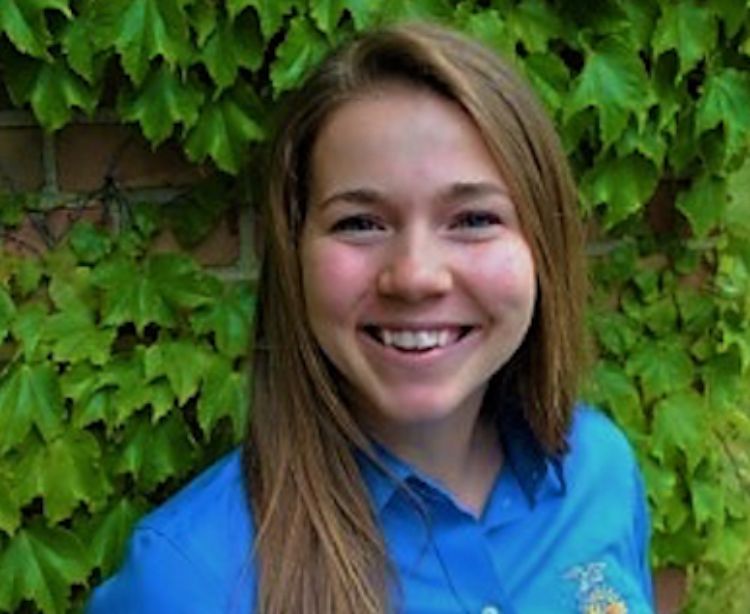 EAST LANSING, Mich. – Madeline Meyer of Ionia, Mich., was chosen as the 2018-19 recipient of the Glenn and Anne Lake Scholarship from the Michigan Dairy Memorial and Scholarship Foundation, Inc. (MDMSF) at Michigan State University (MSU). The Glenn and Anne Lake Scholarship, named after Michigan dairy farmers Glenn and Anne Lake, provides $7,500 in scholarship money divided over two semesters. Glenn Lake served as president of the Michigan Milk Producers Association and the National Milk Producers Federation. Lake provided leadership in creating the Great Lakes Milk Marketing Federation, which helped dairy farmers secure bargaining rights to market their milk.
Meyer, the daughter of Jamie and Veronica Meyer, was selected to receive the scholarship based on her academic achievements, involvement in extracurricular activities and interest in pursuing a career in the dairy industry. She recognizes the dairy industry's drive for success and credits her academic success to her long-time involvement in the dairy industry. With high marks, she plans on graduating with an undergraduate animal science degree in May 2020 and looks forward to remaining active in the dairy industry.
"Growing up on Sandy Ridge Dairy didn't just give me a passion for agriculture, it taught me valuable life lessons," Meyer said. "Being in a five-family partnership isn't always easy, and I have learned teamwork and cooperation from watching my parents and our partners over the past decade."
At MSU, Meyer is active in the MSU Dairy Club and the Block & Bridle Club, on the MSU collegiate dairy cattle judging team, and with the St. John's Catholic Church Student Parish. Her extracurricular activities also include working at the MSU dairy processing plant, Michigan Department of Agriculture and Rural Development as a student assistant, and as a research assistant in dairy nutrition with Dr. Mike VandeHaar. In the past, Meyer served as the 2016-17 Region Five State FFA Vice President and the 2017 Ionia Free Fair Queen. Meyer completed an internship at Fern-Lo Farms, a 2,000-head Holstein and Jersey dairy operation in Tulare, Calif., in the summer of 2019.
The Michigan Dairy Memorial and Scholarship Foundation awarded $100,000 in scholarships to 25 MSU students pursuing dairy industry-related programs of study for the 2018-19 academic year.
For information about making contributions to honor members of the dairy industry or to support student scholarships, please contact the MSU College of Agriculture and Natural Resources External Relations at 517-355-0284. To learn more about the MDMSF, contact Dr. Miriam Weber Nielsen in the MSU Department of Animal Science at 517-432-5443.