Marine City welcomes first-time visitor perspectives to strengthen community collaboration and spawn new ideas for tourism
Michigan State University Extension First Impressions Tourism Assessment (FIT) program assists small town communities with identifying strengths and weaknesses through the eyes of first-time visitors.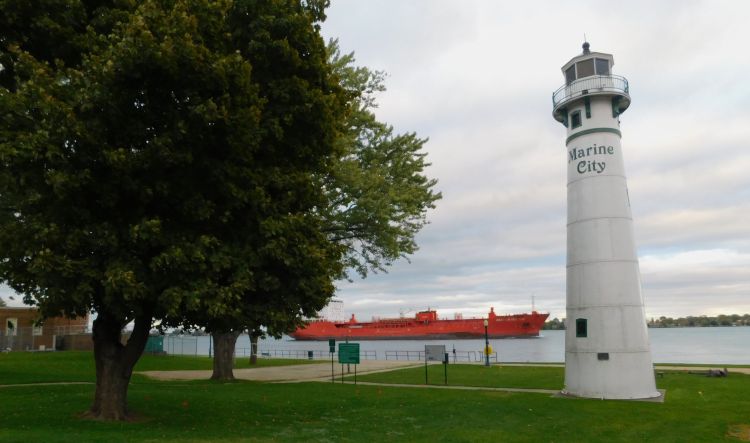 During a few weeks between mid-September and late October 2018 Marine City, Michigan received five surprise visitors that spent 8-24 hours separately in the community located on the Eastern shores of Michigan just north of Detroit and south of Port Huron. These visitors, also called assessors, were part of a yearlong program the coastal community in St. Clair County applied for via Michigan State University Extension in early 2018. Marine City community leaders received their results from the FIT program in early 2019 during a community forum open to anyone interested in the future of the community.
The program, First Impressions: Assessing your community for tourism (FIT), provides communities an opportunity to learn about their strengths and weaknesses through the eyes of first-time visitors. Communities can then make changes to strengthen their image, improve community well-being, and quality of life for residents and visitors based on suggestions from the program if they choose to do so. Majority of communities participate in FIT simply because they are looking for new ideas to attract and retain visitors to their community. Assessors are provided a stipend to cover travel costs and come equipped with a critical eye and an assessment tool to document their first impressions.
Marine City has wonderful assets including waterfront access to the St. Clair River for viewing freighters and boating traffic, clean and inviting green space in their downtown, access to riverfront beaches and public parks, plus a vibrant downtown with eclectic small businesses, rich maritime history, and a welcoming culture to visitors. The variety of opportunities for day-trip and/or overnight stays gives visitors a unique Michigan experience in a coastal community within a one-hour drive from Metro-Detroit not typically highlighted on the traditional tourism path in Michigan.
To foster a true tourist experience, assessors were required to conduct online research prior to visiting Marine City. This prepared them for the in-person tourist experience by determining highlights in the community they intended to visit or learn more about. Most Marine City assessors found web pages to be helpful about local tourism-related amenities and activities.
Four of five of assessors agreed that the web information was well-presented and useful, and the web pages were visually appealing, information was useful, but three said even more information is needed on the most helpful websites. Almost all assessors found online maps of Marine City using Google or the CityData website and didn't see any maps available on the most helpful websites where they may have expected to.
Positive comments included that Marine City is a "lovely small town with historic roots, and one that was strongly linked to maritime heritage." "The eclectic mix of shops downtown made it interesting… I was pleasantly surprised by the many waterfront parks and unique shops," "My first impression was that this was a close-knit community, that residents and business owners truly take pride in their small town." "The homes in the residential neighborhoods were well-kept and festive. Loved it!" One assessor reported they enjoyed crossing the Belle River to get downtown.
Marine City did not receive many negative comments during assessors' initial impression, but one assessor felt the Belle River crossing was underutilized and hidden. One assessor did note it was sad that none of the cultural venues were open on Sunday when they visited. They initially had hoped for a Sunday matinee and museum hours. Another assessor was disappointed when they arrived from I-94 and didn't see signs "of any sort until you are a mile or two out from town and those are very small and hard to read while driving 50 miles per hour or more"; and coming from the west entrance the town looks "pretty stale."
The final report for Marine City continues to identify strengths and weaknesses relative to Community Information, Visitor Motives, Generational Appeal, Destination Strengths and Weaknesses, Residential Areas, Waterfront Community, Lasting Impressions, Community Branding, Local Involvement in tourism development, as well as Senses and Safety during assessor visits.
After participating in FIT, Michigan State University Extension provides communities with a final report of results and suggestions, an open community forum opportunity to share results (along with a copy of the presentation), as well as the raw data collected from assessors. Suggestions that come from FIT assessments are typically categorized into four areas: art, business, community, and recreation. You can view full reports of several FIT assessments conducted across Michigan by clicking here.
First Impressions Report. Photo by Andy Northrop, MSU Extension.
Michigan State University Extension tourism educators conduct FIT assessments annually. Communities are asked to thoroughly review the FIT application, consider the program requirements and timeline and determine if FIT is the best fit for the community. Most importantly, it is strongly recommended that communities form a Community Leadership Team (CLT) comprised of public and private stakeholders before applying to be a FIT community.
If you are interested in becoming a future FIT community please contact tourism educator, Andy Northrop (northro5@anr.msu.edu). You can also learn more by reviewing Michigan State University Extension articles, such as "How to become a FIT community".