Meet the Interns: Xingguang Pan
We are proud to present Xingguang Pan, one of our packaging undergraduates, who was featured as an intern at Specright!
We are happy to repost this interview from specright with their permission.
Specright is proud to offer internships to students who not only want to learn more about the packaging industry but have the desire to get hands-on experience at a company that is changing the way Consumer Goods and Manufacturing companies are doing business.
Meet Xingguang!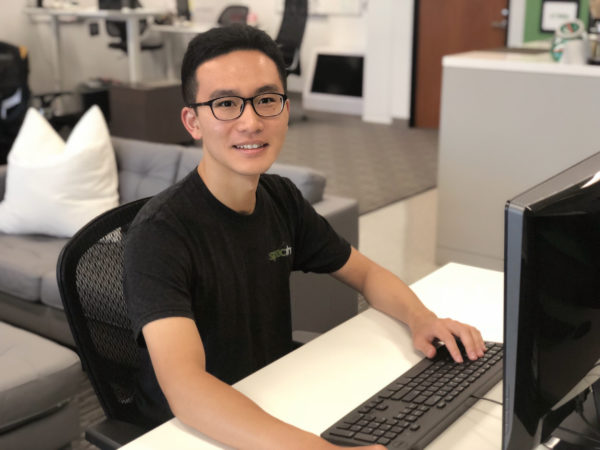 Xingguang is a Packaging student from Michigan State University. We asked Xingguang a little about himself, what brought him to Specright, and what he looks forward to on the road ahead.
What are your interests?
I really enjoy using Solidworks, packaging structural design, exploring computer science, and writing poems in Chinese.
What have you enjoyed during your time at Michigan State?
I have enjoyed my learning experiences at Michigan State University, inside and outside of the classroom. At MSU, I've been fortunate to learn from the leading packaging researchers and specialists. Thanks to the advanced packaging laboratories at The School of Packaging I've had the chance to study in packaging classes that are well integrated with hands-on experience. We do a lot of packaging testing, designing, and material research. I also got an opportunity to work at the MSU Dairy Plant, where I was able to see how packaging and industrial processes are applied in the real world.
What brought you to Specright?
Specright's CEO, Matthew Wright, came to my school to do a presentation about how Specright provides a cloud management system and data analytics tool for packaging specifications. I was immediately intrigued by this idea and really wanted to be a part of the process.
What do you want to learn while you're at Specright?
Let me first say that when I received the offer from Specright, I was filled with excitement because I knew the skills I would gain during my internship would go beyond packaging. I believed this would be a unique experience compared to other packaging internships.
While I'm here, I'd like to get exposed to the company's general business processes. I'd like to learn the Packaging Engineer's role in the integration of data science with packaging technology. I'd also like to learn, practice and improve my programming skills.
Why are you interested in packaging?
Packaging allows me to design a product from the bottom up — it's a very unique aspect that I absolutely love about packaging.
I also enjoy using CAD software. The process of drawing lines that in turn become 3D rendering images and manufacturable instructions is very fulfilling.
What have you enjoyed from your Specright experience so far?
I've been working with the customer onboarding team for a few weeks and they have treated me like a full-time employee since day one. It's been great to manage multiple projects while learning about both packaging and the Salesforce platform that Specright is built on. My work so far includes: 1) Architecting data structures customized to individual customer needs, 2) Creating custom workflow rules in Specright, 3) Extracting data from CAD drawings and other files across various packaging types, and 4) Conducting basis weight testing and reverse engineering packaging for customer audits.
I've also gained exposure to the sales process through shadowing the sales team on customer calls and product demos. The software development team has taught me regex, which has optimized my data extraction processes. Lastly, I've enjoyed the bike rides from my apartment to work in the California sunshine, filled with stunning scenery and my free spirits!
A note from the specright team:
We are thrilled to have Xingguang on the Specright team. From day one, he has impressed us with his work-ethic, intelligence, and tenacity. It will be sad to see him go at the end of his Summer Internship but thankfully we know it's not good-bye. If you're interested in a career at Specright, please visit our Careers page and reach out to learn more!