Michigan 4-H Spectacular Youth Leadership Institute connects Michigan teens with wide variety of inspiring leaders
Michigan teens who participated in the Michigan 4-H Spectacular Youth Leadership Institute interacted with leaders from MSU, Michigan and from around the world at the 2022 event, held December 3-4, in East Lansing.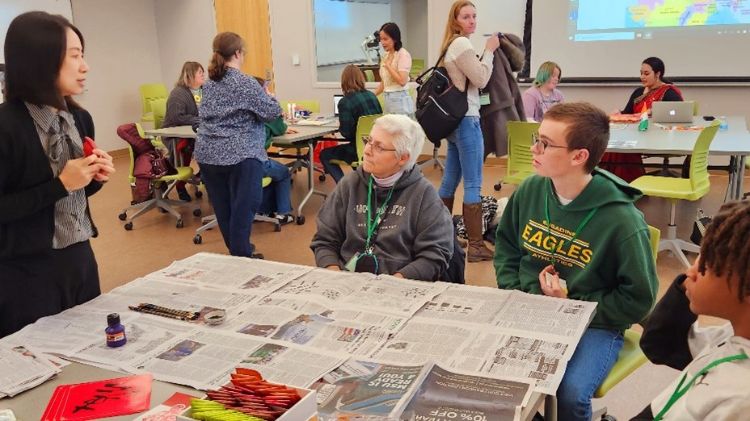 The Michigan 4-H Spectacular Youth Leadership Institute (SYLI) is an annual event, hosted by Michigan State University Extension, which provides teens with the opportunity to interact with leaders and to develop their own leadership skills. The 2022 SYLI, held on the campus of MSU, December 3-4, featured speakers and guests from Michigan, Texas, Ukraine, Turkey, Russia, Nigeria, India, Bangladesh, Philippines, Taiwan, Kenya, Thailand, Pakistan and Libya. Speakers and guests provided teen participants with diverse perspectives on leadership and shared inspirational examples of how they have served in leadership roles.
Nicole Cash, a Wisconsin 4-H alum and current student at Northern Michigan University, served as the keynote speaker for SYLI. Nicole received the 2023 National 4-H Youth In Action Award in the STEM (science, technology, engineering and mathematics) category, in recognition of her leadership in designing and building custom mobility device from Power Wheels ride-on cars for children with disabilities, along with her robotics club. In her keynote speech at the SYLI, Nicole emphasized that she was "just a normal kid" who was presented with an opportunity to make a positive difference in the lives of others, and that she and her teammates took on the challenge of creating something completely novel without having any knowledge of how to successfully build a mobility devise for someone with a physical disability.
Teens participating in the SYLI also had the opportunity to meet and learn about a wide variety of cultures through the participation of international students at MSU who are participants in the Fulbright Foreign Language Teaching Assistant Program (FLTA). Fulbright FLTAs from Turkey, Russia, Nigeria, India, Bangladesh, Philippines, Taiwan, Kenya, Thailand, Pakistan and Libya served as cultural ambassadors on behalf of their countries by introducing SYLI participants through educational displays, cultural artifacts, games, music and dance. Carol Wilson-Duffy, interim director of the MSU Community Language School, and Danielle Steider, MSU Fulbright FLTA coordinator, were instrumental in connecting Fulbright FLTA with the SYLI through a collaboration between 4-H and the MSU College of Arts and Letters.
Fulbright FLTA students Ahmed Yahia (Libya), Edwin Owade (Kenya) and Candace Kay Kristen Lleses (Philippines) served as panelists in the SYLI Youth Power Panel presentations, helping to provide participants with culturally diverse perspectives on youth leadership. Additional panelists featured in the SYLI Youth Power Panel presentations were:
Erin Kramer – Michigan 4-H alum and democratic engagement coordinator with the MSU Center for Community Engaged Learning.
Maezie Nettleton – Michigan 4-H alum and co-founder of the Michigan 4-H Helping with Rainbow Hands Teen Leadership Club.
Lola Mileta – Michigan 4-H international exchange program alum from Ukraine, who joined the panel via Zoom from Poland.
Sergio Martínez-Beltrán - Puerto Rico 4-H alum, MSU alum and currently a Texas Capitol reporter with NPR's The Texas Newsroom.
The SYLI program also featured a screening of The Stories Project, a documentary film which told the stories of refugee youth from Lansing, Michigan, who served as leaders and participants in a youth leadership camp led by the Lansing-based Refugee Development Center (RDC). Dr. Carrie Symons, the film's director, and Mariah Shafer, outreach director for RDC, joined the SYLI to lead an educational session on immigration and the experiences of youth leaders who came to Michigan as refugees.
At the SYLI, teens participated in a variety of field trip immersion experiences on the campus of MSU, which also helped to provide inspiration and examples of ways that people engage in community building, advocacy, social change and environmental protection through their leadership. Field trip immersion experiences included:
The MSU Museum to experience the 5° Celsius Exhibit, an art installation featuring work from more than one dozen national and international artists, scientists and researchers exploring the global climate crisis.
The MSU Broad Art Museum, where students toured an exhibit featuring the art of LaToya Ruby Frazier, which focused on the experiences of people living through the Flint water crisis.
The MSU Butterfly Garden Project, where youth folded paper butterflies in collaboration with joint project led by artist-in-residence Zahra Resh, the MSU Age Alive in the College of Osteopathic Medicine, and the Asian Studies Center Japan Council, which will fill the atrium of the MSU International Center with thousands of origami butterflies in March 2023 as a way to reflect on the third anniversary of the arrival of the COVID-19 pandemic.
The MSU Dairy Barn, where students practiced animal handling as a way to understand group dynamics, communication and adaptive leadership and then apply their experience working with people in a team environment.
Through these experiences, as well as through participating in educational sessions focused on leadership styles, career preparation, ethics, core values and social identities, teens attending the SYLI program explored youth leadership through a wide variety of perspectives, and left the program with new tools and knowledge to apply in future leadership roles.
The 2022 Michigan 4-H SYLI was supported through a grant provided by the Michigan 4-H Foundation. The 2023 Michigan 4-H SYLI is tentatively planned for November 10-12, in East Lansing. For more information, please contact MSU Extension educators Brian Wibby (wibby@msu.edu, 906-439-5065) or Roxanne Turner (turnerr@msu.edu, 517-546-3950).