2020 Michigan 4-H Mark of Excellence award winners announced
Mark of Excellence essays portray learning experiences of 4-H members.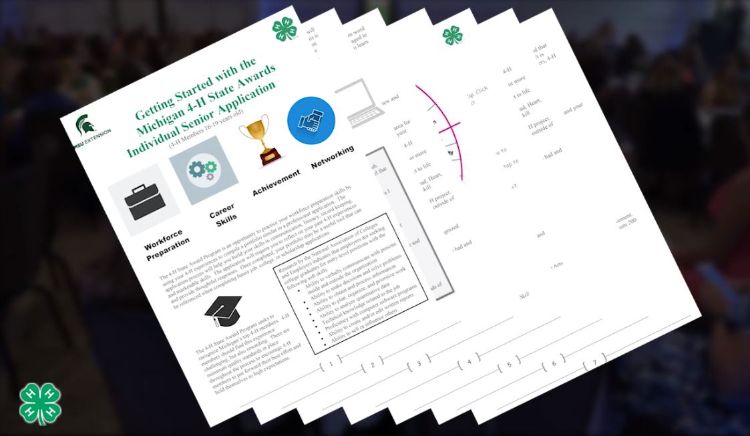 Every year, counties across Michigan offer 4-H youth ages 11 and 12 the opportunity to participate in Michigan 4-H State Awards Program 4-H Mark of Excellence essay contest. As part of the contest, each county may select two essays to be recognized as winners.
The essay theme is "Because of 4-H, I can…" and the youth referred to their 4-H experiences as ones that have allowed them to make new friends, try new projects, explore new places and help their dreams come true. Some credited 4-H with helping them increase their public speaking skills, confidence, and time management skills. Other 4-H'ers wrote with excitement about their club meetings, events, exhibits and community service projects.
"These young members look forward to the future and are eager to see where 4-H will take them next," said Jake DeDecker, Michigan State University Extension 4-H State Leader. "The Mark of Excellence essay contest not only provides a space for youth to think critically about their experiences but also recognizes them for engaging in these learning opportunities."
Overall, 44 4-H members from 30 counties were honored as 2020 Mark of Excellence county winners.
Allegan County: Lena Germain, Madaline Langlois
Barry County: Bridget Kayser, Sadie Poppema
Berrien County: Mason Green
Clare County: Haley Neff, Katie Sheldon
Delta County: Charlee Klink
Grand Traverse County: Sophia Shuff
Gratiot County: Kayla Goward, Gabriel Grigar
Hillsdale County: Jiyana Easterday, Chloe Stalhood
Huron County: Milan Forrester
Ingham County: Emily Constan
Ionia County: Ethan Cassel, Christian Trierweiler
Iosco County: Cali Matthews
Kalamazoo County: Brady Gibson
Kalkaska County: Annabelle Lobb
Kent County: Vanessa "Piper" Koebel
Leelanau County: Everett Howell
Lenawee County: Carson Garrison, Jayleigh Williams
Livingston County: Alexander Byl, Gavin Howery
Macomb County: Taryn Lake, Grace Rowley
Mecosta County: Hunter Davis, Hannah Hough
Midland County: Ava Warner
Monroe County: Corinna Aulph
Montcalm County: Madison Moran, Mary Nitengale
Oakland County: Sadie Benson, Ari Polymeneas
Osceola County: Karley Eager, Amelia Ward
Ottawa County: Noelle Nienhuis
Roscommon County: Alexandria Gammicchia, Finley Gerdes
Sanilac County: Autumn Klatzke
St. Joseph County: Ava Sowards-Haack
Van Buren County: Brynn Cornelison
Each recipient received a medal, and their winning essays were added to the Mark of Excellence history book at the Michigan 4-H Foundation and State 4-H Office at MSU Extension.
To learn more about Michigan 4-H Youth Development, contact your local MSU Extension office or visit the Michigan 4-H website.