2019 Michigan 4-H Mark of Excellence award winners announced
Youth refer to opportunities and experiences 4-H has allowed them to have in Mark of Excellence essays.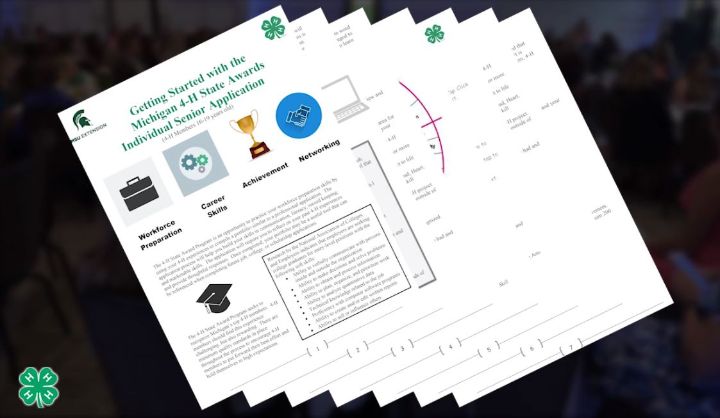 Every year, counties across Michigan offer 4-H youth ages 11 and 12 the opportunity to participate in Michigan 4-H State Awards' 4-H Mark of Excellence essay contest. As part of the contest, up to two 4-H youth essays from each county are selected to be recognized as award winners.
The essay theme is "Because of 4-H, I can…" and the youth referred to their 4-H experiences as ones that have allowed them to make new friends, try new projects, explore new places and help their dreams come true. Some credited 4-H with helping them increase their public speaking skills, confidence and time management skills. Other 4-H'ers wrote with excitement about their club meetings, events, exhibits and community service projects.
"These young members look forward to the future and are eager to see where 4-H will take them next," said Jake DeDecker, Michigan State University Extension 4-H State Leader. "The Mark of Excellence essay contest not only provides a space for youth to think critically about their experiences but also recognizes them for engaging in these learning experiences."
Overall, 37 4-H members from 26 counties were honored as 2019 Mark of Excellence county winners.
Alpena County: A'va Maria Mitchell
Berrien County: Derrick J. Freehling and Isabelle Noel Hunn
Cass County: Leah Shelby and Savannah Shelby
Chippewa County: Jessy Baron
Clare County: Haley Schunk and Allison Whitaker
Clinton County: Natalie Bounds
Genesee County: Elizabeth Hartmann
Gratiot County: Brayden Bonga and Paisley Hansen
Ionia County: Alyssa Possehn and Nicole Trierweiler
Iosco County: Symphonie J. Nelkie
Isabella County: James Endres and Eva Lynch
Lapeer County: Arianna Wright
Lenawee County: Holly Mitchell
Livingston County: Yasmin Scheuneman and Karley Williams
Macomb County: Shelby Philion
Mecosta County: Jadyn Herzog
Missaukee County: Chiara Z. Sible
Monroe County: Brandon Fisher and Camden Schmidt
Newaygo County: Aimee Jo Boisvert and Isabel R. Zimmer
Oakland County: Mitchell Bessolo and Oscar Vartanian
Saginaw County: Noah Hecht
Sanilac County: Amelia Adamczyk and Maggie VanSickle
St. Joseph County: Zachary Sowards Haack
Van Buren County: Jack Loomis
Washtenaw County: William Rogers
Wayne County: Cooper Genaw
Each recipient received a medal, and their winning essays were added to the Mark of Excellence history book at the Michigan 4-H Foundation and State 4-H Office at MSU Extension. The essays are also on display at the Kettunen Center in Tustin, Michigan.
To learn more about Michigan 4-H Youth Development, contact your local MSU Extension office or visit the Michigan 4-H website.
Did you find this article useful?
---
You Might Also Be Interested In