Estate gift creates lasting 4-H legacy; grows endowment
An estate gift from long-time 4-H supporters and alumni George and Deanna House will grow the Founders Fund.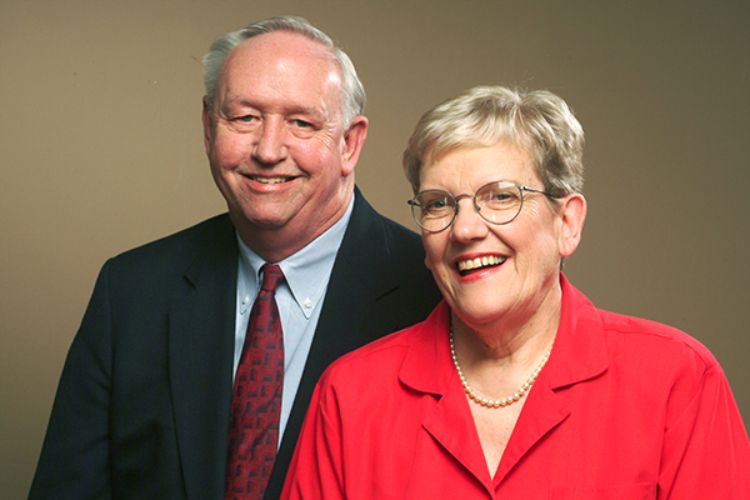 Wisconsin 4-H alumni George and Deanna House were active Michigan 4-H volunteers at both the county and state level, including serving as judges at the State 4-H Poultry Show. Trustee emeritus George House served as a Michigan 4-H Foundation trustee for three decades and passed away in 2014. Deanna served on the Michigan 4-H Centennial Celebration Committee and co-authored the 4-H curriculum, The Microwave Connection. Deanna passed away Feb. 17, 2022.
"As dedicated donors to 4-H, George and Deanna had a strong passion and belief in 4-H. They had a clear understanding of the value of giving and were true philanthropists by documenting a planned gift designating a portion of their estate to the Michigan 4-H Foundation. Legacy gifts like this make a lasting difference for the future of 4-H," said Julie Chapin, Michigan 4-H Foundation Resource Development Committee chair and MSU Extension institute director for Children and Youth.
Their charitable estate gift will grow the Founder's Fund, the Michigan 4-H Foundation's first unrestricted endowment. Established in 2006 by George and Deanna with both a major leadership gift and a planned gift, they encouraged and solicited additional gifts from current and former trustees to help grow this fund which ensures the foundation's ability to be advocates and stewards for Michigan 4-H by supporting the annual operation and grant-making needs of the foundation.
When elected as trustee emeritus, former executive director Cheryl Howell said, "George's wisdom and generous sharing of it has significantly benefitted the work of three decades of Michigan 4-H Foundation board and staff leadership. His contributions really defined the meaning of extraordinary. Aside from his years of service and expertise to the board, George's major long-term impact for the Michigan 4-H Foundation was the advocacy for and creation of the Founder's Fund. His vision was to create a perpetual source of income to eventually fund the entire operations of the Michigan 4-H Foundation."
George served as Michigan 4-H Foundation trustee from 1979 to 2009 and was elected trustee emeritus in 2010. His service to the board included terms as president, vice president and treasurer, Personnel Committee chair and many years on the Finance Committee. He also provided trustee leadership to the Vison 2021 renovations at Kettunen Center. In his professional career, George held positions as president of Production Credit Association of Kalamazoo, vice president of Hamilton Farm Bureau Cooperative, president of AgriDirections, Inc. and later as executive director of Michigan Allied Poultry Industries. He was a 1963 graduate from the University of Wisconsin-Madison.
Born and raised on her family farm near Footville, Wisconsin, Deanna was very involved in 4-H growing up. After graduating from Janesville High School in 1957, she went to the University of Wisconsin – Stout, which was then called Stout College. Deanna majored in home economics and was involved in the Alpha Phi Sorority. Early in her career Deanna taught high school home economics in Wisconsin. After moving to Michigan, Deanna taught community education classes on microwave cooking. The classes expanded and she started giving cooking demonstrations for churches and organizations. From 1981 to 1995, Deanna published four cookbooks: House Specialties, More House Specialties, Even More House Specialties, and House Specialties Encore. Deanna continued providing cooking demonstrations until 2012. To show how much she valued her education, Deanna served on the Stout Foundation Board for six years and annually sponsored a scholarship for students going into education.
The Houses were recognized by the Michigan 4-H Foundation as members of both the Cornerstone Society and the A.G. Kettunen Society, which provides lifetime recognition to donors who have made documented future gifts to 4-H. To learn more about leaving a legacy with a planned gift to support 4-H, contact Carrie Horstman, assistant director of development for 4-H at 517-353-7075 or greenca5@msu.edu or visit https://mi4hfdtn.org/gift-types.
Gifts in memory of George and/or Deanna may be made online at: https://mi4hfdtn.org/memorialtributedonation or by check to the Michigan 4-H Foundation, Justin S. Morrill Hall of Agriculture, 446 West Circle Drive Room 160, East Lansing, MI 48824.