Michigan Alliance for Animal Agriculture continues growth, expands impact on industry
The Michigan Alliance for Animal Agriculture saw rapid growth from 2015 to 2017.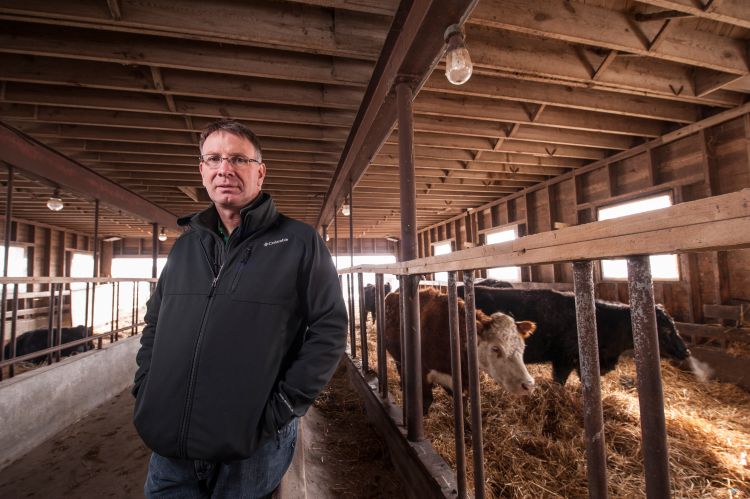 Rapid growth best defines the Michigan Alliance for Animal Agriculture (M-AAA) over its first three years. From $630,000 in funding in 2015 to nearly $1.5 million in 2017, the animal agriculture industry is the beneficiary of an increasing commitment from a diverse group of partners.
M-AAA was established by commodity organizations and Michigan State University (MSU) in 2014 to enhance research, outreach and educational programs within animal agriculture. Projects conducted by MSU researchers focus on priorities such as the growth and sustainability of animal agriculture, improvements in food safety, protection of the environment and growth in the livestock sector workforce.
"The Michigan Alliance for Animal Agriculture is a natural fit for MSU," said George Smith, associate director of MSU AgBioResearch and a member of the M-AAA leadership team. "It stays true to the land-grant mission that has guided our institution since its inception and provides a platform for support of research on real-life problems impacting the Michigan animal agriculture industries.
"We're thrilled about how the program has been received, as evidenced by the tremendous support from the State of Michigan, our commodity groups and MSU."
Since the alliance's inception two years ago with more than half a million dollars in funding, the State of Michigan has continually supported the M-AAA program. Taking its support a step further, the State recently devoted $2.5 million to M-AAA in its 2018 budget, bringing total available funding for M-AAA to $3.1 million in 2018.
The competitive grants program is divided into three categories: applied research, extension and seed grants. Each proposal is reviewed by a team composed of faculty experts and M-AAA stakeholders. Funding is determined collectively by M-AAA representatives based on relevance to the defined industry priorities.
Completed projects have examined topics such as creating online and in-person resources for meat processors. MSU Extension educator Jeannine Schweihofer has led in-person workshops for more than 30 meat processors and regulatory personnel to help them follow a specialized retail meat processing variance, which mandates a set of trainings and procedures for processors.
Adam Lock, an associate professor in the MSU Department of Animal Science, undertook research that showed feeding dairy cows a palmitic acid-enriched fat supplement during summer months would increase a producer's gross income by $1.48 per cow per day based on current Michigan milk prices. On a 500-cow dairy farm averaging 80 pounds of milk, this would have resulted in an income increase of more than $22,000 per herd per month during the summer.
"Research through M-AAA is tackling some of the most urgent subjects in animal agriculture today," said Ron Bates, director of MSU Extension agriculture and agribusiness, and a member of the M-AAA leadership team. "Threats from infectious diseases are greater than ever. Challenges with food safety and antibiotic resistance are growing. The M-AAA is working to close the research gap and find solutions that propel our industry long into the future."
Looking ahead
A significant factor limiting the growth of agriculture in Michigan is a lagging number of available employees. To meet the needs of the industry, workers in production, distribution, food safety and many other areas need to be trained.
The State of Michigan has pledged $1.2 million in support of workforce development and community college partnerships with MSU for 2018.
MSU is seeking to create a food-processing curriculum and expand partnerships with several community colleges across the state. Through the Institute of Agricultural Technology within the College of Agriculture and Natural Resources, MSU works with community colleges to offer 10- to 24-month certificate programs that give students hands-on experience in a variety of agricultural disciplines.
A multitude of jobs in agriculture fall under the umbrella of food processing, and preparing students for these careers requires cutting-edge physical spaces.
With a one-time investment of $3.2 million from the State of Michigan in 2018, MSU will upgrade the Food Processing Education Laboratory on the East Lansing campus. The university will also be able to mobilize some of these food-processing techniques through innovative mobile food labs, bringing these educational experiences to students at partner community colleges.