Michigan chestnut update – June 26, 2018
Pollen shed is starting in southern and central Michigan. European rose chafer numbers are high and Asian chestnut gall wasp emergence will begin soon.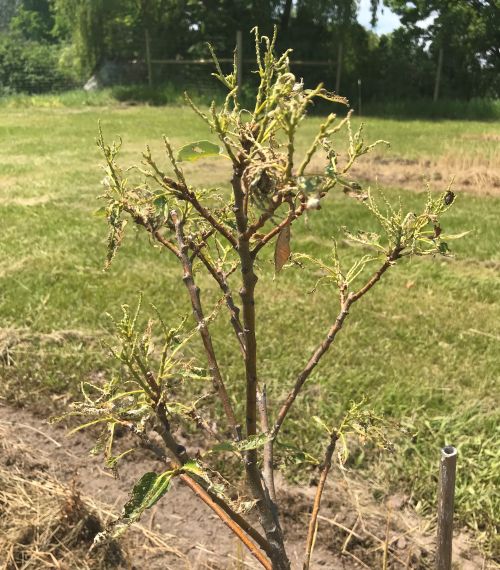 Chestnuts are starting to shed pollen in southern and central locations, and catkins are still closed in northern locations. Heat accumulation is close to the 28-year average around the state. Rainfall totals are highly variable, with substantial swaths of southern Michigan experiencing close to double the five-year rainfall average.
European rose chafer numbers are very high in some locations and severe damage to young trees has been observed. Rose chafers are considered a generalist pest and affect many crops, particularly those found on or near sandy soils or grassy areas. The adult beetles feed heavily on foliage and blossom parts of numerous horticultural crops in Michigan and can cause significant damage to chestnut orchards. Rose chafers can be particularly damaging on young trees with limited leaf area.
Management requires using broad spectrum insecticides that are toxic to pollinators and should not be applied during bloom. Learn more about European rose chafers.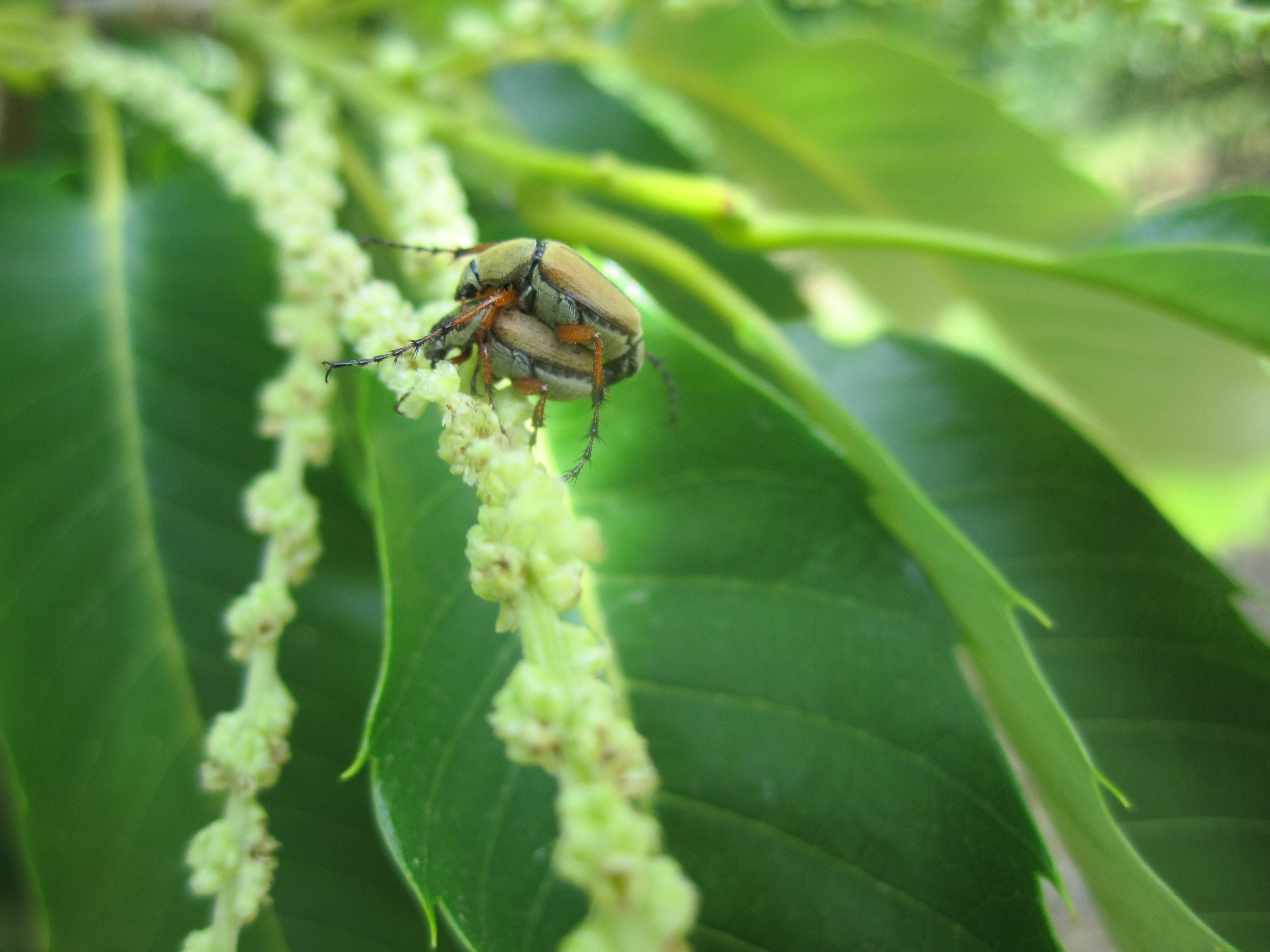 Rose chafers mating and feeding on chestnut catkins. Photo by Erin Lizotte, MSU Extension.
In the coming weeks, Japanese beetles will emerge around the state and cause similar foliar feeding damage, requiring careful management on young trees.
Asian chestnut gall wasp will begin emerging any day. Asian chestnut gall wasp is a potentially devastating invasive pest that can infest all species in the genus Castanea including American chestnut, ornamental chestnut species and species planted for nut production. Asian chestnut gall wasp (Dryocosmus kuriphilus), first identified in Michigan in 2015, is now established in several chestnut orchards in southwest Michigan.
Research is underway to assess development of the gall wasps and their potential effects on trees or burr production. A tiny parasitoid that was introduced into the U.S. in the 1970s for biological control of Asian chestnut gall wasp is currently feeding on gall wasp larvae in at least some of the affected fields.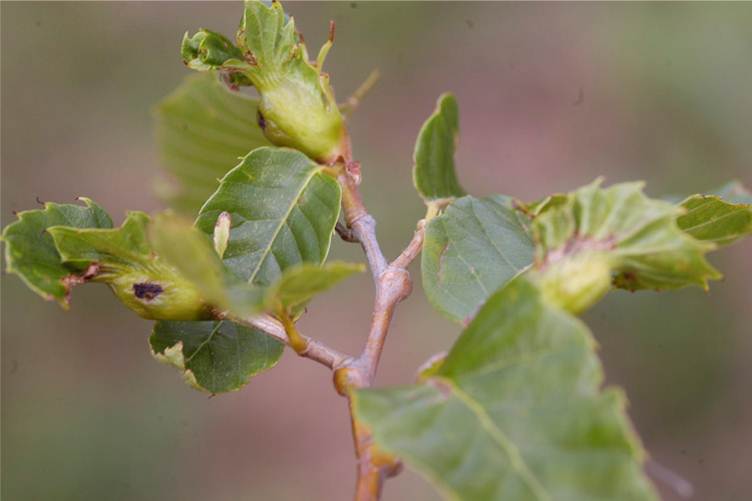 Globular galls formed by Asian chestnut gall wasp larvae. Dennis Fulbright, MSU.
The easiest way to scout for Asian chestnut gall wasp is to visually inspect trees for galls. Scouting can occur at any time of the year because the galls persist on the tree even after the wasps emerge in early summer. Leaves often remain attached to the galls during winter, which makes them highly visible at that time.
If you have identified Asian chestnut gall wasp on your farm, please contact Mike Bryan, plant industry specialist, Michigan Department of Agriculture and Rural Development, at 517-284-5648, or Erin Lizotte, MSU Extension IPM educator, at 231-944-6504 or taylo548@msu.edu for management assistance and to assist us in tracking possible movement of ACGW.
To learn more about Asian chestnut gall wasp and the state quarantine, see "Be on the lookout for Asian chestnut gall wasp" from MSU Extension.
Potato leafhopper numbers are moderate and European red mite levels are low. For more information on chestnut management, refer to the "Michigan Chestnut Management Guide."
Save the dates
Aug. 11 – The MSU Chestnut Research Program and the Ernie and Mabel Rogers Research Endowment are sponsoring an educational session at Rogers Reserve in Jackson, Michigan. The program will focus on applying pest management strategies in the orchard and in the processing facility: managing brown rot of chestnut, chestnut weevils, Asian chestnut gall wasp and Phytophthora root rot.
The event will feature Lucas Shuttleworth, world expert on brown rot of chestnut; Andrea Vannini, discussing brown rot and gall wasp of chestnut; Carmen Morales Rodriquez, discussing Phytophthora on chestnut; and Aroldo Mastrogregori, discussing processing chestnuts and using processing to manage insects and fungi. Stay tuned for more information.
Aug. 25 – MSU Extension and the Midwest Nut Producers Council will be hosting a Summer Farm Tour and Fundraiser in west central Michigan. Details to follow!
Stay in touch
Want to receive more pest management information for chestnut this season? Sign up to receive the MSU Extension News for Chestnuts Digest or follow us on Facebook at MSU Chestnut News.
This work is supported by the Crop Protection and Pest Management Program 2017-70006-27175 from the USDA National Institute of Food and Agriculture. Any opinions, findings, conclusions or recommendations expressed in this publication are those of the author(s) and do not necessarily reflect the view of the U.S. Department of Agriculture.