Michigan grape scouting report – July 15, 2021
Rainy weather requires attention to disease scouting and management. Some regions are half way to harvest.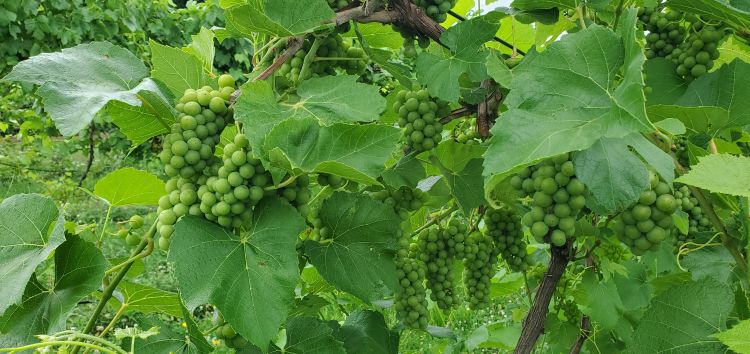 Weather
The week started warm with high temperatures in the upper 80s statewide. Unsettled weather entered Michigan on Wednesday, bringing cooler weather and scattered rain. High temperatures were in the 60s in northern grape growing areas; mid-70s further south. By the weekend, all areas were in the 70s for the day, but drier air in northern areas resulted in lows near 50. Humid air further south kept lows in the mid-60s and brought continued chances of scattered rain.
Rain was extremely variable for the week. Northern areas saw near 2 inches. Southern regions largely received less than a half inch, but isolated locations got almost 2 inches.
The forecast for this week is for highs in the upper 70s in northern areas and low 80s further south. The rains expected on Tuesday and again on Thursday this week should bring enough rain to keep the state from falling any further behind average.
With the seasonal week, we picked up an average number of growing degree days (GDD) last week: 95-140 GDD base 50. The southwest region is 365 GDD base 50 ahead of the northwest region. Statewide, we are approximately one week ahead of the 5-year average.
Vine growth
Visible fruit changes have been slow recently. In southwest Michigan, juice and hybrid grapes are still at berry touch to bunch closure. Vinifera grapes between pea size berry and berry touch. Some tight clustered varieties are close to bunch closure. Sites impacted by the freezes had varying levels of primary bud loss or foliar damage. In these freeze damaged sites, a reduced pest and disease program may be warranted. See "Pest management approaches in a winter or freeze damaged grape vineyard" from Michigan State University Extension for recommendations.
In northern vineyards, most varieties are pea size berry to berry touch. See this chart for grape growth stages.
Horticulture
The removal of basal leaves from main shoots and lateral shoots developed from basal nodes is known as early leaf removal, which is an effective way to control yield and improve fruit quality. Early leaf removal should be finishing in northern Michigan. It is usually performed around bloom, after shoot thinning has been done. This is an effective way to control yield and improve fruit quality. By removing the leaves at the bases of shoots at this time of year, airflow is improved and the vine's physiology is modified. In particular, it decreases fruit set, controls the yield per vine, and reduces cluster rot. Read here for more detail: Early season vineyard management.
Hedging
Hedging's main goal is to remove excess primary and lateral shoot growth from the canopy's top and sides, preventing shading and shoot entanglement between vine rows and allowing worker and tractor traffic through the vineyard. Although hedging reduces canopy by cutting primary and lateral shoots, it does not directly reduce the vine's inherent vigor and, when done in early to midsummer, can further promote growth by inducing lateral shoot growth in vigorous vines.
Timing of hedging
Hedging is usually performed from fruit set to véraison, when primary and lateral shoots begin to bend (45-degree angle), and it's important to keep leaves, fruit and developing buds exposed to enough light in dense canopies with excessive vegetative growth. Hedging too early in the growing season should be avoided because it can cause lateral growth and canopy density to increase.
Diseases
At this time of year, the diseases to focus on are downy mildew and powdery mildew. Fungicides that include broad-spectrum/contact fungicides like the EBDCs (FRAC M3) and captan are effective products and nice tools for resistance management. Viticultural practices that reduce canopy wetness such as good irrigation timing, leaf removal and good weed management can reduce many of these diseases in a vineyard. Typically, DMIs (FRAC 3), captan and EBDCs (FRAC M3) are effective for phomopsis, black rot, anthracnose as well. As we get farther into the season it will be difficult to manage black rot infections.
Downy mildew can cause fruit infection and late season defoliation. Flowers remain susceptible until two weeks after bloom. Downy mildew is caused by a fungal-like organism, so many site specific systemic fungicides that target other spring diseases do not work on downy mildew. Effective fungicides for downy mildew include products in FRAC codes 4, 11, 21, 40 and 45 as well as phosphorus acid salts and some biologically-based products.
If powdery mildew is the only concern, there are a number of products that are effective (FRAC codes 3, 7, 11, 13, U8, 50, and U13 as well as sulfur). Combining fungicides from different FRAC classes should also be effective while helping with resistance management.
As we approach berry touch, it is important to consider botrytis management. Several strategies contribute to good botrytis bunch rot management including opening up the canopy, properly applying fungicides, and using resistant cultivars when possible. Good botrytis control depends on getting good coverage. Just before bunch closure is the last chance to apply a fungicide to the inner part of the developing cluster. Fungicide resistance management is also important. The most effective products for botrytis are site specific and prone to resistance development. A new Michigan Grape Fact Sheet is now available for managing botrytis bunch rot.
Remember, as you choose a fungicide, check the guide for potential phytotoxicity of certain sprays on Concord grapes especially (this has been particularly noted for fungicides like Revus Top). Phytotoxicity risk is higher with high temperatures and quickly growing vines. Also, there is a significant phytotoxicity risk with specific contact products such as copper and sulfur for Labrusca type grapes (Concord and Niagara).
As the season continues, it is important to remember to manage fungicide resistance and avoid applying similar products back-to-back. This is particularly important with site-specific systemic fungicides. To reduce the development of resistance with systemic fungicides:
Do not make more than two applications per season of the same FRAC code.
Do not make two consecutive applications of the same FRAC code.
Rotate with unrelated fungicides in a different FRAC code that have efficacy on the target pathogen.
Include a contact multisite fungicide into a program (e.g., sulfur, captan, oils or biological fungicides).
Rupestris speckle is already showing up in sensitive hybrid wine grape varieties in southwest Michigan. Rupestris speckle may look similar to diseases like black rot, but it is not a disease. It is a physiological response to stress like the drought conditions we have experienced this spring. The leaves develop brown spotting and necrosis on older leaves. It is distinct from black rot in the lack of picnidia in the brown spots. Rupestris speckle can be found on varieties that have vitis rupestris grape in its parentage with some varieties like chambourcin and valvin muscat particularly susceptible. No treatments are known at this time, and it is generally thought that it has little to no impact on production.
This is a good time to scout for suspicious issues related to other vine stressors. Many of these problems can be abiotic including nutrient related issues and graft incompatibility, but some of the biotic problems can be caused by grapevine trunk diseases or grapevine viruses. If you are interested in taking samples and testing, you can send them to MSU Plant & Pest Diagnostics. Please see these articles on grapevine trunk disease and sampling for grapevine viruses.
Insects
Catches of male grape berry moth have started to increase in southwest Michigan. Numbers are still lower than first generation catch, which can indicate a higher activity of females that compete with the traps. Based on the degree day model with late May dates for biofix, egg laying of the second generation should have begun in southwest Michigan between June 30 and July 3, 2021. Larvae are beginning to be seen in fruit clusters. Season-long protection of clusters from grape berry moth larvae requires attention to the second generation that is now occurring in southern Michigan. The heavy rains can also wash residues off clusters, so keep this in mind when planning cluster protection programs. Some guidance on this topic is available in "Rainfast characteristics of insecticides on fruit." It was developed for apples, but still contains good information for grape growers.
Insecticides that are best used against berry moth larvae should be applied when eggs start hatching. This is 100 GDD47 after the start of egglaying (910 GDD47). At this time of year, this is approximately 5 days after the start of egglaying. There are a number of broad-spectrum insecticide options that have activity against young larvae such as Altacor, Delegate and Verdepryn. Imidan is also effective against grape berry moth but should be applied in water that is pH 5-5.5 for maximum activity. Multiple pyrethroid insecticides and the carbamate Sevin are also registered, but these can disrupt biological controls.
For vineyards that had significant berry moth damage last year or those that already have damage this year, a second spray targeting larvae should be applied two weeks after the spray that targeted the 910 GDD47 timing, which should be next week. For more detailed information to help with choosing the right insecticide, see: "Mid-season management of grape berry moth."
Japanese beetle activity is increasing in some vineyards, feeding on leaves. Labrusca grapes can tolerate damage from Japanese beetles, but vinifera and hybrid wine grapes with thinner leaves are more easily defoliated. Susceptibility can vary widely among cultivars in adjacent rows/vines so focus management where it is most needed to save money. Treatment is usually only necessary if significant defoliation is seen. A well-timed broad spectrum insecticide treatment should help manage grape berry moths and Japanese beetles at the same time.
Upcoming meetings
Viticulture Field Day will be returning to an in-person event this year. The event location is 12 Corners Winery in Benton Harbor, Michigan, on July 28, 2021. This will be an all-day event. Check in opens at 8 a.m., presentations start at 9 a.m. The traditional steak dinner and wine tasting will return. There will be limited attendance. Pre-registration is highly recommended.
Related articles