Michigan grape scouting report – July 7, 2021
Grape berry moth egglaying has begun in southern Michigan vineyards. Several diseases have been found at high pressure sites.
Weather
The week started with rain scattered across much of Michigan, with the heaviest amounts across southern parts of the state. Southern grape growing regions saw a half to an inch and a half. Northern areas saw less than a quarter inch. High temperatures in northwest grape areas started in the mid to upper 70s. Southeast Michigan was 10 degrees warmer. A brief cooling spell at the end of the week was quickly replaced with upper 80s statewide by the start of this week.
The forecast for all regions of the state is for slightly cooler temperatures. Highs are expected to be in the mid- to upper 70s and lows near 60 for much of the week. A storm system is expected to pass through the state, bringing a significant amount of rain to northwest Michigan on Wednesday, continuing through southern Michigan by Thursday.
The recent rains have helped alleviate the dry soil conditions, especially in the southern parts of Michigan. According to the drought monitor, most of lower Michigan is no longer in a significant drought. Northern Michigan grape areas are still in a moderate or severe drought. Even with the recent rains, all of Michigan is still in a deficit. Regular monitoring of soil moisture conditions is still recommended.
With the warm week, we picked up a number of growing degree days (GDD) last week: 125-155 GDD base 50. The southwest region is 325 GDD base 50 ahead of the northwest region. Statewide, we are approximately one week ahead of the five-year average.
Northwest Michigan GDD summary from March 1 - July 5, 2021
Southwest Michigan GDD summary from March 1 - July 5, 2021
Southeast Michigan GDD summary from March 1 - July 5, 2021

Northwest stations

GDD 50 F

Petoskey (Petoskey)

872

Traverse City (NWMHRC)

955

Old Mission (Old Mission)

918

Average for northwest region

906

Average last week

782

Southern stations

Benton Harbor (SWMREC)

1252

Lawton (Lawton)

1263

Fennville (TNRC)

1095

Average for southwest region

1230

Average last week

1077

Romeo (Romeo)

1188

Average for southeast region

1211

Average last week

1055
Vine growth
In southwest Michigan, juice and hybrid grapes are at berry touch to bunch closure. Vinifera grapes between buckshot berry and berry touch. Sites impacted by the freezes had varying levels of primary bud loss or foliar damage. In these freeze damaged sites, a reduced pest and disease program may be warranted. See "Pest management approaches in a winter or freeze damaged grape vineyard" from Michigan State University Extension for recommendations.
In northern vineyards, most varieties are buckshot to pea size berry. See this chart for grape growth stages. Some growers in the northern vineyards are experiencing a poor fruit set due to nutrition and environmental impacts.
Horticulture
Shoot thinning should be finished in all areas of Michigan. Suckering and trunk cleaning is continuing. Trunk cleaning is the act of removing the extra shoots from the trunk that can emerge from buds that were hidden beneath the bark. Suckering is an important early season operation as well, and one of the most challenging. It seems as if suckers have two weeks (for each variety) when they are easy to knock off, and this is the time of the season.
The removal of basal leaves from main shoots and lateral shoots developed from basal nodes is known as early leaf removal, which is an effective way to control yield and improve fruit quality. Early leaf removal should be finished in southern Michigan, continuing in northern Michigan. It is usually performed around bloom, after shoot thinning has been done. This is an effective way to control yield and improve fruit quality. By removing the leaves at the bases of shoots at this time of year, airflow is improved and the vine's physiology is modified. In particular, it decreases fruit set, controls the yield per vine, and reduces cluster rot. Read here for more detail: Early season vineyard management.
Diseases
At this time of year, diseases that may begin to be visible are phomopsis, black rot, anthracnose, downy mildew and powdery mildew. That said management should be primarily targeting downy mildew and powdery mildew at this time. Fungicides that include broad-spectrum/contact fungicides like the EBDCs (FRAC M3) and captan are effective products and nice tools for resistance management. Viticultural practices that reduce canopy wetness such as good irrigation timing, leaf removal and good weed management can reduce many of these diseases in a vineyard. Typically, DMIs (FRAC 3), captan and EBDCs (FRAC M3) are effective for phomopsis, black rot, and anthracnose. As we get farther into the season it will be difficult to manage black rot infections.
Remember as you choose a fungicide check the guide for potential phytotoxicity of certain sprays on Concord grapes especially (this has been particularly noted for fungicides like Revus Top). Phytotoxicity risk is higher with high temperatures and quickly growing vines. Also there is a significant phytotoxicity risk with specific contact products such as copper and sulfur for Labrusca type grapes (Concord and Niagara).
If powdery mildew is the only concern, there are a number of products that are effective (FRAC codes 3, 7, 11, 13, U8, 50, and U13 as well as sulfur). A combination of fungicides containing these FRAC classes should also be effective while helping with resistance management.
Downy mildew can cause fruit infection and late season defoliation. Flowers remain susceptible until two weeks after bloom. When making a chemical application, sprays should be timed prior to bloom and at bloom for optimal control. Downy mildew is caused by a fungal-like organism, so many site specific systemic fungicides that target other spring diseases do not work on downy mildew. Effective fungicides for downy mildew include products in FRAC codes 4, 11, 21, 40 and 45 as well as phosphorus acid salts and some biologically-based products.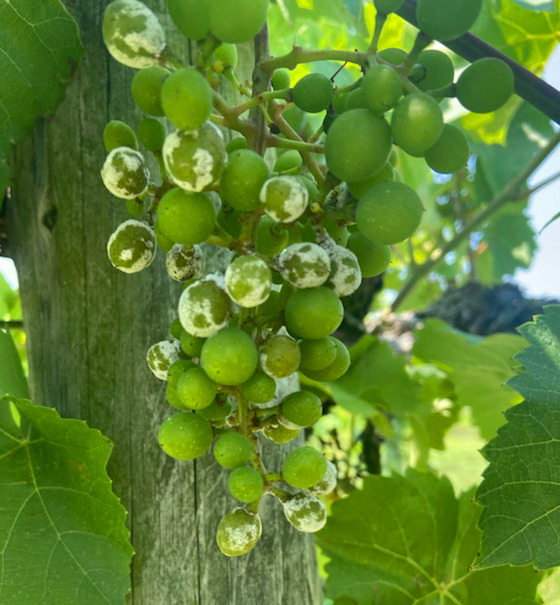 As we approach berry touch, it is important to consider botrytis management. Several strategies contribute to good botrytis bunch rot management. These include opening up the canopy, properly applying fungicides and using resistant cultivars when possible. Good botrytis control depends on getting good coverage and this is the last chance to apply a fungicide to the inner part of the developing cluster. Fungicide resistance management is also important. The most effective products for botrytis are site specific and prone to resistance development. A new Michigan Grape Fact Sheet is now available for managing botrytis bunch rot.
As the season continues, it is important to remember to manage fungicide resistance and avoid applying similar products back-to-back. This is particularly important with site-specific systemic fungicides. To reduce the development of resistance with systemic fungicides:
Do not make more than two applications per season of the same FRAC code.
Do not make two consecutive applications of the same FRAC code.
Rotate with unrelated fungicides in a different FRAC code that have efficacy on the target pathogen.
Include a contact multisite fungicide into a program (e.g., sulfur, captan, oils or biological fungicides).
Rupestris speckle is already showing up in sensitive hybrid wine grape varieties in southwest Michigan. Rupestris speckle may look similar to diseases like black rot, but it is not a disease. It is a physiological response to stress like the drought conditions we have experienced this spring. The leaves develop brown spotting and necrosis on older leaves. It is distinct from black rot in the lack of picnidia in the brown spots. Rupestris speckle can be found on varieties that have vitis rupestris grape in its parentage with some varieties like chambourcin and valvin muscat particularly susceptible. No treatments are known at this time, and it is generally thought that it has little to no impact on production.
This is a good time to scout for suspicious issues related to other vine stressors. Many of these problems can be abiotic including nutrient related issues and graft incompatibility, but some of the biotic problems can be caused by grapevine trunk diseases or grapevine viruses. If you are interested in taking samples and testing, you can send them to MSU Plant & Pest Diagnostics. Please see these articles on grapevine trunk disease and sampling for grapevine viruses.
Insects
Catches of male grape berry moth have declined in southwest Michigan, which can indicate a higher activity of females that compete with the traps. Based on the degree day model with late May dates for biofix, egg laying of the second generation should have begun in southwest Michigan last week. Egg hatch should start within the next few days (100 GDD47 after the start of egglaying)
Season-long protection of clusters from grape berry moth larvae requires attention to the second generation that is starting now in southern Michigan. Predicted egglaying starts at 810 GDD base 47 from wild grape bloom. Using the Berrien County bloom date of May 25, the Southwest Michigan Research and Extension Center Enviroweather station is currently at 960 GDD47. The Lawton weather station is at 910 GDD47 using May 29 as the average biofix in Van Buren County. The start of second generation egglaying was predicted to be late last week. For a more accurate GDD number for your vineyard, your wild grape bloom date can be entered into the grape berry moth model in Enviroweather to predict when egg laying will start.
Once egglaying has begun, there are a number of insecticides that can be used to prevent grape berry moth infestation, but their timing is critical to give the best performance. Insecticides that affect eggs should be applied at the beginning of egglaying at 810 GDD47 after wild grape bloom. The most commonly used examples are Intrepid and Altacor. Insecticides that are best used against berry moth larvae should be applied when eggs start hatching. This is 100 GDD47 after the start of egglaying (910 GDD47). At this time of year, this is approximately five days after the start of egglaying.
There are a number of broad-spectrum insecticide options that have activity against young larvae such as Altacor, Delegate and Verdepryn. Imidan is also effective against grape berry moth but should be applied in water that is pH 5-5.5 for maximum activity. Multiple pyrethroid insecticides and the carbamate Sevin are also registered, but these can disrupt biological controls.
For vineyards that had significant berry moth damage last year or those that already have damage this year, a second spray targeting larvae should be applied two weeks after the upcoming spray. For more detailed information to help with choosing the right insecticide, see: Mid-season management of grape berry moth
Japanese beetles are now active in some vineyards, feeding on leaves. Labrusca grapes can tolerate damage from Japanese beetles, but vinifera and hybrid wine grapes with thinner leaves are more easily defoliated. Treatment is usually only necessary if significant defoliation is seen. A well-timed broad spectrum insecticide treatment should help manage grape berry moths and Japanese beetles at the same time.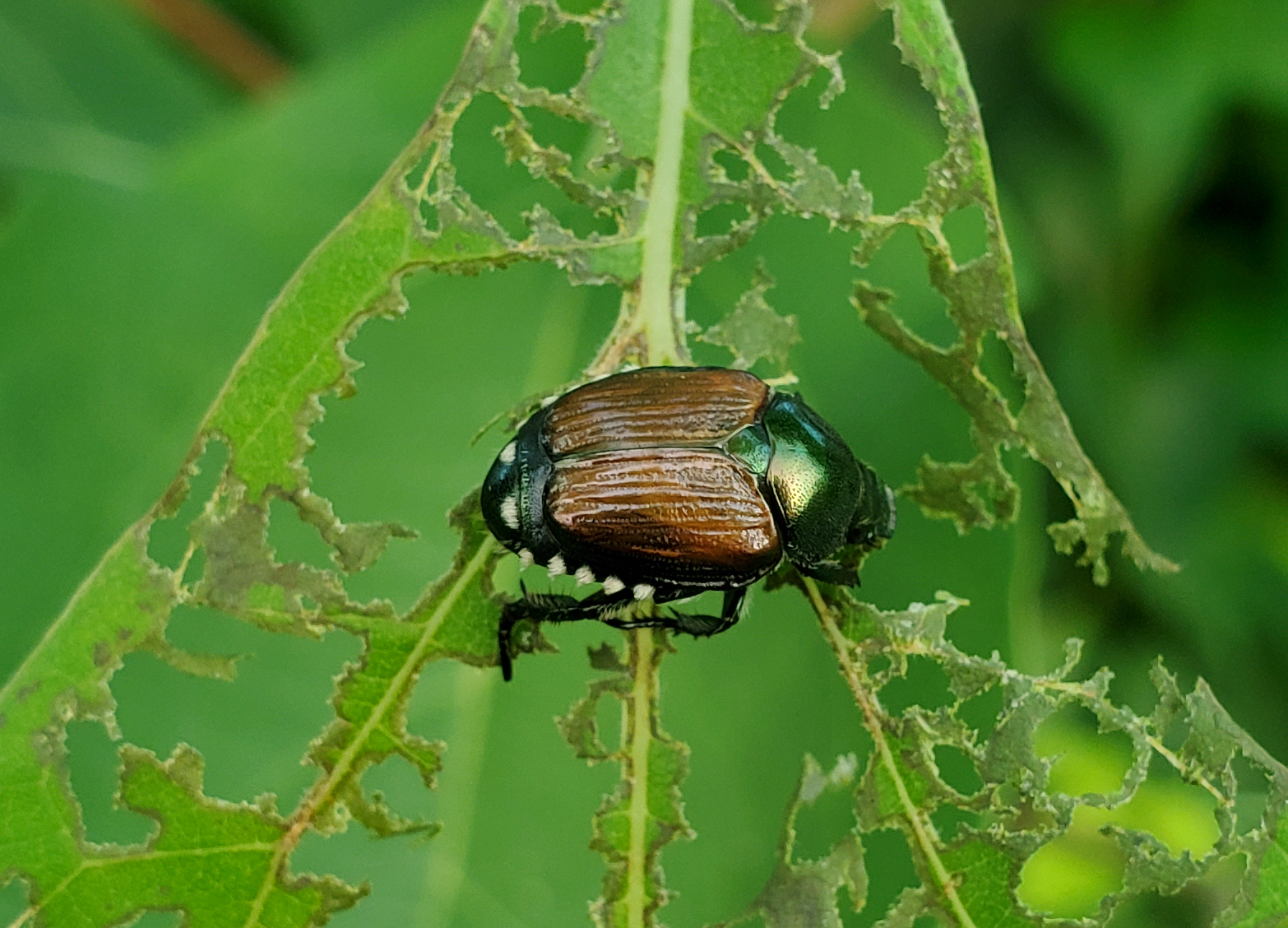 Upcoming meetings
Michigan Grape Society July Growers' Social - July 8, 6 p.m. This event, organized by Michigan Grape Society, will be held at Modales Wines. Address is 2128 62nd Street, Fennville, MI, 49408. Registration is recommended. Cost is $20 and will cover dinner at the event.
P45 July First Friday - July 9, 3-5 p.m. Hosted by Mawby Vineyards. Parallel 45 Vines & Wines and MSU Extension will hold an in-person meeting at one of the Mawby vineyards where Larry Mawby will share his experience and knowledge about the most effective canopy and crop load management strategies in the various climatic seasons for improving the quality of grapes for sparkling wine production.
The vineyard address is 755 North Sylt Road, Lake Leelanau, MI. No registration is necessary and two Michigan Restricted Use Pesticide (RUP) applicator recertification credits for private and commercial will be available for this meeting.
Viticulture Field Day will be returning to an in-person event this year. The event location is 12 Corners Winery in Benton Harbor, Michigan, on July 28, 2021. This will be an all-day event. Check in opens at 8am, presentations start at 9 am. The traditional steak dinner and wine tasting will return. There will be limited attendance. Pre-registration is highly recommended.
Related articles