Michigan grape scouting report – Sept. 23, 2020
Niagara harvest has begun. Wine and table grape harvests continue.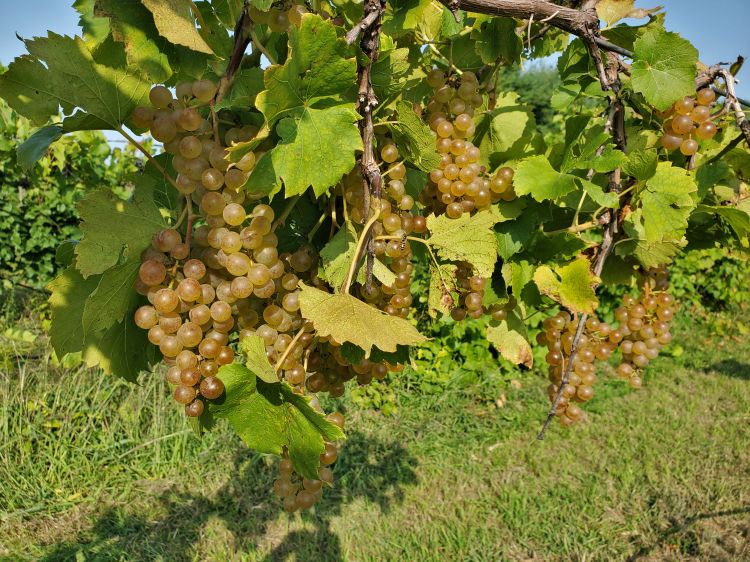 Weather
The past week was cool. Southern parts of the state had highs in the 60s and lows in the 40s. Northern areas were 5 degrees cooler. On Saturday there were isolated locations with temperatures below freezing, with several recording 30 degrees for a low temperature. No rain was recorded in the state. This next week is expected to be warmer with highs in the upper 70s throughout Michigan. A chance of rain is expected on Thursday in northern Michigan, and again on Sunday statewide.
With the very cool week across the state, we accumulated few degree days: only 45-60 DDbase 50 Growing Degree Days last week. The southwest region is 560 DDbase 50 ahead of the northwest region.
Note: Wild grape bloom dates are estimates: See this article for bloom dates
Vine growth
Niagara juice grape harvest started on Monday. Concord harvest is expected to begin over the weekend. Harvest of table and wine grapes is increasing in southern Michigan. Varieties being harvested include Seyval Blanc, Viognier, Vignoles and Valvin Muscat, among others. Pinot noir and other red and white cultivars are currently being harvested for sparkling wines. Ripening is moving along at a steady pace (Table below). In the NW Pinots are at 20-21brix and in the SW Bordeaux and Rhone varieties are at about 20-22 brix. Harvest time for many of these varieties should be in the next couple of weeks. In the northern part of the state some early super-hardy hybrids are being harvested for sparkling production.
During fruit maturation, bird damage is a challenge in vineyards. Crop losses can reach up to 95% and 60% in red and white varieties, respectively. Several methods of protection can be implemented including the use of bird nets, streamers, scare-eye balloons, electronic bird distress calls and propane-fired bird-scaring cannons. For more information on these methods, see: bird damage reduction strategies in viticultural practices.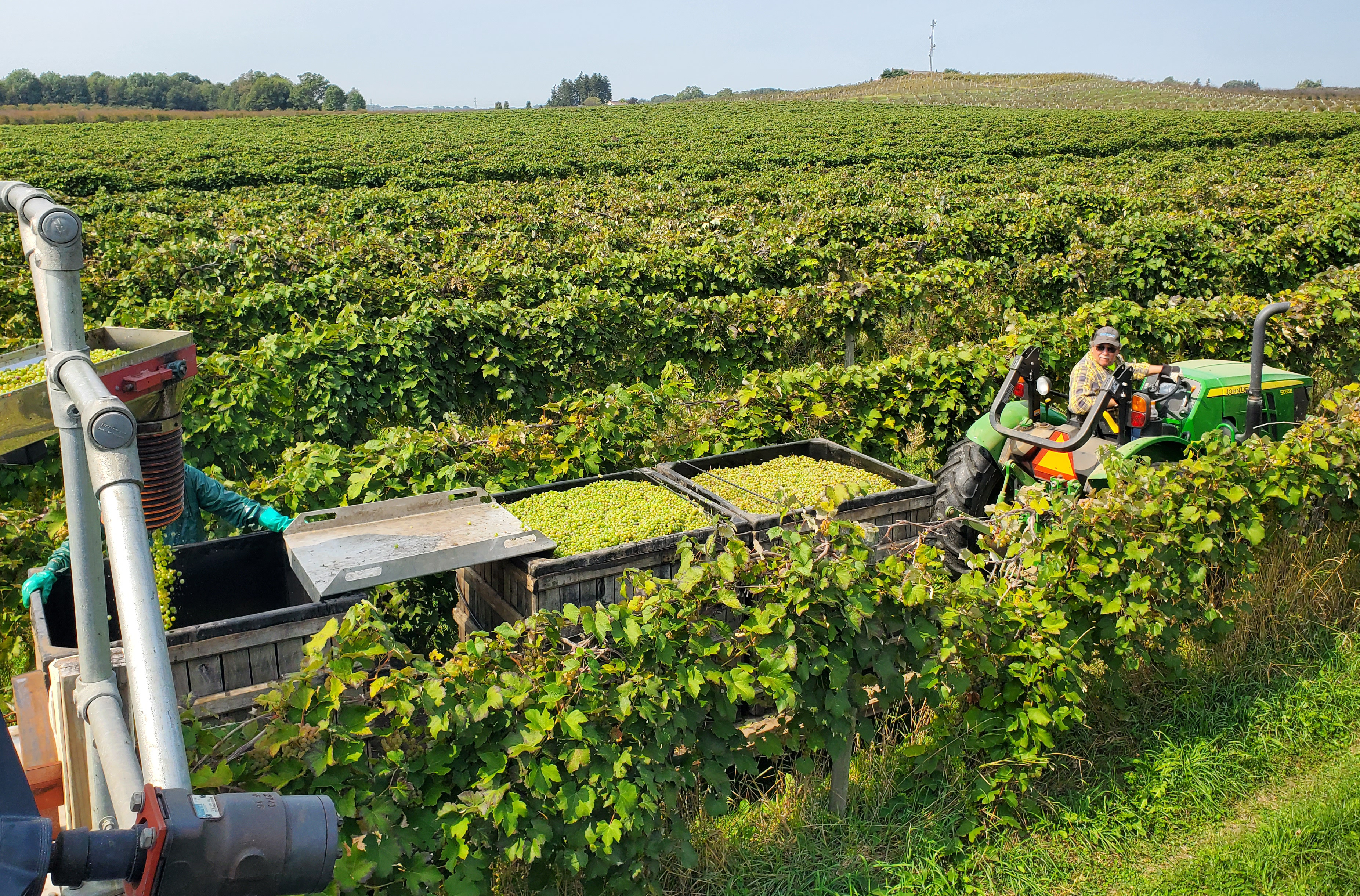 | | | |
| --- | --- | --- |
| Variety | Northwest Region (°Brix) | Southwest Region (°Brix) |
| Pinot Noir | 21 | -- |
| Pinot Gris | 20.8 | 18.5 |
| Pinot Blanc | 21 | 20.7 |
| Cabernet Franc | 18.1 | 16.7 |
| Zweigelt | 19.4 | -- |
| Riesling | 16.7 | 18.8 |
| Madeleine Angevine | 21 | -- |
| Chardonnay | 21 | -- |
| Valvin Muscat | 17.8 | 19.5 |
| Tempranillo | -- | 23.9 |
| Rousanne | -- | 22.7 |
| Merlot | -- | 22.0 |
| Aromella | -- | 21.2 |
| Concord | -- | 17.7 |
| Niagara | -- | 17.8 |
Weeds
Weed control is important at this time of the year for both harvested vineyards and blocks yet to be harvested. Weed control in non-harvested vineyards is mainly important to reduce weed interference in machine or manual harvest and to reduce the soil weed seed bank for the following season.
The application timing for most of the herbicides before harvest is mainly based on the pre-harvest interval (PHI). Aim (3-days PHI), Rely (14-days PHI), and Gramoxone (Restricted Use Pesticide) provide quick burn-down of weeds. Rely and Gramoxone control both broadleaves and grasses, but Aim is only effective for broadleaves. Venue (0-day PHI) can be added to improve burn-down and broaden the weed control spectrum. Some herbicides will damage grape green bark, new shoots, leaves or vines, so minimize contact with vines during application.
Glyphosate also has a short 14-day PHI, but it is not advisable to apply it after bloom. Significant injury may occur during the current season or the following year if glyphosate comes in contact with leaves, green shoots or is absorbed by bark.
After grape harvest, weed control might not be the top priority for many vineyards. But fall is the best time to control perennial weeds and apply residual herbicides to vineyard floors. After harvesting, the most important step is to perform thorough scouting of your vineyard and prepare the list of weeds that are problematic in your vineyard. The next step is to select the herbicides in combination with non-chemical management tools that are effective against these weed species. Fall applications of pre-emergence herbicides should be made before the soil freezes. Pre-emergence herbicides such as Alion (indazaflam), Princep (simazine), Solicam (norflurazon), Casoron (dichlobenil), Kerb (pronamide), Goal Tender (oxyfluorfen), Prowl H2O (pendimethalin), Chateau (flumioxazin) and Matrix (rimsulfuron) may be applied in fall.
Detailed information related to the herbicide rates and efficacy on weeds can be obtained in the Herbicide section of E154 Michigan Fruit Management Guide, that contains lists of all currently labeled herbicides along with specific remarks for their use in vineyards.
Diseases
The disease focus for most grape growers in Michigan is on cluster rots. Botrytis symptoms are becoming more widespread as brix levels increase. Sour rot is also starting to show up in vineyards throughout Michigan. See a recent article on how to balance your control strategies and minimize fungicide residue at harvest.
Several strategies contribute to good botrytis bunch rot management. These include opening up the canopy, properly applying fungicides and using resistant cultivars when possible. Good botrytis control depends on getting good coverage. Fungicide resistance management is also important. The most effective products for botrytis are site specific and prone to resistance development. A new Michigan Grape Fact Sheet is now available for Managing botrytis bunch rot for more information about the disease.
Sour rot can be particularly difficult to control on tight clustered varieties. Enhancing airflow through the canopy and clusters can help, so leaf pulling, thinning, shoot positioning and weed control can all provide some reduction in sour rot risk. Another important aspect of control is preventing berry damage (e.g. bird pecks, insect feeding and mechanical damage) to reduce the initiation of berry infections. We are finding more cracked berries too, after the recent rainfall events. Combining an insecticide with a contact fungicide can be effective in managing both the insect vector and the pathogen. In high risk cultivars (e.g. Vignoles) and in hot and humid conditions these treatments should be applied before symptom development and clusters have reached 13-15 °Brix. Under high disease scenarios, reapplication may be needed on 7-10 day intervals until harvest, with careful attention to pre-harvest intervals.
This is a good time to collect soil samples for nematode testing. Nematodes feed on vine roots, causing symptoms that can be misdiagnosed as abiotic stress or nutrient deficiency. Several of the most important nematodes vector plant viruses such as Tobacco and Tomato ringspot virus. See this announcement about nematodes and sampling for them. If you are interested in taking samples and testing, you can send them to MSU Plant & Pest Diagnostics.
A complete list of grape fungicides can be found in the E154 Michigan Fruit Management Guide. Check the guide for potential phytotoxicity of certain sprays on Concord grapes especially. Phytotoxicity risk is higher with high temperatures and quickly growing vines. One important thing to remember at this time of year is to keep track of preharvest intervals for fungicides.
Insects
The recent cool weather has slowed down development of damage from grape berry moth and other insects. Much of southern Michigan has met the timing for the start of the fourth generation of this pest. But with cold night temperatures there has been little moth activity and minimal additional damage caused in the last few weeks. If this pest does start activity again, see Berry moth control: Preparing for the 2020 grape harvest for more details.
Yellowjacket populations are increasing in vineyards, especially during warm sunny days. They are attracted to the accumulating sugars in the berries. Yellowjackets can be very damaging to the berries directly, causing wounds that can lead to cluster rots and reducing harvestable crop. They can also be frustrating to sprayers and harvest crews, trying to avoid being stung while working with the ripening grapes. The colder conditions over the next week will reduce their activity.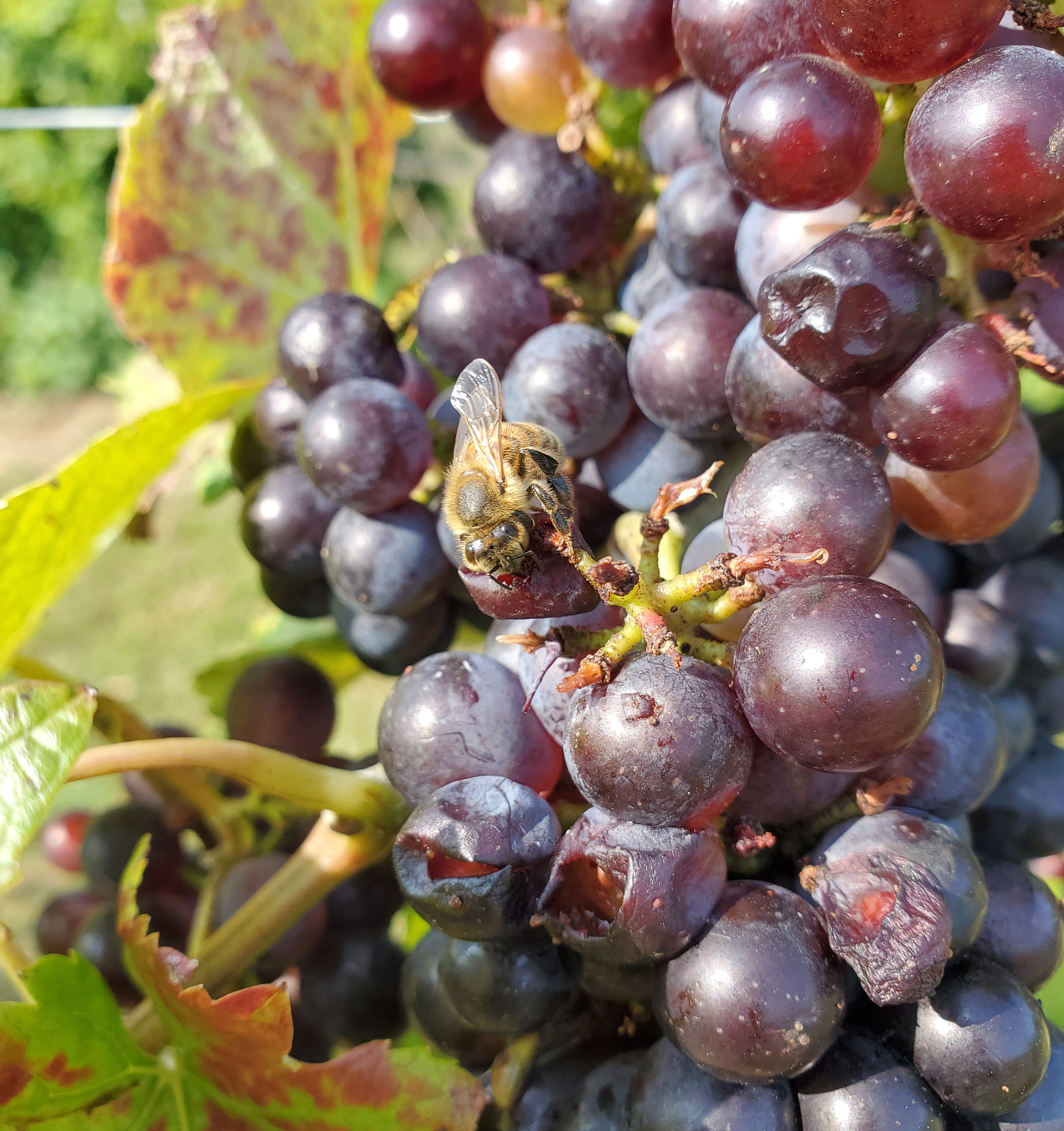 Vinegar flies are a fact of life in grape production, but with the presence of the invasive spotted wing Drosophila in Michigan it is more important to keep a regular check on clusters for development of vinegar flies in berries. The presence of vinegar flies in berries can be determined by putting fruit into a gallon bag with half a pint of strong salt solution for an hour, then looking in the solution to determine whether there are larvae present. If treatment is needed, there are several short PHI insecticides available. Be aware, resistance has been documented for pyrethroids in vinegar flies in other states and is being evaluated in Michigan.
As harvest approaches, it will be important to be looking out for spider mites, mealybugs.
Related articles