Michigan spotted wing Drosophila update – July 10, 2018
Cooler weather last week coincided with a big jump in the number of SWD caught in traps; ripening fruit must be protected against infestation.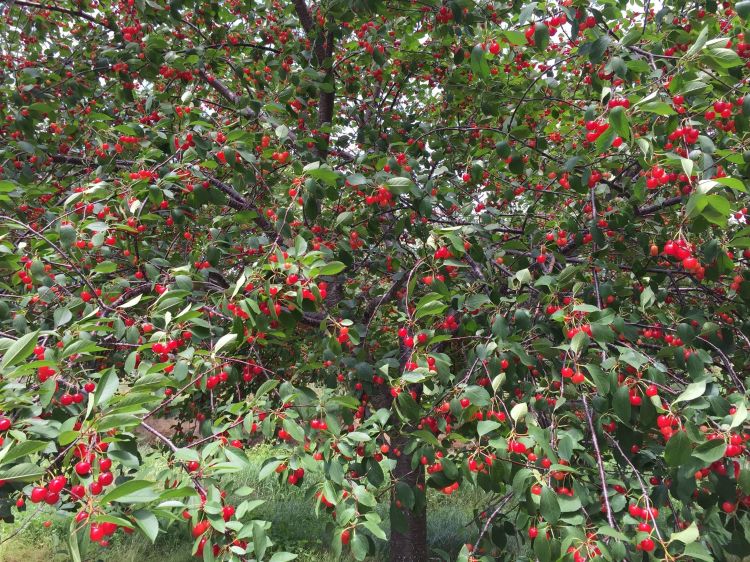 Spotted wing Drosophila (SWD) were caught in significantly higher numbers last week in all regions over the previous week, with an average of 11 flies per trap in southern and central counties, and just over nine flies per trap in northern counties in Michigan. This is likely due to the cooler weather we had, since we know SWD are not as active when average temperatures are above 90 degrees Fahrenheit.
By now, if you grow a susceptible crop at a vulnerable stage, you should have begun a management program for this pest. All thin-skinned berries and cherries become vulnerable when they start to color, including blueberries, cherries, raspberries, gooseberries, currents and saskatoons. Wild hosts include blackberries, honeysuckle and buckthorn, so susceptible crop plantings next to these are expected to have higher pressure from SWD. However, so far, fruit samples from crops being actively managed for SWD have not been infested with larvae. Since plums and other larger stone fruit can be fully ripened off the tree, simply not letting them get to the 3.5 pounds of pressure stage before harvest will prevent SWD infestation.
For blueberry growers harvesting early varieties, below is a table that was developed to compare insecticides for SWD control in this crop. This lists most of the registered options for controlling this pest in Michigan, along with the many restrictions (re-entry, re-application, etc.) that need to be taken into account when developing a program to protect blueberries from SWD infestation. As harvest continues, monitoring should also continue as new fields come into ripeness. Note also that some high catches of blueberry maggot have been recorded this past week in blueberry fields where no pest management has been used over multiple years. This is a reminder to beware of this potential fruit pest even though attention has been so focused on SWD.
Insecticides for SWD control in blueberries

Trade name

Class

Active ingredient

Rate

Season max.

Max. apps

Days btn spray

PHI* (d)

REI** (h)

Resid. (d)

Rank

Imidan

Org. phos.

phosmet

1.33 lb

7.13 lb

5

0

3

24

7-10

****

Malathion 8Fa

malathion

2.5 pt

5 pt

2

5

1

12

5

***

Mustang Max

Pyrethroid

z-cypermeth.

4 oz

24 oz

6

7

1

12

5-7

****

Danitol

fenpropathrin

10.6-16 oz

32 oz

2

14

3

12

5-7

****

Brigade/ Bifentureb

bifenthrin

5.3-16 oz

80 oz

-

7

1

12

5-7

***

Hero

z-cyp + bifenth.

4-10.3 oz

46.35 oz

-

7

1

12

5-7

***

Lannate SP

Carbamate

methomyl

0.5-1 lb

4 lb

4

3

3

48

7

****

Exirel

Diamide

cyazypyr

13-20.5 oz

60 oz

-

5

3

12

7

****

Delegate

Spin.

spinetoram

3-6 oz

19.5 oz

6

3

3

4

7

***

Entrust WPc

spinosad

1.25-2 oz

9 oz

6

6

3

4

3-5

**

Entrust 2SCc

spinosad

4-6 oz

29 oz

6

6

3

4

3-5

**

Cormoran

Neonic + IGR

acetamiprid + novaluron

20 oz

35 oz

-

7

8

12

7

***

Assail

Neonic

acetamiprid

5.3 oz

26.6 oz

5

7

1

12

5-7

**

Pyganicc

Pyrethrum

pyrethrum

32-64 oz

59 oz

-

3

0.5

0

2

*

Grandevo WDGc

Biological

Chromobacterium

3 lb

-

-

-

0

4

3-5

**

Azerac

Biological

Neem + pyrethrum

32-56 pt

58 oz

10

3

0

12

2-5

*
a Malathion 8F (Gowan) has a 24c label for Michigan blueberries.
b Bifenthrin pyrethroids may be more effective in hot temperatures (90s) than other pyrethroids.
c Use in organic production.
For tart cherry growers, there is a 24C label for Mustang Maxx to be able to use this product up to three days prior to harvest. Contact your local Michigan State University Extension educator if you need a copy of this special use label for controlling SWD in tart cherries. For more information on managing SWD in cherries, download the free SWD management guide for cherries available from MSU.
For best results in controlling this pest, use materials and methods that are rated excellent against SWD to protect fruit. As always, be sure to calibrate your sprayer to maximize coverage and rotate insecticide chemistries to prevent the risk of developing insecticide-resistant populations of SWD on your farm.
We will continue to monitor SWD as the season progresses. Our general regional reports provide an overview of the regional situation, but monitoring flies on your own farm provides a more relevant source of information on SWD activity. We are also recommending growers check their fruit for infestation through the season.
For the recently released guide to SWD management in organic systems, see "Management Recommendations for Spotted Wing Drosophila in Organic Berry Crops."
For more information on effective insecticides registered for use to control SWD, refer to the MSU Extension Michigan Fruit Management Guide for 2018 (E154).