Michigan youth win the 2022 North American 4-H Dairy Educational Experience Scenario Contest
This is the first time Michigan 4-H members have won this event since its creation in 2020.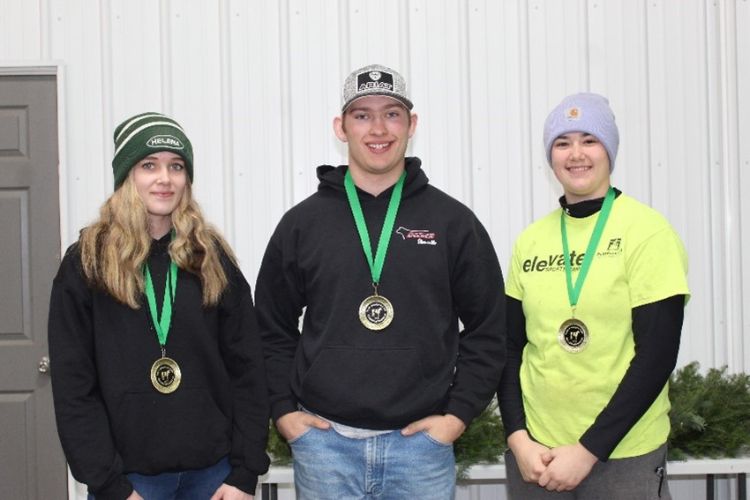 Michigan 4-H youth from Isabella, Mecosta and Newaygo counites won the 2022 North American 4-H Dairy Educational Experience Scenario Contest. The team of Lydia Deters, Ross Kelsey and Chloe Stiener, with coach and Michigan State University Extension volunteer Cathy Fry, proudly represented Michigan during the event in October.
The North American 4-H Dairy Educational Experience Scenario Contest was started in 2020 when many national 4-H events around the country were cancelled due to the COVID-19 pandemic. Recognizing the importance of offering educational experiences for young people during that period, the University of Kentucky Department of Animal and Food Sciences, in connection with the North American International Livestock Exposition (NAILE), created this new, virtual contest.
According to event rules, "Youth will have an opportunity to learn the dairy industry and the science behind management practices while they develop life skills. They will also have the opportunity to apply these concepts to a simulated farm situation as they work together as a team. This contest provides an educational dairy program for all dairy project members, including those who may not own a dairy project animal, and provides a way to develop team building skills, alertness, and self-confidence."
In the contest, 4-H members work in teams of 3 to 5 youth, along with a coach. They are emailed a farm-based mini-scenario to analyze. Their job is to evaluate both the strengths and areas of opportunity for the fictional farm and write a letter to the dairy farm family with their observations, recommendations and science-based reasons behind the suggested changes. The theme for the scenario varies each year and aligns with the North American 4-H Dairy Quiz Bowl theme, which was cattle reproduction for 2022. The team had ten days to read, analyze, research and write their letter, which was then judged by a panel of national dairy experts. The letters were judged on the following criteria:
Letter format (max five points) - Letterhead, proper use of letter format (greeting and signature).
Grammar and spelling (max five points).
Remaining 90 points awarded for:

Identifying strengths, opportunities and questions, if used within the scenario.
Explaining the importance and scientific concept behind these opportunities for identified management practice.
Explaining needed changes to correct the opportunity on-farm.
Scientifically sound concepts and changes that are practical and could be implemented on the farm.
Reflecting on this experience, team member Deters said, "The contest was a lot of fun as well as challenging to do. We spent time working on the scenario as a team, doing the research to support our suggestions, and then writing the letter with all the information. We learned a lot!"
Michigan 4-H members earned the opportunity to participate in this event by placing in the Top 10 Individuals during the Senior 4-H State Quiz Bowl Contest held during Michigan 4-H Youth Dairy Days in July. Michigan 4-H Youth Dairy Days returns to the MSU Pavilion for Agriculture and Livestock Education July 17-21, 2023.