Michigan 4-H members attend 2019 National Youth Agri-Science Summit
4-H members are ready to face the challenges of feeding a growing world population.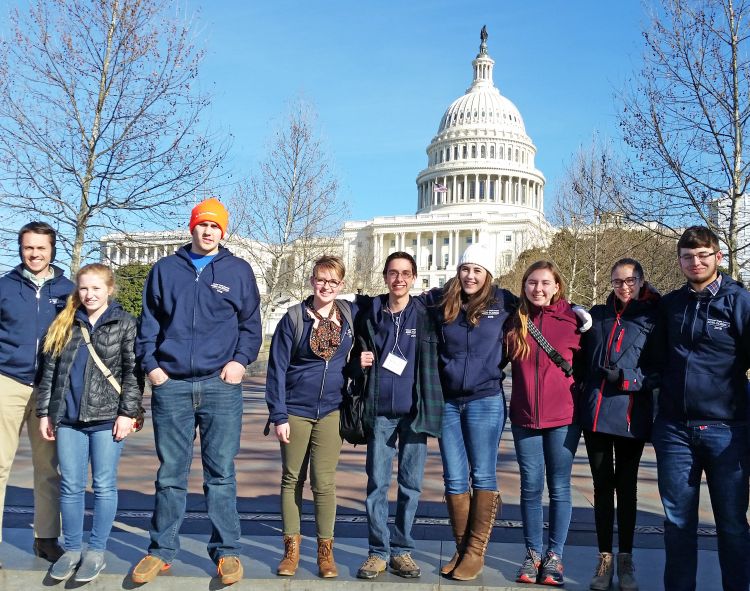 Eight Michigan 4-H members attended the National Youth Summit on Agri-Science at the National 4-H Conference Center in Chevy Chase, Maryland, Jan. 10-13, 2019. The Agri-Science Summit provided an opportunity for high school students from 27 states to come together to develop skills that will help them address issues related to feeding a growing world population, starting in their local communities.
The Summit keynote speaker was the Honorable Ted McKinney, Under Secretary of Agriculture for Trade and Foreign Agriculture Affairs. McKinney emphasized during his address a few key leadership skills that 4-H members should hone during their 4-H experience that will drive them as future leaders in addressing global food security challenges:
Learn to be a problem solver
Be able to sell an idea; practice your marketing skills
Know how to run a meeting
Be culturally relevant; practice multiculturalism
Exercise creativity
Fall in love with science; be educated to defend science
He finished his address by challenging the teens, indicating to them that they "betray the Clover" if they refuse to engage in civil discussion on important issues.
The conference kickoff session also featured teens from six states sharing how they have implemented Community Action Plan projects in their local communities. Pearl Daskam and Addy Battel, Huron County 4-H members, were among the teens tasked with inspiring their peers during the Community Action Planning session as they shared their "Meating the Needs of Our Village" initiative.
Each state delegation attending this year's Summit developed an action plan that will be implemented to address the food security challenges identified at the conference. The 2019 Michigan delegation has chosen to offer a career fair event for Michigan teens this spring focused on educating young people about career opportunities in agriculture.
The capnote speaker for the event was Serena Woodward, the 2018 National 4-H Youth in Action Award winner in Agriculture. Woodward encouraged participants to take action to implement the Community Action Plan that they had developed during the conference.
Throughout the conference, participants had an opportunity to attend several educational sessions focused on science, agriculture and food security. In addition, the conference featured a career fair with panelists representing several job avenues within the agricultural field. Participants were trained in the Maryland AGsploration curriculum, which will provide them numerous activities to engage youth in their local communities around agriculture literacy. Due to the government shutdown, many D.C. attractions were closed, but participants still had the opportunity to visit the U.S. Botanic Garden, U.S. Capital Visitor's Center and several national monuments.
Michigan's delegation included:
Quinn Angus, Oakland County
Addy Battel, Huron County
Pearl Daskam, Huron County
Savannah Mauk, Eaton County
Reese McKee, Berrien County
Matthew Seidel, Oakland County
Camran Stack, Gratiot County
Cady Wallace, Sanilac County
The 2019 National Youth Summit on Agri-Science was sponsored by Bayer, ADM and CHS Foundation.
Michigan State University Extension and Michigan 4-H Youth Development help to prepare young people for successful futures. As a result of career exploration and workforce preparation activities, thousands of Michigan youth are better equipped to make important decisions about their professional future, ready to contribute to the workforce and able to take fiscal responsibility in their personal lives.
To learn about the positive impact of Michigan 4-H youth career preparation, money management and entrepreneurship programs, read the 2016 Impact Report: "Preparing Michigan Youth for Future Employment."