Michigan 4-H youth better their community through the arts
Participants in the Calhoun County 4-H Creative and Expressive Arts Summer Day Camp discover natural talents and abilities, nurture younger youth and better their community through an annual five-week camp.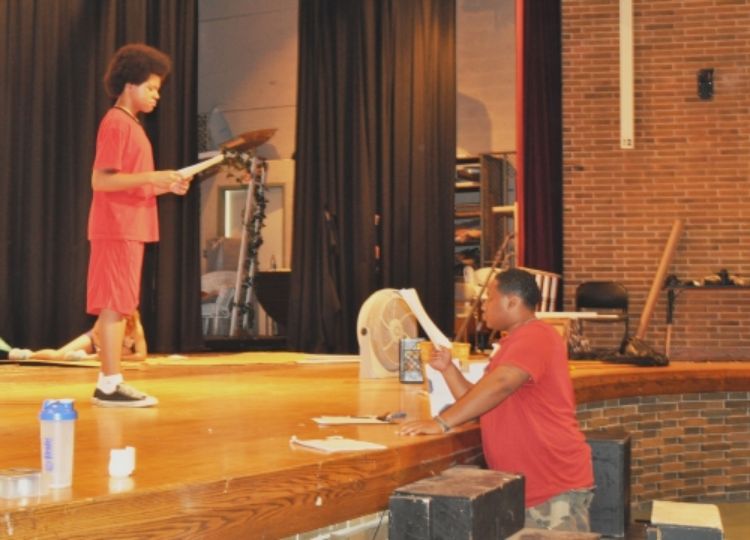 When Jacques Short, a Michigan State University (MSU) third-year psychology student, looks at his city, he sees a small community built on the relationships its size has encouraged. In Albion, Mich. it's easy to get to know your neighbors – the connections its resident have are strong and resilient.
But when asked what his community lacked, he quickly pointed to access to positive role models and a permanent place where children and youth could go to engage in safe fellowship and recreational activities.
Each summer ushers in an opportunity for Michigan 4-H children, teens and young adults in Calhoun County to make a difference as they build each other up, refine an expressive skill set and reinforce their sense of community by participating in the Michigan State University Extension 4-H Creative and Expressive Arts Summer Day Camp. Short and many others have long seen the need for these resources and have maintained this free program that has had a significant presence in their community for more than a decade.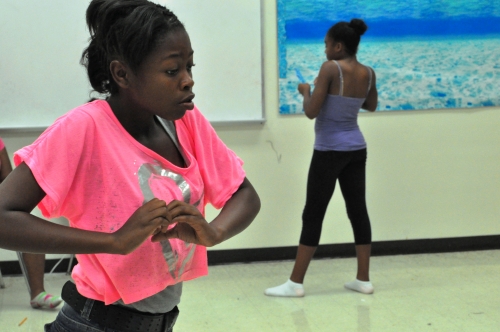 "If you really want to see kids do better and expand their horizons, follow positive role models and be shaped into leaders, then come to this camp," Short said. "They're physically fed by a free lunch program, but they're also figuratively fed; someone recognizes that they are worth the time, resources and effort it takes to invest in them."
This camp was developed in an effort to address the very needs Short and others like him have identified and worked to eradicate. Currently run by Sherry Grice, MSU Extension educator with 4-H Youth Development, youth in grades five through nine receive training in interpretive dance, singing, acting and the visual arts, cultivating their skills at the end of the summer to put on a play for their parents, guardians and community members.
"The program is a mix of learning to perform and learning important life skills, including leadership, team work, problem solving and academics," Grice said. "The program fills the gap with productive summertime activities for youth. These young people have a lot of energy and skills – they need some way to express them in a positive way."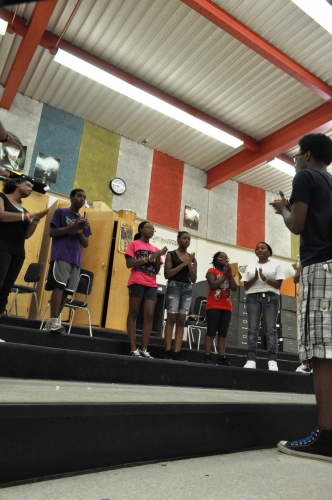 High school and college students serve as mentors, working with youth to write the songs, choreograph the dances and build the sets for the play. According to Short, youth benefit from these mentoring relationships, refining their natural abilities and revering the older 4-H leaders they identify with and look to for instruction.
Most mentors began as participants in the program, but continue to come back to act as leaders. "When I was really young, I saw a flier for the camp and decided to check it out," Short explained. "I went back every year because it was so unique – it allows you to find and showcase skills you may not have known you had. It was a very natural move for me to become a leader in the program."
This year's final production, "Famine: The Thirst for Life," incorporated the help and participation of more than 40 youth as they explored themes of responsibility, kindness, selflessness, survival, leadership, faith, community, inclusion and acceptance.
This production is one the community expectantly waits for, gathering in the hundreds to see the hard work of their children and neighbors' children come to fruition. It only further reinforces the sense of community the city feels. Short explained, "This camp even benefits parents. They want to meet the parents of the kids their kids are hanging out with. It builds relationships – they get to watch them perform and they're not only happy and proud of their children, they're rejoicing over the work of other children in their community."
"My proudest moment is the second after the kids walk off stage and I see them with these huge smiles," Short said. "These are kids that are told they'll never do anything in life. Seeing them walk off stage knowing that they were up there and killed it, makes me feel great. I can see the change in their confidence, because they come back and they do even better the next year."
In a community where resources are scarce and positive role models are difficult to come by, Michigan 4-H leaders step up and respond to the needs of their community, generously donating their time, energy and heart to change their community from the inside out – through the children around them in the city they call home.