Michigan 4-H'er helps spread "Love Like Lacey"
Because of her involvement in Michigan 4-H, Danielle Bott, a student at Michigan State University, has established strong values for family and community service over the years.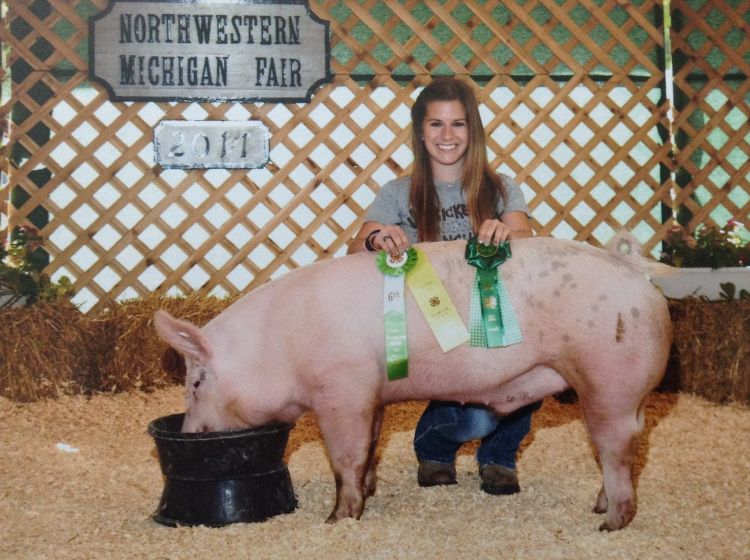 Because of her involvement in Michigan 4-H, Danielle Bott, a student at Michigan State University (MSU), has established strong values for family and community service over the years. In many ways, Bott said, she feels that 4-H is like a large family -- she has witnessed many instances when people have donated much time, money and other resources to help others in need. Growing up in an environment that encourages that kind of behavior toward others can leave a lasting impact on the way a person lives his or her life, and it certainly did on Bott.
"I love 4-H because of the family aspect of it. I love all of the life skills it has taught me, the friendships I have gained and the growth I have seen in myself and others," she said. "It is a very rewarding program to be involved in."
Bott has been involved with the 4-H program most of her life. Her uncles and older brother were 4-H'ers before her, and like most little siblings, Bott wanted to be a part of what they did. She began at an early age, entering crafts in the local county fair in Grand Traverse County. At 5 years old, she became a 4-H Cloverbud in the swine program. Once Bott turned 8, she began to show her pigs and has continued to do so ever since. Throughout those years, she also enjoyed entering crafts and baked goods in the county fair.
In addition to her involvement with 4-H, Bott is also the reigning 2013 North Western Fair Queen.
"I am looking forward to talking to people from around Michigan about my past involvement with 4-H and how they can get involved," Bott said. "Everyone I know from 4-H I consider to be family. Being North Western Michigan Fair Queen allows me to show how wonderful my 4-H community is and how much it has helped me grow as a person."
Today, Bott is a student at MSU, where she is still actively involved in 4-H through her student employment with MSU Extension. She is responsible for overseeing various outreach programs and collecting data from their surveys for research.
"I have learned so much f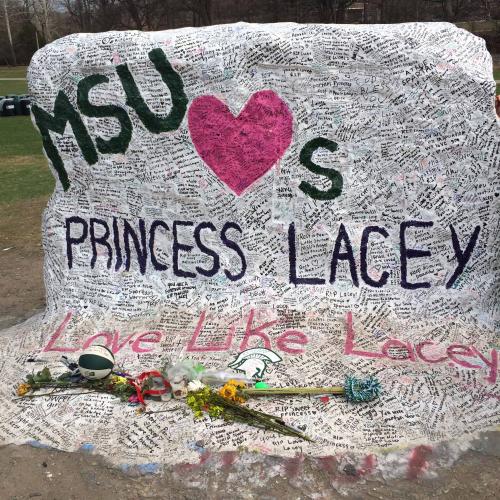 rom this program, and I will give back for as long as I can," she said.
Much like the 4-H family feelings that Bott developed as a child, the close connection and sense of camaraderie that many Spartans develop for their peers and alumni foster a similar sense of family. One aspect of being part of a family is comforting and supporting one another when times get tough, as many Spartans did earlier this spring when faced with the death of Lacey Holsworth, the little girl who passed away after a long battle with neuroblastoma. Lacey had meant a great deal to the Spartan community, and Bott wanted to provide some comfort for those who were grieving. She organized the painting of "The Rock" on MSU's campus in honor of Princess Lacey. With the help of social media, Bott created a beautiful memorial that she was able to share with hundreds of supporters, including MSU basketball coach Tom Izzo and players including Adreian Payne.
Lacey and Adreian formed a special bond when the team visited the then 7-year-old in 2012 while she was in the hospital. Captivated by the smile of the 6-foot-10 Spartan star, Holsworth and Payne quickly became each other's biggest supporter.
"I have experienced a lot of goose-bump moments over the course of my 19 years with 4-H," Bott said. "4-H'ers are always helping each other out as if they were part of each other's family. It's been a great experience to witness that level of generosity, and I hope that through my continual involvement I can bring those goose-bump moments to other people. When Lacey passed, I decided that painting the rock would be a great tribute to this strong little girl. During the memorial, I was constantly reminded of my fair experiences. It was 4-H that taught me the importance of bringing people together in times of need. Standing at the rock, singing the alma mater and having the candle memorial for Princess Lacey was wonderful, and I know that people could really feel that sense of family and community."
Bott will be a senior next fall at MSU majoring in kinesiology with a specialization in health promotion. She is also a member of the color guard section of the Spartan marching band. After graduation, she plans to become a certified nurse assistant before applying to grad school to become a physician's assistant.