Michigan honey is always in season
Thank your local honey bees for this sweet treat.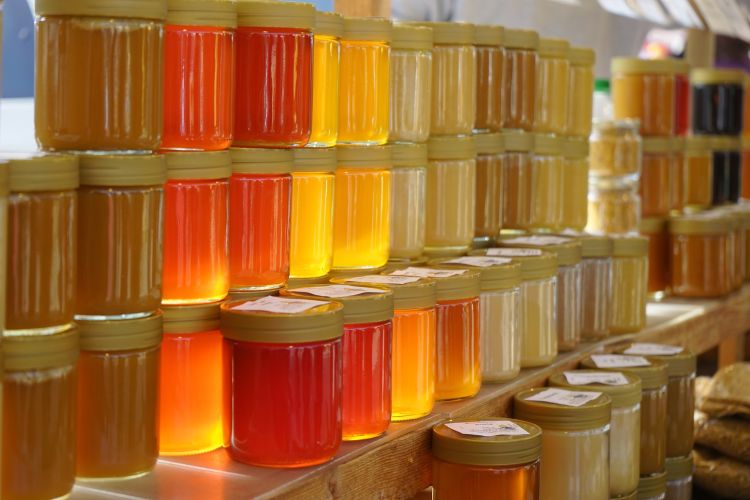 Thanks to the hard work of honey bees, we are able to enjoy the foods they pollinate such as apples, sweet cherries, blueberries, strawberries, pears, plums and peaches. Nearly 50 percent of the value of Michigan's fruit and vegetable production can be attributed entirely to honey bee pollination. As an added bonus, farmers can harvest some of the honey the bees produce to sell as a delicious natural sweetener. Besides its great taste, honey has nutritional benefits as outlined in "Benefits of honey" from Michigan State University Extension. Learn why and how bees make honey by watching this short YouTube video, "How it's Made: Honey."
Michigan honey can be found year-round in stores and farmers markets. Honey has a long shelf life, but may form sugar crystals over time. Crystallized honey is still safe to eat. If crystals are undesirable, place the closed honey jar in a bowl of warm water and it will return to its previous consistency. If storing honey for longer than one year, putting it in the freezer can help retain flavor and color and prevent crystallization. For ideas on using Michigan honey in the kitchen, check out these Michigan Fresh recipes for Pear Party Salsa and Fruit Spread. Honey should not be fed to infants under 1 year of age.
Keeping backyard bees for honey production can be a fulfilling hobby or a great business opportunity. To explore what it takes to care for honeybees, MSU's Beginning Farmer Webinar Series has an archived course on "Getting started with beekeeping for pollination and honey."
MSU Extension's Community Food Systems Work Team supports the development of local food systems in Michigan. The Michigan Fresh program has tips on growing, handling and preserving, as well as healthful recipes to take advantage of the delicious Michigan-grown bounty from your backyard or your local farmer's market. For more information, connect with your local community food systems educator by visiting http://msue.anr.msu.edu/or calling 1-888-678-3464.