Michigan youth compete at 2017 national dairy quiz bowl contest in Louisville
Four youth from Allegan County competed at the North American 4-H Invitational Dairy Quiz Bowl Contest in Louisville, Kentucky.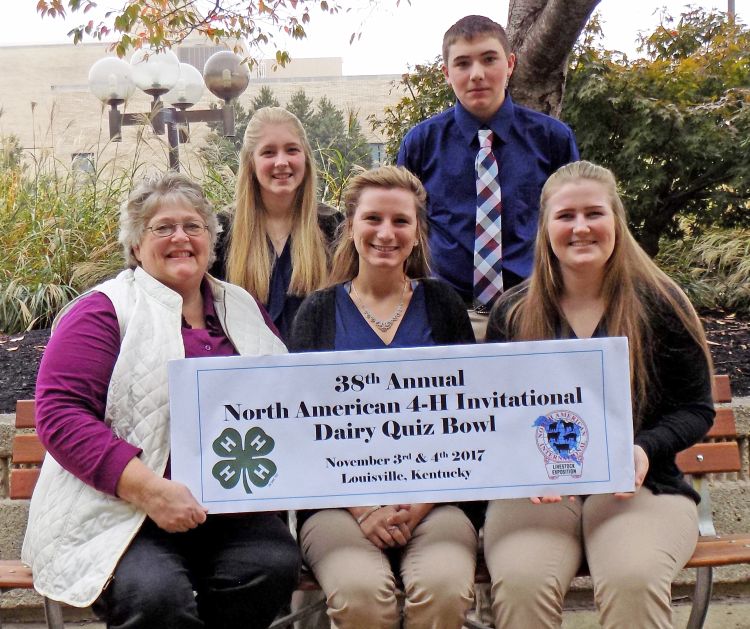 Four youth from Michigan's Allegan County competed in the North American 4-H Invitational Dairy Quiz Bowl Contest held in conjunction with the North American International Livestock Exposition in early November 2017. Team members included Shannon Good and Anna Wehler from Caledonia, Michigan, and Katrina Tucker and Casey Ybema from Hopkins, Michigan. These four youth, along with coach Bev Berens, traveled to Louisville, Kentucky, to compete against 14 other teams in this fast-paced educational contest.
The contest began Friday night with a youth mixer where youth participants from across the country were able to meet each other before taking a written test with questions about dairy science. This test was used to seat teams for the double elimination rounds that started the very next morning.
Bright and early on Saturday, all the teams reconvened at the Kentucky Expo Center to begin the buzzer rounds. During this part of the contest, two teams went head-to-head answering more questions about dairy management, dairy science, nutrition and many other facets of the dairy industry. Individuals buzzed in to answer questions, with correct answers yielding points for their respective teams. At the end of the round, test scores from Friday night and points earned during the buzzer rounds were tallied to determine the winner. Teams were eliminated once they lose two rounds during the contest.
The Michigan team had a fantastic experience and learned a great deal during the contest, although they missed placing in the top five teams. Coach Bev Berens, who has been a 4-H volunteer for over a decade, has worked with these youth for countless hours to help them prepare for the contest, and the hard work was evident.
The Allegan County youth earned their opportunity to compete at this national contest by winning the senior division of the state 4-H Quiz Bowl Contest held during 4-H Youth Dairy Days. Dairy Days, held concurrently with Michigan Dairy Expo, is the largest dairy-centered event in Michigan. During the weeklong event, youth can compete in the dairy management contest, showmanship and breed shows, dairy cattle judging and quiz bowl. Senior teams (youth ages 15-19) who win the state contest in management or quiz bowl earn an invitation to the national contests held during fall.
Michigan 4-H Youth Dairy Days and Michigan Dairy Expo will take place July 16-20, 2018, at the Michigan State University Pavilion for Agriculture and Livestock Education in East Lansing, Michigan.
MSU Extension and the Michigan 4-H Youth Development program help to create a community excited about STEM (Science, Technology, Engineering, and Mathematics). 4-H STEM programming seeks to increase science literacy, introducing youth to the experiential learning process that helps them to build problem-solving, critical-thinking and decision-making skills. Youth who participate in 4-H STEM are better equipped with critical life skills necessary for future success.
To learn more about the positive impact of Michigan 4-H youth in STEM literacy programs and animal science programs, read our 2016 Impact Report: "Building Science Literacy and Future STEM Professionals."