More than projects at the county fair
Look for opportunities to increase youth leadership at your local fair.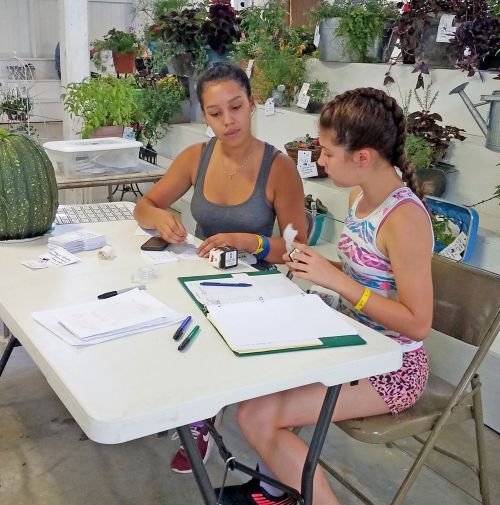 The fair is a time for 4-Hers to showcase their projects and show what they've learned and accomplished throughout the year. Fairgoers will see projects such as beautiful ceramics, handmade garments, delicious foods and breathtaking photographs, along with many well-groomed and cared for animals. These projects are the results of many hours of hard work, lessons learned, and the pride and joy of being a 4-H member.
Beyond the physical projects exhibited for the general public to see, developing leadership skills in youth is also a priority for fairgoers to observe. A fair attendee can easily spot the many adults it takes to make the 4-H program possible, and if they search a little longer, they will also see youth holding leadership roles at the fair. One way this can be accomplished is by developing teen superintendent positions.
There are many roles and responsibilities during fair week where teens can work side by side with an adult leader or take complete leadership of the task. The following are some ideas of roles and responsibilities for teens during fair:
Check exhibitors in and out.
Be responsible for recording results in the judging books.
Hand out ribbons.
Record weights during weigh in.
Assist with developing classes.
Complete information on winners to release to the media.
Serve as a spokesperson for media inquiries.
Greet judges and take them to lunch.
Assist with greeting and checking-in auction buyers.
Serve as ring stewards to monitor safety in the show ring.
Announce at the show or auctions.
The key to a successful teen superintendent program is having adult superintendents willing to work with teens and work with staff in developing leadership skills. It is also crucial for trainings to occur to assure all parties involved are working towards the same goal. There are numerous roles and responsibilities a teen can be responsible for in the 4-H program and at a county fair. Setting teens up for success through trainings is the important part of having them serve as teen superintendent.
Michigan State University Extension's Leadership and Civic Engagement work team members can assist you with educational workshops around youth and adult partnerships, how to set up programs for youth and adults to work together as well as teen leadership trainings. For more information, email 4-hleadership@anr.msu.edu.