MSU Academic Quadrathlon Team Finishes 7th in Midwest Competition
The MSU Academic Quadrathlon Team placed 7th out of 17 teams at the 2018 Midwest Academic Quadrathlon (AQ) held March 11-14.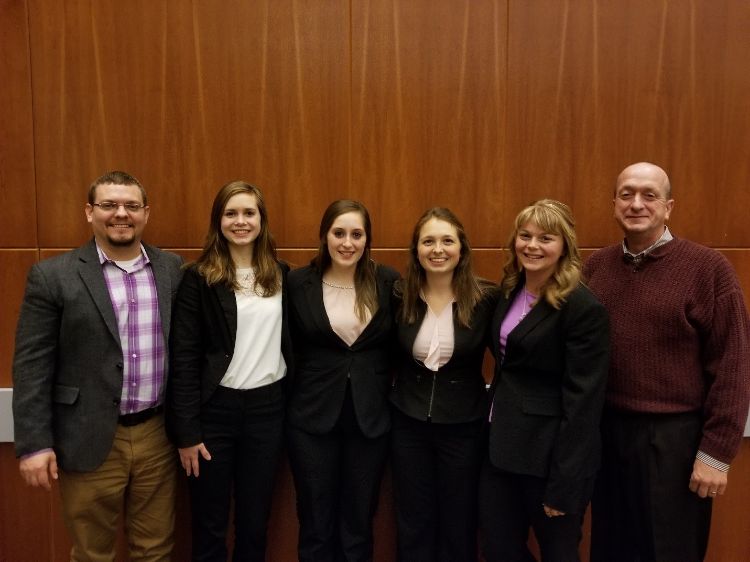 The MSU Academic Quadrathlon Team placed 7th out of 17 teams at the 2018 Midwest Academic Quadrathlon (AQ) held March 11-14, in association with American Society of Animal Science Midwest Section and American Dairy Science Association Midwestern Branch Scientific Sessions and Business Meeting in Lincoln and Omaha, Nebraska. Members of the MSU AQ Team were: Monika Dziuba, Kimmi Jodoin, Emily Kittendorf, and Libby Venema (see accompanying photo and bio's below). Highlighting their accomplishments were 1st, 2nd, and 4th-place finishes in the Swine, Dairy and Poultry laboratory practicums, respectively. The AQ Team from the University of Illinois took home top honors.
Photo – from left Kevin Turner, Co-Advisor, Monika Dziuba, Kimmi Jodoin, Emily Kittendorf, Libby Venema, and Dr. Dale Rozeboom, Advisor.
The Academic Quadrathlon is a regional event involving undergraduate student teams from various Midwestern schools or universities. Teams test their skills and knowledge in four events: Laboratory Practicum, Written Exam, Oral Presentation, and Quiz Bowl. In the Laboratory Practicum, the team demonstrates its ability to perform physical skills involving handling in 11 species or a disciplinary areas. The Written Exam covers aspects related to animal science including physiology, nutrition, genetics, and products. In the Oral Presentation, the students were given a topic to discuss dealing with animal agriculture. In the Quiz Bowl questions may be on any topic that relates to animal agriculture. Members of the AQ Team also had opportunity to meet and interact with professionals in Animal Science and Dairy Science during their time in Nebraska.
Emily: Hailing from the small town of Milan, Michigan, Emily Kittendorf is a third-year Michigan State University student pursuing a double major in Animal Science and Communication with a minor in International Agriculture. She grew up showing livestock and is involved with 4-H at the county, state and national level. Emily currently serves as the youth trustee on the Michigan 4-H Foundation striving to work with 4-H sponsors in raising funds for Michigan's 4-H programming. She also serves as president for Michigan State University' Animal Science Undergraduate Research Student Association. Outside of academics and personal development pursuits, Emily works for the Michigan State University Extension Communications team. She is passionate about conveying animal agriculture to the public and building teamwork skills among groups. In the future, Emily would like to handle communication efforts between the government, producers and consumers at an animal agricultural related association.
Kimmi: Kimmi Jodoin's experiences raising and showing horses and livestock through 4-H and other shows led her to have a passion for all animals. Today, Kimmi is a junior at Michigan State University majoring in Animal Science and minoring in Agribusiness Management. Kimmi has taken advantage of many opportunities during her time at Michigan State including being a past member of the horse judging team and currently being a member of the livestock judging team and serving as Block and Bridle's webmaster. Since freshman year, Kimmi has been employed by Michigan State University's Meat Laboratory where she works to better understand the other side of raising production animals. During her time at MSU and the Meat Laboratory, Kimmi has become interested in the influence genetics has on carcass traits and qualities and is considering pursuing higher education in meat science for this reason.
Libby: Growing up on dairy farm in Cass City, Michigan, Libby Venema grew up with a passion for animal agriculture. She is currently a junior at Michigan State University double majoring in Animal Science and Agribusiness Management. Since the beginning of freshman year, Libby has been a member of the Michigan State University Dairy Club where she has met many lifelong friends and has continued to make connections within the industry. She has extended her love of agriculture into understanding policy and governmental issues both in class and in her employment with the Michigan Department of Agriculture and Rural Development in the Food and Dairy Division. Upon graduation, she plans to attend Michigan State University College of Law, and after completion, embark on a career in agricultural law to better represent animal agriculture within her community, the state of Michigan, and the nation.
Monika: Although Monika Dziuba, a Michigan State University Animal Science junior, calls the southern urban area of Detroit in Riverview, Michigan home, her passion for production animals is evident in the many activities she is involved in. Currently, Monika serves as Vice President of Michigan State University's Animal Science Undergraduate Research Student Association, a club dedicated to research. To gain more knowledge and experience in the field of research, she works for the College of Veterinary Medicine's Meadow Brook Immunobiology Laboratory as an undergraduate assistant under Dr. Lorraine Sordillo and also at the Department of Animal Science's Molecular Pathogenesis Laboratory as an undergraduate research assistant under Dr. Paul Coussens. After graduating in the Fall of 2019, Monika will be attending Michigan State University's College of Veterinary medicine to become a production animal veterinarian with a focus on dairy cattle.