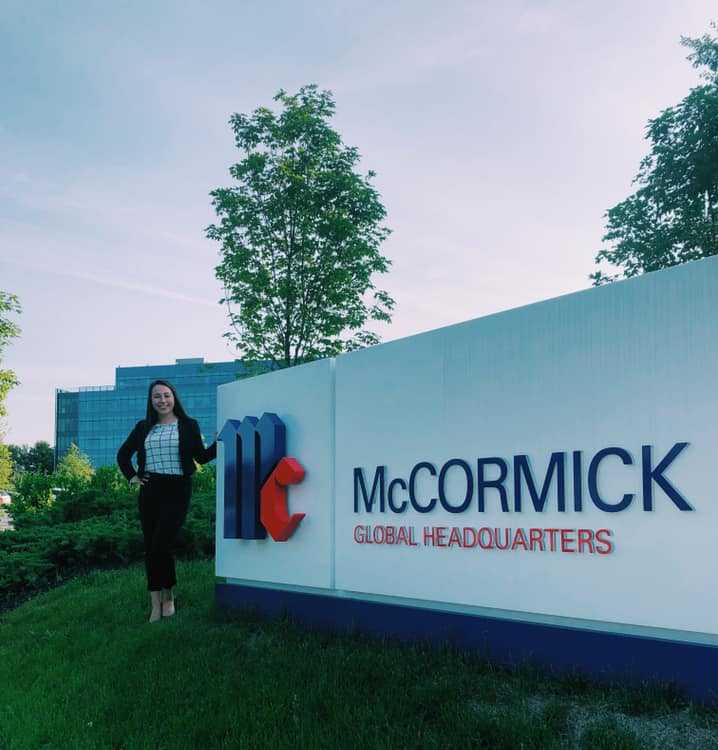 Jenny Pendell is a senior in the Department of Agricultural, Food and Resource Economics (AFRE) majoring in Food Industry Management (FIM). This summer, Pendell is interning in the sales and marketing department at McCormick & Co.'s global headquarters in Hunt Valley, Maryland.
"I am loving it so far," said Pendell. "The culture at McCormick is wonderful, and the people are genuinely happy to be here and passionate about what they do."
Pendell is currently still going through the process of on-boarding, but will soon begin working on researching innovative trends for the year 2020 as well as implementing a product re-launch for a project with food service customers.
During her time at McCormick & Co., Pendell has been able to apply much of what she's learned in her AFRE classes to her internship.
"The classes have helped me gain the background knowledge and understanding of the food industry. My team is able to have more in depth conversations regarding their roles within the company and the projects I will be working on since I already have the base knowledge for my classes at MSU," said Pendell "More specifically, Dr. Ortega, Dr Weatherspoon and Larry Zink — I've been using a lot from what I learned in their classes."
Beyond offering real world application, classroom experience, and networking opportunities, MSU AFRE has offered Pendell experiences other interns within her department are not able to share.
"One of the coolest things that has happened so far is that Michael Okoroafor came to speak to the interns on our second day. He is an MSU alumnus with over 40 patents who now works as the VP of Global Sustainability and Packaging Innovation at McCormick," said Pendell. "He learned I went to MSU and was very happy to see another Spartan in the room. It made me realize that MSU has a great reputation with highly distinguished alumni — it makes me proud to be a Spartan."
After graduation, Pendell hopes to become the VP of Marketing and make a positive contribution to the world.
"I would like to be remembered as a person who was determined, hard-working, supportive, and positive. I believe that overall, the world is lacking empathy and kindness — something I try and practice everyday," said Pendell. "If I can make the lives of those surrounding me a little better then hopefully I can make the world a little brighter. One of my favorite quotes 'If you want to go fast, go alone. If you want to go far, go together.'"
Learn more about our undergraduate programs and stories.