Training program prepares responders for livestock transportation accidents
After several accidents with livestock trailers in Michigan and neighboring states in recent years, MSU Extension educators brought their expertise together to create a training program to deal with the challenge.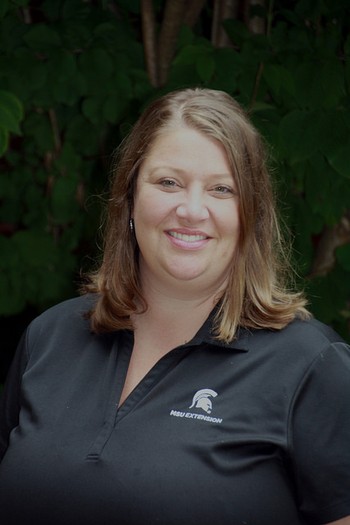 Vehicle accidents are an unfortunate everyday occurrence that sometimes require highly trained emergency responders. Add livestock to the equation, and it can make for an even more tumultuous scene.
After several accidents involving livestock trailers in Michigan and neighboring states in recent years, Michigan State University Extension educators, with support from the Michigan Alliance for Animal Agriculture (M-AAA), brought their expertise together to create a training program to deal with the challenge. The program has also been supported by the Michigan Pork Producers Association and the Michigan Department of Agriculture and Rural Development.
Each training has a classroom component and hands-on opportunities to work with livestock trailers and handle large animals. Two sessions were held in 2019, one in Marshall, Michigan and the other on the MSU campus at the Pavilion for Agriculture and Livestock Education.
Participants are guided through the management of an accident scene, including how to establish a chain of command to act quickly and safely, extracting animals trapped in trailers, safe handling of animals and humane euthanasia of badly injured livestock.
In addition to the in-person events, M-AAA has funded the development of an 11-part online course on animal behavior and commands.
"We're asking police officers, firefighters and EMTs to respond, and the majority of them don't have training on how to handle large animals in the best circumstances, let alone in an emergency situation," said Beth Ferry, a swine educator for MSU Extension who leads the trainings. "We need to prepare responders with some basic skills, as well as equip the animal care professionals with appropriate resources."
Ferry encountered this challenge firsthand in summer 2019. While on a trip to the dentist, she happened upon a rollover accident in southwest Michigan's Berrien County. She jumped out of her car and approached the police officer at the scene, inquiring if he needed help.
"He was so relieved to have someone there who knew exactly what to do," Ferry said. "That really drove home the need to train more responders. It's unfair to expect them to know how to handle a scenario like that if they haven't been properly trained."
In response, Berrien County officials asked its animal control employees to take the course, and many other counties have expressed interest as well.
Melissa Fitzgerald, the director of animal control in Otsego County in the northern Lower Peninsula, attended the on-campus training in fall 2019. Little did she know her new skills would be put to the test just months later.
"The training was excellent, and the staff at MSU were especially helpful to those of us who don't have any experience in this area," she said. "We got to see how the trailers are set up and handle cows, sheep, horses and pigs. I live and work in a region with a lot of agriculture, so it was imperative that my staff and I gain this knowledge."
In July 2020, a rollover accident occurred on I-75 in Crawford County, just south of Otsego, with 39 cattle in a trailer. The driver of the truck was uninjured, but multiple cows died in the crash and some needed to be put down at the scene due to extensive injuries. Fitzgerald's animal control unit is on call 24 hours a day, so she was one of the first responders.
"I immediately tried to take control of the scene to understand exactly what we were dealing with, which is something that was stressed in the training," Fitzgerald said. "I called a veterinarian and the local livestock auction that has a trailer for transporting animals. Volunteers from the community came as well."
The highway was closed in both directions, and Fitzgerald instructed the crew to secure the area to prevent cattle from roaming or causing additional injury to themselves, other cows or responders. The team then extracted cattle from the trailer and transported the living cows to further evaluate any injuries.
"It's a chaotic thing, and we couldn't have possibly known how to deal with it if we didn't have the training," Fitzgerald said. "I know other counties could gain a lot from it, and many already have."
Due to uncertainty caused by the novel coronavirus pandemic, however, Ferry isn't sure when the next in-person training will take place. She is hopeful for spring 2021.
"During our first couple of trainings, attendees have handled horses, cows and pigs," Ferry said. "The purpose is to get them comfortable with large animals. That's something that needs to happen in person, so we're hopeful we can resume training in the coming months."
County participation in the initiative has extended to helping fund response trailers that can be used in the event of an accident. Three trailers have been funded so far in Branch, Jackson and Otsego counties, and each has agreements with MSU and adjacent counties for use in training or response. The trailers contain equipment needed in emergency situations, such as panels for livestock to walk on, saws to cut away debris, tarps, zip ties and oil dry.
In the next phase of the project, one of Ferry's colleagues, Nick Babcock, is leading the creation of a new curriculum for youth.
"The youth course will be similar but will include some additional skill-building opportunities, such as changing a tire on a trailer with livestock in it," said Babcock, a 4-H livestock and veterinary science educator for MSU Extension. "Young people, particularly in rural communities, work with livestock a lot, so we want everyone who could possibly be involved in a situation like this to know how to respond."