MSU Extension's partnership with NEMIGLSI empowers youth, strengthens communities in northeast Michigan
Working together, partners help Extension in quest to fulfill its mission.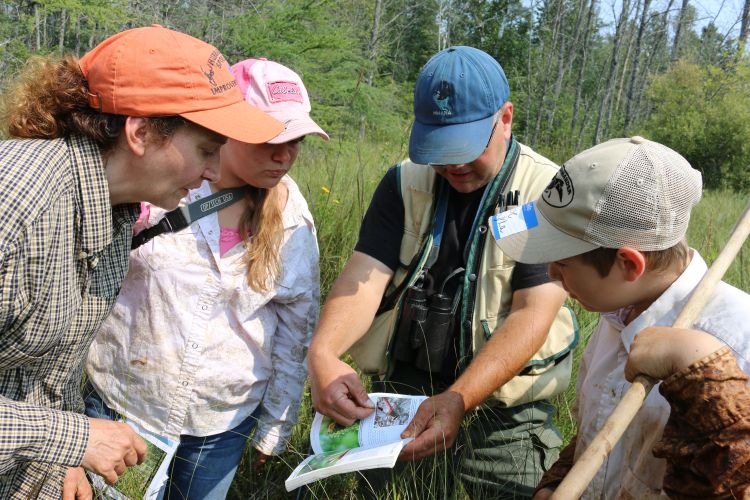 While many Michigan schools face new challenges in engaging youth, Michigan State University Extension continues to help people improve their lives through an educational process that applies knowledge to critical issues, needs and opportunities. Our partnership with the Northeast Michigan Great Lakes Stewardship Initiative (NEMIGLSI) is one way we connect youth with their communities while meeting Michigan's educational expectations through the process of place-based stewardship education.
More than 25 schools involved annually
Since 2006, the NEMIGLSI network has served to foster school and community partnerships across northern Lake Huron counties to enrich place-based student learning through environmental science, Great Lakes stewardship, technology, engineering, and mathematics (E-STEM) initiatives. Annually our NEMIGLSI network and partnership supports more than 25 schools, engaging over 3,000 youth – through their learning -- in environmental Great Lakes stewardship projects grounded in E-STEM opportunities and experiences. Our network programming has engaged more than 26,000 youth as partners and young leaders in their communities through these efforts.
Our partnership with the network allows MSU Extension and Michigan Sea Grant to reach an audience of pre-K through 12th-grade students and their families, and connect them with local, state, and federal agencies, and many other partners. On average each year, more than 50 educators and over 100 community partners are directly supported in professional learning opportunities and/or implementing place-based stewardship education programs with youth. These partners share in the benefits of a youth-engaged community as well as contributing to the stewardship of regionally important resources.
Staying connected virtually
In response to COVID-19 safety needs, NEMIGLSI, with MSU Extension and Michigan Sea Grant and other network partners, has adapted by:
Shifting the annual in-person teacher education summer institute to a virtual platform, providing over 21 hours of PBE training as part of a NOAA B-WET grant program.
Providing training for community partners containing tips and techniques for engaging youth virtually.
Planning for the future
The network plans to continue to support northeast Michigan by:
Kicking off a two-year NOAA Marine Debris Prevention Grant where we will collaborate with youth to 1) collect date on the type and amount of trash generated in school lunchrooms. 2) research alternatives that could reduce the trash and 3) present a feasibility report to their school – providing information on the alternatives the youth recommend and potential cost or cost savings.
Collaborating with Huron Pines to accomplish a NOAA B-WET grant focused on engaging schools in native plants, public lands and school forest stewardship. Plans include facilitating biodiversity studies of school forests, research and development of schoolyard native plant gardens, invasive species studies and removal on school and public lands.
Promoting a $20,000 New Donor Challenge Grant from the Great Lakes Fishery Trust. Per the terms of the grant, the Trust will award $20,000 to NEMIGLSI if at least $20,000 is raised from new donors, doubling the impact of their contributions. Donations are accepted online.
NEMIGLSI's years of efforts in place-based stewardship education has resulted in 19,000 student stewards, more than 300 educators supported, hundreds of community partners engaged, 35+ schools enhanced, and resulted in 69% of the teachers participating in our place-based education trainings or professional learning opportunities have incorporated a place-based learning project with their students.
Learn more about the potential of engaging youth in E-STEM learning through the process of place-based stewardship education by visiting the NEMIGLSI website and checking out some of the projects youth have lead over the years. MSU Extension's partnership with the NEMIGLSI network is just one collaboration across Michigan that shows how MSU Extension works to fulfill its mission.