Michigan State University Department of Fisheries and Wildlife Professor Cheryl Murphy is a global research leader in per- and polyfluoroalkyl substances (PFAS), a class of more than 4,000 chemicals used in everyday items such as carpeting, textiles, footwear and paper food packaging
Director of the MSU Center for PFAS Research, she and her colleagues focus on the effects of these chemicals on human health and the environment. Projects also strive to:
quantify exposure to livestock, field crops, fish and wildlife
develop and test remediation strategies and technologies
explore safe alternatives to PFAS.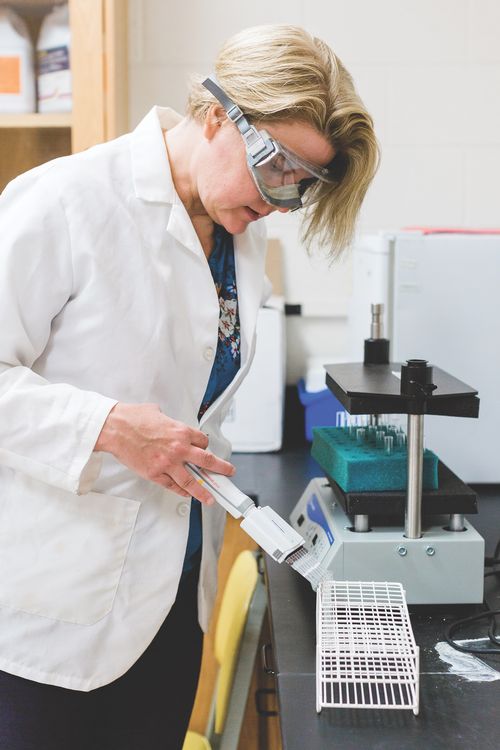 "We have met with the Michigan PFAS Action Response Team and launched our first interactive forum in January," Murphy said. "We are in the process of setting up our analytical lab on campus, and we are working with engineering companies on how MSU can focus on remediation of these chemicals.
"Our response is not going to repeat what the response team is doing, but we hope to be complementary to what the state can do."
One project, funded through the Michigan Department of Natural Resources, is examining how PFAS move through the Huron watershed and bioaccumulate and intensify in blue gill populations. The team is using modeling, a key aspect of Murphy's research, to determine this.
Another grant, funded by the Great Lakes Fishery Trust, is determining how PFAS interact with fish proteins related to immune function, along with follow-up disease experiments.
Murphy's work is affiliated with the Integrative Toxicology Center for Water Sciences, the Environmental Science and Public Policy Program, as well as the Ecology, Evolution and Behavior Program.
Her research focuses on how information collected on an individual basis translates across broader levels of biological species.
She explores how changes in gene expression and physiological processes in individual fish translate to larger populations in terms of:
behavioral changes, such as reproduction and growth
how short-term changes in expressed traits alter long-term genetic change
how influences, such as contaminants and other stressors, impact fish interaction and affect populations.
Overall, Murphy strives to bridge laboratory work with field sampling and modeling to address issues in ecosystem toxicology.
Utilizing a grant of $800,000 from the Environmental Protection Agency, she and a team are also examining how mercury, PCBs and other chemicals affect the behavior of larvae fish.
The team studied the contaminants' effects on the developing brains, in particular behaviors important to survival, such as finding food and avoiding predators, and the genes important in regulating these behaviors.
"Behavior is a critical integration of everything happening within an organism and also externally, and it is often ignored as a result of contaminants and potential effects can be underestimated because we don't take into account changes in behavior," she said.
Murphy uses modeling techniques to analyze and predict changes in fish populations because of unexpected behavior due to neurotoxicants.
"The type of research we are doing, if we do it well, can minimize a lot of experimental work and replace it with models, which will eventually reduce the number of animals we use in experimental research," she said.
"We mostly try to interpret the sub-lethal effects of contaminants and scale up measurements in cells and molecular-level responses to whole organisms and whole populations to do ecological risk assessments."
This article was published in Futures, a magazine produced twice per year by Michigan State University AgBioResearch. To view past issues of Futures, visit www.futuresmagazine.msu.edu. For more information, email Holly Whetstone, editor, at whetst11@msu.edu or call 517-355-0123.