MSU receives $417K NSF grant to study impacts of social network interventions on engineering project outcomes
In August, the MSU Construction Management Program in the SPDC was selected by the National Science Foundation to conduct research on "Understanding Impacts of Social Network Interventions on Engineering Project Outcomes."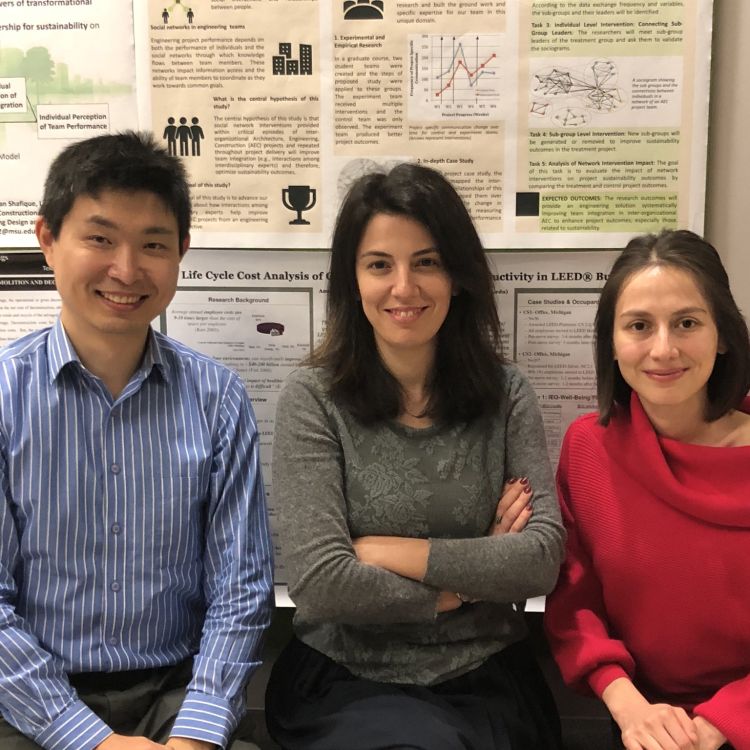 In August, the Michigan State University Construction Management Program in the School of Planning, Design and Construction was selected by the National Science Foundation to conduct research on "Understanding Impacts of Social Network Interventions on Engineering Project Outcomes."
Engineering project performance depends on both the performance of individuals and the networks through which knowledge flows between team members. These networks impact information access and the ability of team members to coordinate as they work towards common goals.
Establishing efficient knowledge transfer networks is a challenge in engineering project teams, but there is limited evidence about specific impacts of network structure and dynamics on project outcomes.
The objective of this $417K research project is to conduct fundamental research to understand how team interactions across disciplines and organizations in complex engineering projects impact project outcomes by studying teams on large engineering projects.
The Michigan State University team, led by Construction Management Associate Professor Sinem Mollaoglu, includes:
A former doctoral student of the Construction Management Program, now alumnus, Angelo Garcia, PhD, will collaborate with the research team as a consultant on this project. Garcia worked extensively with this interdisciplinary research team during his doctoral studies.
This study will also provide a unique opportunity to pass his lessons-learned to the new construction management doctoral student who joined the team, Meltem Duva.
Using information about the distribution of expertise in a project network at any given time, this study will evaluate specific network interventions for their potential to improve knowledge transfer-related behavior in individuals or groups and whether this has a positive impact on project outcomes.
The study will focus on sustainable building projects, but the results will be relevant to large systems engineering projects in many industries, including manufacturing, civil infrastructure, aerospace and defense.
The research goal is to advance understanding of how interactions across disciplinary boundaries in inter-organizational engineering project teams can improve individual, sub-group and project performance.
The research team will pursue an exploratory approach to examine network characteristics and collaboration mediums that can lead to improved individual and team performance and the links between team performance and project outcomes.
"We will be looking into ways to not only observe how communication networks emerge in interdisciplinary teams for sustainable built environment projects, but we will also test if we can change network dynamics via informed interventions and improve sustainability outcomes," said Associate Professor Mollaoglu.
The research outcomes will provide an engineering solution to assess and improve team integration and subsequent sustainable outcomes in architecture, engineering and construction project teams.
Equally important, the temporary, interdisciplinary and inter-organizational nature of the architecture, engineering and construction project teams encompass a shared challenge to all engineering design and systems engineering projects.
Thus, the results will have far-reaching implications across interdisciplinary and inter-organizational project teams, such as engineering, sustainable built environment and construction fields, which place high priority on cooperative ventures and the use of teams.
"It is exciting that this interdisciplinary research will enable us to tap onto lessons learned in network interventions at the larger scale of organizational and social sciences," said Mollaoglu.
Dissemination of the results will be achieved through partnerships with leading industry members; university outreach programs; publications; education of graduate, undergraduate and high-school students that will shape the future of the architecture, engineering and construction industry.
For more information about this study, please contact Sinem Mollaoglu at sinemm@msu.edu.