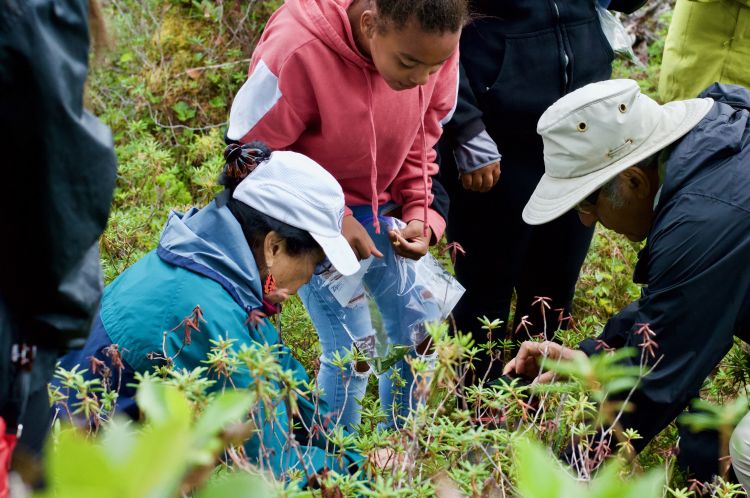 The Michigan State University (MSU) Native American Institute (NAI) and the Office of Diversity Equity and Inclusion (ODEI) within the MSU College of Agriculture and Natural Resources (CANR) will unite diversity leaders to develop support practices and resources for undergraduate geoscience students through a nearly $50,000 National Science Foundation (NSF) grant.
Christie M. Poitra, NAI interim director and principal investigator, coordinated the experiential workshop, "Honoring the Whole Student: Developing Good Practices for Supporting the Intersectionality of Diverse Undergraduate Students in Geoscience," July 21-28 in Hydaburg, Alaska, in collaboration with the Alaska Native Haida community.
The workshop provided geoscience and diversity leaders with field experiences on Alaska Native Haida tribal land, and Haida cultural activities focused on forest, plant and marine ecology with the goal of prompting broader discussions about diversity in geoscience. Geoscience includes soil sciences, environmental studies, fisheries and wildlife, forestry, food science, horticulture, natural resources and sustainability.
"This is an intentional effort to go where Indigenous people are and learn from them," said Quentin Tyler, CANR associate dean for diversity, equity and inclusion. "This project is a way to refocus on indigenous populations in the diversity, equity and inclusion landscape, as well as to showcase the Native American Institute's collaborative work and what they're doing at MSU and beyond."
Workshop participants brought together the perspectives and experiences of women, Native American/Alaska Native, Pacific Islanders, African American, Latinx, people with disabilities and first-generation college students.
"This workshop is important because it addresses diversity, equity and inclusion not only in a collaborative way, but it also addresses the needs of Indigenous populations that are often overlooked," Poitra said. "It speaks to the significance of understanding, developing and cultivating the whole student—which is critical for success in higher education."
Bart Mwary, superintendent of Hydaburg School District (STEM student support and transitions), and Wendy F. Smythe, Ph.D., assistant professor at University of Minnesota—Duluth and director of Xaadas Kil Kuyaas Foundation and the Hydaburg Geoscientist Program, participated in and hosted the community workshop in Hydaburg.
"In western science, there is a tendency to compartmentalize ideas and practices," Poitra said. "It was exciting to watch diversity leaders be immersed in an Alaska Native community. Participants learned that there is a lot of Indigenous science knowledge interwoven into their everyday lives."
The workshop discussions will be used to develop a toolkit that will help foster understanding of diverse students in geoscience.
The work that led to the grant began 10 years ago with Smythe, who led science education initiatives in her tribal community. Several years later, Poitra collaborated with Smythe and Judi Brown-Clarke, Ph.D., through the BEACON Center at MSU on a series of K-12 curriculum books that incorporated Haida language, knowledge and geoscience.
"The workshop came out of the longstanding collaboration between Dr. Smythe, the Native American Institute and BEACON to address the need for multifaceted support for Native students and more broadly diverse students in geoscience and geoscience related fields," said Poitra.
The formation of this professional learning community and the experience in an Alaska Native village enabled the group to critically examine practices for the support and mentorship of undergraduate students who identify with more than a single diverse community.
"Notions of diversity and identity are not singular. Intersectionality looks at the interaction between race, class, gender identity, ability status, sexuality and other facets of identity," said Poitra. "To support diverse students means to holistically recognize and honor their identities as dynamic and complex."
The "Honoring the Whole Student" toolkit will help faculty and academic staff in higher education with critical discussions about the intersectionality of diverse students' identities to support their success in geoscience majors. It is expected to be completed in spring 2020. (Visit the Honoring the Whole Student Workbook website or download the Honoring the Whole Student Workbook PDF that was completed in April 2020.)
"We all understand the challenges that come in the STEM disciplines, in terms of pipeline and diverse and inclusive populations," said Tyler. "As we transition from college- and career-ready to be more student-ready, it's important to understand identity intersectionalities and be more proactive."