MSU student focuses her biology and natural resources career path with internship
Fisheries and wildlife student Kailee Pearson worked as a field technician in the Upper Peninsula with the Sault Tribe of Chippewa Indians' wildlife program over the summer.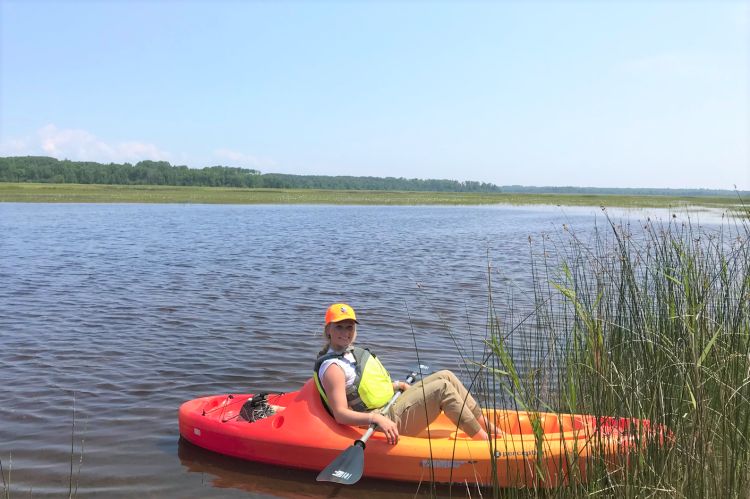 Kailee Pearson grew up knowing about her Tribe, the Sault Ste. Marie Tribe of Chippewa Indians, but it wasn't until college that she started connecting more with her cultural identity by exploring natural resources and wildlife biology as a career path.
Originally from Chicago, Pearson started looking into public universities in Michigan that would honor the state's tuition waiver based on her Tribal membership. Her older brother, Mitchel Pearson, also attends Michigan State University (MSU).
"I never ever thought I'd go to the same school as him, but when I visited campus it felt like home to me," she said. "Then when we found out I could get a Tribal grant, it made sense."
Pearson was eligible for the Michigan Indian Tuition Waiver program that was enacted by Public Act 174 of 1976, which waives the tuition costs for eligible Native Americans in public community colleges or universities within Michigan, including MSU.
"You don't meet as many Native students at MSU," Pearson said. "I feel unique because I am Native. I feel like it gives me a benefit in a lot of ways."
Contacts in the MSU Department of Fisheries and Wildlife and being a Tribal member of the Sault Tribe of Chippewa Indians helped her secure a summer internship as a field technician with the Sault Tribe of Chippewa Indians Inland Fish and Wildlife Department during summer 2021. The internship enabled Pearson to make professional connections in the Tribal community and provided hands-on experiences related to wetland ecosystems and conservation.
"For my summer work, it was my way to kind of give back to my Tribe. It was a really meaningful way to get involved with them and meet more Tribal members like myself," Pearson said. "It felt really natural to me being with people who appreciate nature as much as I do. That's a huge Native value, so being a Native and being in nature, in the place where my Tribal people are is priceless."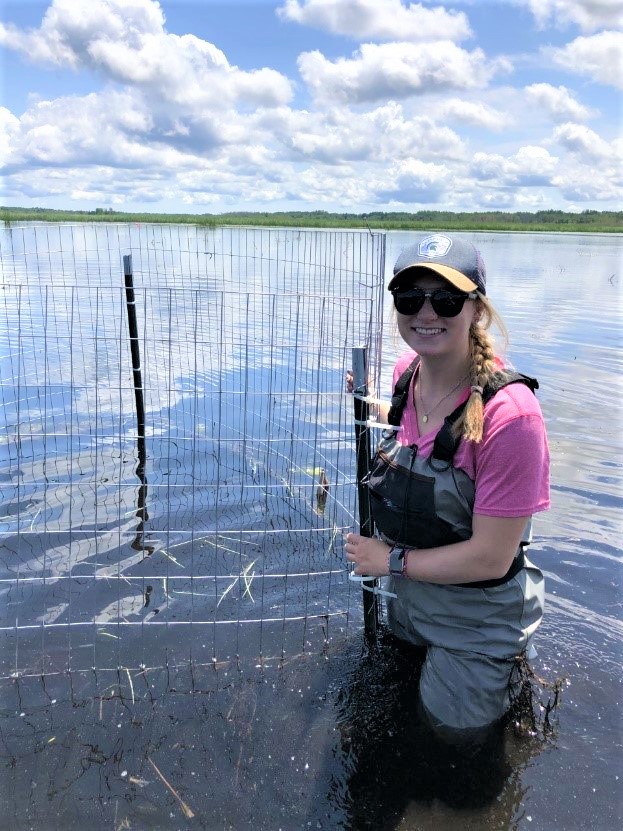 Her internship took place in and around Sault Ste. Marie, Michigan, near where she has family in the Upper Peninsula. It was funded through the Great Lakes Restoration Initiative that supports Tribal communities in their efforts to protect and restore the Great Lakes, including management of invasive species.
"A lot of the Tribe's work is restoration and adapting to climate change, so that's super important," Pearson said. "My tasks as a field technician for the wildlife department have given me a well-rounded experience and will aid me in becoming the best wildlife biologist in the future."
Finding the right program
When she first came to MSU, Pearson wanted to study something connected with animals and started out in the animal science program. After a semester, she realized fisheries and wildlife and the outdoors interested her more. Talking with academic advisors in both programs gave Pearson the information needed to change her major so it was more in line with her interests and career paths.
"Once I switched, I felt like I had so many options and so many new things that I wanted to try," she said. "I love being outside. I love seeing animals in the wild. Changing majors to fisheries and wildlife was a huge decision. It probably was the best decision that I ever made."
Fisheries and wildlife is a STEM major with crossover in interdisciplinary areas like biology, chemistry, physics, math and ecology.
"We get a lot students who start out in other majors who end up in fisheries and wildlife," said Jim Schneider, senior specialist and undergraduate program coordinator in the MSU Department of Fisheries and Wildlife. Schneider is also the academic advisor for fisheries and wildlife.
"My job is to give prospective students as much information as I possibly can and help them make their own decision. Based on that, Kailee realized this was where she wanted to be."
Pearson's interest in wildlife biology expanded when she heard a guest speaker in one of her classes who talked about his job working with a lumber company surveying forests and determining what animals were affected by forest changes.
"Immediately, I was like, I want that guy's job. I want to be him. That was one of my eye-opening moments in wanting to pursue wildlife biology," she said. "I would love to give people the experience of seeing animals in the wild, and studying animals would be amazing."
The MSU fisheries and wildlife program also has an experiential learning requirement that can be an internship, education abroad experience, independent study project or a senior thesis. Kailee's seasonal field technician job counted toward part of her experiential learning credits.
Internships, specifically, are a way for students to expand skills and explore different types of jobs and organizations. During summer 2021, over 52 students in fisheries and wildlife participated in state, federal, nonprofit and MSU-based internships. Of those, 10 student internships were based outside of Michigan.
"Experiential opportunities, like Kailee's internship this summer, help solidify for students different career options," Schneider said. "It definitely solidified for Kailee that she made the right choice and that she likes what she's doing, she loved the fieldwork."
Waders and kayaks
Pearson wasn't exactly sure what she'd be doing when she started her internship with the Sault Wildlife Program and Inland Fish and Wildlife Department, but she was excited to be working outdoors. As a field technician, she assisted biologist Mike Castagne by monitoring invasive plants, surveying bird species and nesting sites and tracking data on wild rice growth in different sites along St. Marys River and the Munuscong Bay.
The St. Marys River drains Lake Superior, starting at the end of Whitefish Bay and flowing southeast into Lake Huron. Munuscong Bay is located along the St. Marys River midway between the Michigan cities of Sault Ste. Marie to the north and Detour to the south. The Munuscong Bay marsh is one of a few freshwater delta marshes in the world, and one of the largest in the Great Lakes Basin.
"It was pretty much a new adventure every day," Pearson said. "Meeting people, making connections, that was super rewarding to me. I also really enjoyed being outside kayaking and boating. Some of the sunrises I saw were amazing."
During her first two weeks, Pearson learned background information on the projects she would be helping with, including how wild rice grows and bird calls to help survey the number and types of species in different marshland areas.
"One of my favorite parts was applying that knowledge. In school, sometimes they teach us things, and we don't use it. This was directly applicable," she said. "I'm learning it, and then I get to go out in the field and do it and hear those bird calls in person. That was really rewarding to me."
"I completed many marsh bird surveys, which included sunrise boat trips to more than 20 different sites on the St. Marys River. Black tern surveys allowed me to see terns in each stage of their life."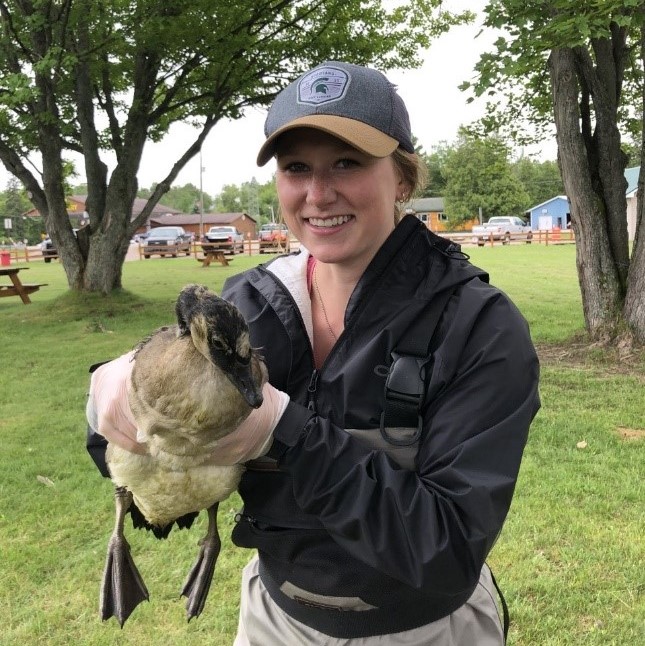 Additionally, Pearson spent a day helping the Bay Mills Tribe and Michigan Department of Natural Resources to band Canadian geese for identification and research purposes. Banding birds helps wildlife departments study bird species, migration patterns and behaviors.
"Now that was an adventure. When corralling geese, you never know what they're going to do," she said. "We had to catch them and gently turn them over and to put the metal band on their legs."
The internship expanded Pearson's knowledge of wetland ecology and research data collection, as well as helped with problem solving and communication skills. She learned how to use equipment, drove a boat and designed and built a weighted system to measure water depths.
The Sault Tribe Inland Fish and Wildlife Department and GLRI support projects to manage invasive species in the St. Marys River, specifically focused invasive cattail, European frogbit and purple loosestrife. Pearson helped monitor where these species were growing during her internships.
Another important part of the department's work is protecting and restoring native species, including wild rice, also known as manoomin. Wild rice has played a major role in many Great Lakes Tribal communities, and is used in cultural ceremonies and as a traditional food source.
For the first half of the summer, Pearson worked with a professor from the University of Wisconsin-Oshkosh, Bob Pillsbury, to distribute wild rice seeds in burlap pouches in different locations. Then she'd visit the wild rice beds by kayak or walk through the wetlands wearing waders to monitor and record the growth over the second half of the summer.
"We partnered with him to test where wild rice was growing the best, and in what densities and at what water depths favored growth," she said. "We also did experiments with different enclosures to see if herbivory of wild rice was high in areas with waterfowl species."
She also recorded data on how water conditions in the St. Marys River affect wild rice growth, including wave erosion and the changing water depths from freighter ships releasing ballast water. This data will be used to help determine where and what types of habitats are best for growing cultivated wild rice.
Networking and next steps
The connections Pearson made in the Department of Fisheries and Wildlife and with Tribal and state natural resource departments have already proved invaluable.
She's connected with Gary Roloff, chair and professor in the Department Fisheries and Wildlife, who partners with Native communities on several projects.
"I've gotten really close with some of my fisheries and wildlife professors. They helped get me my position this summer, and I'm sure they'll help with other jobs or opportunities," Pearson said. "They are already trying to get me a lab position on campus with a grad student from the Tribe."
Connecting students with fisheries and wildlife industry contacts can help facilitate customized experiences for students to learn outside the classroom.
"As long as the students tell me what they're interested in, and what they want to do, I try to open the doors for them to make them successful," Schneider said. "A diverse resume helps make students more competitive. The more experience you have also means you have more people who could say good things about you."
With two more years of study at MSU, Pearson is looking for additional internships and research projects to learn from, including the area of animal wildlife fieldwork.
"There are endless opportunities after my internship, which is amazing. One door leads to another," Pearson said. "I knew that I had an experience not many people get."
This article was published in In the Field, a yearly magazine produced by the College of Agriculture and Natural Resources at Michigan State University. To view past issues of In the Field, visit www.canr.msu.edu/inthefield. For more information, email Holly Whetstone, editor, at whetst11@msu.edu or call 517-355-0123.