MSU leaders share new diversity directions in higher education and Extension
Jabbar R. Bennett, Ph.D., and Quentin Tyler, Ph.D., were recently interviewed about the importance of diversity, equity and inclusion across Michigan State University.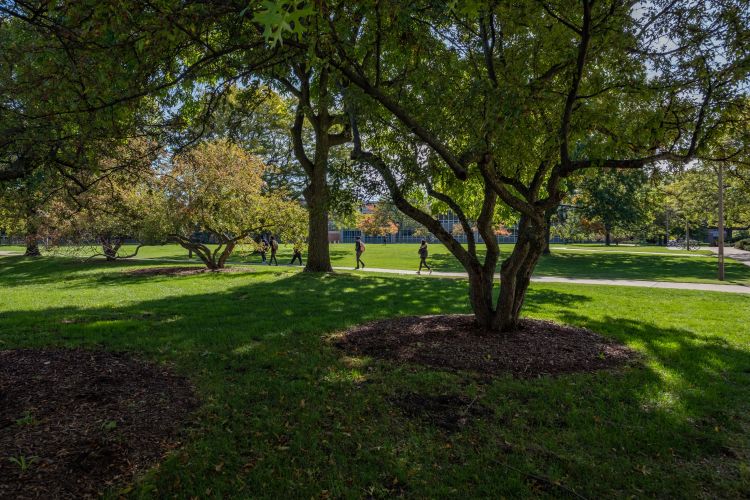 Note: This information was originally featured in the Department of Entomology podcast, Bug Talk. To listen to the full DEI episode, there is a video recording or audio available on the Bug Talk podcast subscription site.
Below is an edited version of some responses that were part of the episode recorded on June 2, 2021, that was hosted by entomology faculty members Zsofia Szendrei, associate professor; Julianna Wilson, a tree fruit integrated pest management specialist and chair of the Entomology DEI Committee; and Elizeth Cinto-Mejia, a graduate student pursuing her Ph.D. in entomology.
---
Diversity, equity and inclusion (DEI) continue to be important to Michigan State University (MSU) and its community of students, faculty, staff and alumni. A multi-year institutional strategic plan for MSU and a more detailed DEI strategic framework are being developed to help support ongoing progress.
Here Dr. Jabbar R. Bennett, vice president and chief diversity officer for MSU, and Dr. Quentin Tyler, associate dean and director for diversity, equity and inclusion in the MSU College of Agriculture and Natural Resources (CANR) and director of MSU Extension, discuss their vision and DEI directions for MSU.
Knowing each other and our backgrounds
In December 2020, Bennett was hired as the first vice president and chief diversity officer at MSU. He works to advance MSU's DEI strategic priorities along with staff in the Office for Inclusion and Intercultural Initiatives, and he partners with senior executives, deans, faculty, staff, students and alumni across MSU. He is also a professor of medicine in the College of Human Medicine.
Bennett grew up in Winston-Salem, North Carolina, attended North Carolina Agriculture and Technical State University for his undergraduate education, and earned his Ph.D. in Nashville, Tennessee at Meharry Medical College. Both institutions are historically black colleges and universities (HBCUs). As a child, Bennett said his dream job was to become an inventor. Becoming a biomedical scientist and engaging in molecular parasitology research wasn't so far off.
"I had an interest and aptitude in science and math, and my parents recognized that and encouraged that, so they put lots of books around me," he said. "Although my parents were not scientists, they were both college educated and always understood the value of education. And I did end up becoming a scientist, but not because I had that role model in the house, per se, but because my parents really encouraged that spark that they saw within me."
In March 2018, Tyler came to MSU as the associate dean for diversity, equity and inclusion in the CANR. His work expanded the scope and support for learning and development opportunities across the CANR community for students, faculty and staff. In June 2021, he was also named director of MSU Extension.
Additionally, Tyler serves as chair of the National Professional Officers advisory board for the Minorities in Agriculture and Natural Resources and Related Sciences (MANRRS). Formed at MSU in the 1980s, MANRRS has since expanded to support minorities in career development at universities across the country.
"We have roughly 55 chapters in 38 states. I hear what's going on across the country as well as MSU, and also from an Extension perspective, too," Tyler said.
Originally from western Kentucky, Tyler attended the University of Kentucky where he earned undergraduate and graduate degrees in agriculture economics, and a doctoral degree in rural sociology. He said that he wanted to be an explorer growing up and his favorite movie series was Indiana Jones. His parents emphasized education as a path for him; Tyler is a first-generation college student.
"My dad ended up becoming an engineer through the U.S. Army, so I also wanted to be an engineer. Then I had an internship my freshman year of college working with the University of Kentucky Extension. That got me more integrated into the agriculture space, and now things have come full circle with my position as the director of MSU Extension," he said.

Moving MSU forward
Both Tyler and Bennett are in roles where vision and strategic direction are important. They are also part of growing leadership at MSU that supports diverse and inclusive communities across campus and the state of Michigan. Meeting with students, staff, faculty, alumni groups, committees and stakeholders has been key, as they seek to gain a more holistic understanding of diversity, equity and inclusion at MSU.
"Coming from the University of Kentucky, I had about 15 years of experience working in DEI, so I thought maybe I had all the answers. I had some learning to do upon my arrival at Michigan State. It's been about ongoing conversations, meeting people where they're at, and also understanding their challenges, too," Tyler said.
"One of the things I'm optimistic about, particularly as it relates to the MSU campus, is the leadership we have in terms of diversity, equity and inclusion. More folks are involved in DEI efforts, more conversations followed by actions are happening," he said.
Bennett said he's trying to take in the culture, history and different contexts that affect that broader picture of MSU to help inform his work.

"There are some historical issues and some marginalized communities that exist at MSU as they do at other places," Bennett said. "There's attention that needs to be given to various groups while we think collectively, how do we come together? How do we identify shared issues and leverage shared resources? And how do we think about communicating and collaborating more so that we can move forward together?"
With his background as an educator, Bennett said he's most excited to work with students. These are people on the cusp of learning new things, pursuing their passions and careers, and making a difference in their own spaces.
"What I am optimistic about is our current students, the current generation of undergrads and those coming behind them," Bennett said. "The young people coming behind all of us don't necessarily have all the baggage that we had and our parents and grandparents had as it related to legal separation, the laws that kept us from doing things that we should have had the right to do all along in this country as residents. I'm optimistic about the future, and our young people, and the change that they will help to make and sustain over time."

Access is an integral part of DEI work, including access to opportunities for prospective and current students and faculty and staff through recruitment and hiring processes.
"I think promoting access is important, but it's also important for us to engage with communities in meaningful ways," Bennett said. "We want to develop informed partnerships that are mutually beneficial, not that just benefit the research or business of higher ed, but that also benefits individuals, families, communities and tribes across the state. I think that's where a lot of the work that Quentin does comes into it."
Access is also a part of expanding learning opportunities for Michigan residents. More than 100 years old, MSU Extension continues to advance DEI work and partnerships across the state.
"If we prepare our stakeholders and people that use Extension programs with the knowledge of diversity, equity and inclusion, then when they get to college campuses, they're prepared from a youth development standpoint," Tyler said. "If we also prepare those families, they can teach their kids and improve their own communities. It's utilizing Extension, even from a recruitment standpoint, and getting that message out there. I'm really excited about this role and showing off this branch of a university that can be fully utilized going forward."
Responding to a new "normal" with empathy
COVID-19 has led to major shifts in higher education, along with remote teaching, learning and working. People have been affected and challenged in ways that vary greatly depending on the groups they belong to and their representation in different situations.
"We each possess multiple identities, and we have to be sure those are acknowledged as we think about the work that we want to do moving forward," Bennett said. "One of the positive things that came out of COVID is we saw that people could work and be productive independently. We'll have to be more flexible in how we think about people doing work and think about what work means."
"We each possess multiple identities, and we have to be sure those are acknowledged as we think about the work that we want to do moving forward." Dr. Jabbar R. Bennett, vice president and chief diversity officer, MSU
While Bennett has appreciated being able to meet student leaders more readily in virtual spaces, he's concerned about the return back into teaching, learning and working norms post-pandemic. He wants to make sure MSU departments and units are making equitable and inclusive decisions around work and learning.
"We have to be able to anticipate as best we can what some needs may be, and how we can be supportive and responsive to students and to employees who have been impacted in ways that we might not have imagined, both personally and professionally," he said.
Both Bennett and Tyler are mindful that not everyone is returning to normal in the same way. Areas around Michigan were affected in a variety of ways, including when it comes to work environments.
"As we think about working in MSU Extension, we have several different counties, and some of those counties never shut down," Tyler said. "It's understanding those situations, but also being flexible and showing empathy."
Bennett agrees that improving flexibility is a part of building more inclusive environments where people can teach, learn and work.
"We need to ensure our community is ready, feels equipped and understands what diversity means in the 21st century at MSU," Bennett said. "This is a nation that was established by and built by diverse folks, despite how we all got here. We have worked together, we have advocated for one another, and that's the spirit of this country that I appreciate and that I hope will be retained."
---
This article was published in In the Field, a yearly magazine produced by the College of Agriculture and Natural Resources at Michigan State University. To view past issues of In the Field, visit www.canr.msu.edu/inthefield. For more information, email Holly Whetstone, editor, at whetst11@msu.edu or call 517-355-0123.